Rivals' Andrew J. Holleran is reporting Ohio State will wear the same alternate jerseys they donned vs. Michigan last year for their night tilt against Wisconsin on Saturday. An Ohio State spokesperson told Holleran the Buckeyes weren't wearing alternate jerseys "as far as he knew." Holleran is standing by his source.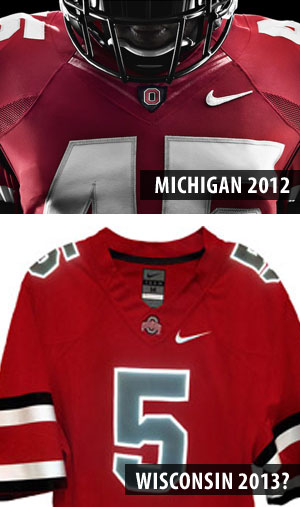 As Holleran also points, a very similar jersey to the one the team wore against the Wolverines just so happened to turn up for sale at the Buckeye Room Tuesday:
This is the jersey everyone has been waiting for!! The jersey that was worn in the WIN against "That Team Up North" last year on November 24, 2012. This Ohio State adult jersey by Nike features a nylon jersey with tackle twill SILVER numbers stitched on the front and back, no name. Jock tag with size sewn on bottom left. Ohio State logo embroidered on collar, back neckline has buckeye leaves, and Nike logo on left chest. 100% Polyester.
Yours for just $139.95 in both Braxton Miller's No. 5 and Philly Brown's and Ryan Shazier's No. 10.
As AeroBuckeye2001 points out in the comments, there are sublte differences between the jersey that went on sale today and the one worn against Michigan last season. The neckline logo, for one. The Rivalry jersey from 2012 featured a "Block O" logo, while this new jersey features Ohio State's athletic logo. The colors used on numbers appear to be transposed as well.
We've long heard that Ohio State has uniform plans beyond the one variation per season approach the program has employed the last four years, and with so many recruits in town for a night game, alternate duds would make perfect sense for a guy as focused on wowing recruits as Urban Meyer is.
Is it fair to ask whether the team will show up on the field in new pants and helmets as well?
[UPDATE: 9/25 1:52 p.m.]
Ohio State football lead designer, Samuel Silverman, just sent this out on Twitter, essentially confirming the team will be wearing alt jerseys Saturday night.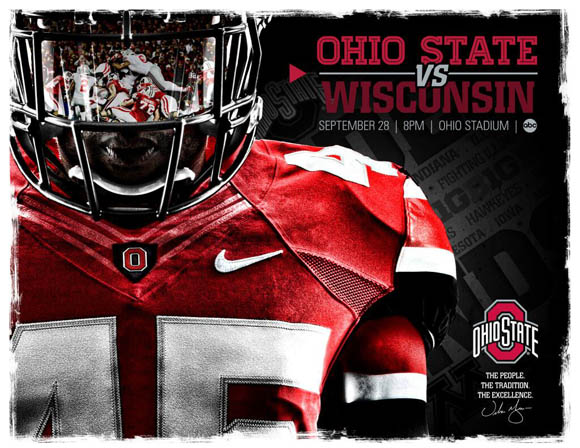 ---
The full gallery of the uniforms worn against Michigan in 2012 can be viewed on NikeBlog.com.