Around the Oval is Eleven Warriors' weekly love letter to Ohio State sports that don't get the coverage they should.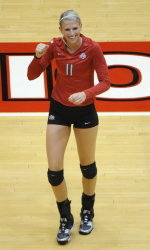 No Braxton Miller was no problem yet again for the football Buckeyes this weekend as they easily defeated Florida A&M to improve to 4-0 on the season, setting up a major showdown with Wisconsin this Saturday.
Meanwhile, the Ohio State women's volleyball team also took care of business with convincing wins to close out the non-conference portion of their season.  With a showdown against Michigan looming, the Lady Bucks defeated Maryland Eastern Shore, Valparaiso and Buffalo without dropping a single set, winning by a combined score of 229-132.  With the wins, the Buckeyes captured the Blue and White Classic title in Buffalo (N.Y.).
Leading the way for the Lady Bucks this weekend was senior Kaitlyn Leary, the tournaments' most valuable player, along with fellow all-tournament team members Erin Sekinger and Taylor Sandbothe.
Next up for Ohio State is a date with bitter rival Michigan this Friday before taking on Michigan State on Sunday.  Both games are at St. John's Arena in Columbus.
Join us after the jump to see what other teams are kicking off Big Ten play this week.
Men's Soccer
The Ohio State men's soccer team dropped a pair of matches this week to fall to 2-4-2 as they head into conference play.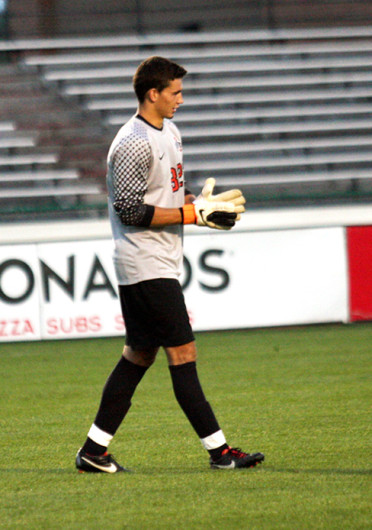 Last Friday, the Bucks fell to Dayton 3-1 at home despite only being out-shot 19-15.  
Dayton took an early 2-0 lead and Ohio State could never quite muster enough for a comeback.  Freshman Henry Chancy scored the Buckeyes only goal in defeat, while Andrian McAdams took the loss in goal.
 McAdams got his first start of the year in place of 4th-year junior Alex Ivanov, who was serving a one-game suspension for a red card penalty he earned last week.
With Ivanov back in the lineup on Tuesday, however, the Buckeyes lost again, this time to 10th-ranked Akron, 1-0.  
Offensive ineptitude continues to plague the Buckeyes, who are averaging merely 0.75 goals per game. 
Despite the lack of offense, head coach John Bluem was pleased with his teams' defense and effort in the loss:
"You could sense we were a little nervous at the start of the game, we allowed an early goal, but after that, we settled down and the guys that played tonight I thought battled hard out there. Our back four was very good tonight and I thought there were some great performances, but we still have to find a way to score goals." - Men's soccer head coach, John Bluem
Ohio State has been unable to capitalize on their solid defense and goal keeping thus far (1.25 goals allowed per game), resulting in a disappointing 2-4-2 start. 
That being said, the Buckeyes have remained competitive against highly-ranked teams by playing good defense, something they are hoping to carry into conference play.  As I wrote a couple of weeks ago, if this team can manufacture at least some offensive production, they can still be a very good team by the end of the year.
Ohio State travels to Indiana on Sunday for their only game of the upcoming week, as they kick-off Big Ten play against the Hoosiers.
woMen's Soccer
The Lady Buckeyes tied their only match of the week, 1-1 in double-overtime against Illinois on Friday to open up Big Ten play.  Illinois took an early 1-0 lead seven minutes into the game and took it well into the second half.  With six minutes remaining in regulation, sophomore forward Michela Paradiso tied the game up off an assist from junior midfielder Ellyn Gruber.  Neither team would score for the remainder of regulation or in either overtime period.
With the tie, Ohio State moves to 6-1-2 overall and 0-0-1 in the Big Ten.  This coming week will be a big one for the Lady Bucks, as they host undefeated Indiana tomorrow (Thursday) and Purdue on Sunday.  Indiana was picked to finish last in the Big Ten's preseason coaches' poll, but had a very strong non-conference and should be a tough matchup for the Buckeyes.  BTN will be broadcasting the Ohio State-Indiana game live tomorrow at 3.
Field Hockey
The women's field hockey team won their only game of the week, improving to 3-5 as they begin conference play.  Led by freshman forward Brooke Hiltz's two goals and one assist, the Lady Buckeyes defeated Kent State 4-3 on the road.  
With the game tied at halftime, Kent State scored 27 seconds into the second half to take a 3-2 lead before Hiltz tied the game up 15 minutes later off an assist from junior midfielder Nina Laudahn.  Senior midfielder Mona Frommhold scored the eventual game-winning goal less than three minutes later, at 54:00.
Junior goalkeeper Sarah Lemiux picked up the win with six saves, improving to 2-3 on the season.
Ohio State travels to East Lansing to take on Michigan State this Saturday at 2, before hosting 25th-ranked Louisville next Tuesday.
GOlf
After a slow start this weekend, the men's golf team had a very strong final round to finish in a fourth-place tie with Purdue at the Windon Memorial in Lake Forest, Illinois.  Heading into the final day of action in 10th-place, the Buckeyes shot a 1-under 287 in the final round behind a 3-under 69 by Boo Timko.  Timko was one of three Buckeyes to finish in the top 20 on the weekend, along with sophomore Max Rosenthal (Even, 14th place) and freshman Tee-k Kelly (+2, 19th place).
The Bucks return to action this weekend, when they host the Jack Nicklaus Invitational at the Ohio State University Golf Club.
The women's golf team was off this past weekend, but they hit the links this coming weekend in Chicago for the Windy City Collegiate tournament.
UPCOMING EVENTS
On Thursday, the women's soccer team hosts undefeated Indiana at Jesse Owen's Memorial Stadium for a 3 o'clock afternoon game.  Admission is free for everyone and the game will also be aired live on BTN.
On Friday, the women's volleyball team hosts Michigan at St. John's Arena at 8.  Like the football game this weekend, the game is a "scarlet-out" and the first 500 fans will receive a "Beat Michigan" headband.  Tickets are $5, while students can attend for free.  The game will also be aired live on BTN.
On Sunday, the women's soccer team hosts Purdue at 1 at Jesse Owen's Memorial Stadium and the women's volleyball team hosts Michigan State at 2 at St. John's Arena.  Admission to the soccer game is free, while tickets to the volleyball game are $5, though fans can show their football tickets (from the Wisconsin game) to get $2 off.