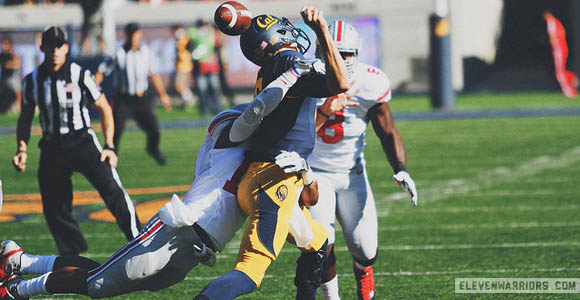 Throw out the term "Silver Bullets" in an Ohio bar. Chances are, the guy sitting next to you would know exactly what you're talking about, then would reference his favorite edition.
The term is synonymous with a hard-nosed defense capable of setting the tempo of a game while an opponent struggles in vain to eek out precious yards. Groups like the Silver Bullets of 1998 and 2002 come to mind. Both were able to impose their will on an offense, keeping their counterparts in a game no matter their effectiveness or lack-therof.
A lack of points isn't a problem for the 2013 Buckeyes. The team ranks fourth in scoring offense behind only Baylor, Oregon and UCLA. In addition, the squad has rolled up 1,244 rushing yards (2nd in the country) 2,116 total yards (6th in the country), 106 first downs (6th in the country), has converted 95% of their red zone trips for a score (tied for 11th in the country) and has a player in Jordan Hall who leads all rushers in the nation with 8 TDs.
What's more, all of these numbers have come with two of the Buckeyes' 2012 offensive stars relegated to the bench; Braxton Miller because of injury and Carlos Hyde due to suspension. 
Kenny Guiton has played a large role in this success, setting records nearly every weekend. A soft non-conference schedule is also a factor, though the Buckeyes have played equally bad opening slates without such prowess in years past.
The truth is, this offense is good. How good exactly is hard to say, but this coming weekend will help paint a more complete portrait. Still, after four games the "O" looks able to carry the team, something Buckeye fans aren't used to on the banks of the Olentangy.
Consider this, during the National Championship run of 2002, the offense averaged 36 points per game through the first four games. Troy Smith and Teddy Ginn's 2006 squad averaged 31 ppg through the first four, while Terrelle Pryor's 2009-2010 teams averaged 28.5 ppg and 49.25 ppg respectively.
This team is averaging 52.5. 
Which brings us back to the Silver Bullets. Gone are the days of three yards and a cloud of dust playing second fiddle to a knock your block off D. Now, a cold-blooded offense is the star of the show, with the D playing the part of supporting actor.
That's not to say this defense isn't serviceable. In fact, they're not too bad at all. Through four games the D has only given up 13.7 ppg, while forcing 9 turnovers in the process, (good enough for 15th in the nation). In addition, they're only surrendering 280 yards per game placing them at 13th in the country in total team defense. This has all been accomplished with an entirely revamped defensive line and an incredibly thin-on-experience LB corps.
Truthfully, the defense has only looked suspect in one game: the trip out to California. In that game, the Bullets gave up 503 yards, 371 of which were through the air. However, even Coach Meyer said teams with dreams of shutting down Cal's pass happy attack are in for a long day.
Simply put, it's nearly impossible to do. Cal was going to put up points, and they did. What's important is the Buckeyes had a high-octane counter-punch able to outpace the assault. It should be interesting to see how Oregon's D fares against Jared Goff and the boys this weekend.
Over the past four weeks, Buckeye fans have been treated to an offensive display rarely (if ever?) seen from the Scarlet and Gray. The barrage has captivated Columbus and will only improve with all of its critical parts in place. But, while points make headlines, defense wins championships.
What's lost in the hoopla surrounding the Buckeyes' offensive explosion is the Scarlet and Gray's budding young defense looking to become the next wave of Silver Bullets. They're not there yet, but keep an eye out for them in the coming weeks.