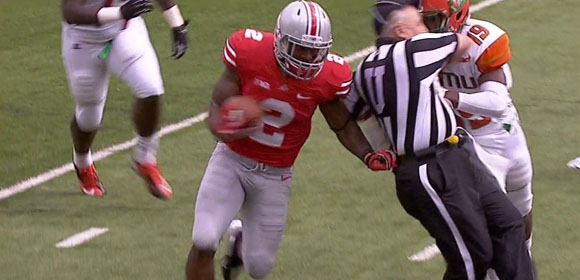 The non-conference slate is officially over. Ohio State is 4-0 — 16-0 under Urban Meyer to date — but everyone involved with scheduling yesterday's destruction of Florida A&M should feel bad about themselves.
The Buckeyes racked up 55 points in the first half behind a school-record six touchdown passes by Kenny Guiton. Ohio State added 21 more after the break, without throwing a pass and playing second-teamers, third-teamers, walk-ons, and a few ushers from C Deck. You almost felt sorry for the Rattlers  in the 76-0 loss, until you remembered Florida A&M received $900,000 to take that beating.
The goal was probably to get through the game without any injuries, but James Clark unfortunately didn't. Aside from that, it looked like a three-hour practice, with Guiton getting every imaginable receiver involved in the offense.
Carlos Hyde returned and gobbled up a few carries, knocking the rust off after his three-game suspension. The Buckeyes just scored another touchdown while you were reading the previous sentence.
What do you need to know about Ohio State's non-conference finale against the Rattlers? Read on, friends, and you will see.
Water Cooler prep (Everything you need to know…in one paragraph)
Kenny G, aside from an early interception, was his usual smooth, smooth self with 24/34 passing for 215 yards. Evan Spencer and Jeff Heuerman were rewarded for their blocking at Cal with lots of targets and each scored a touchdown (Spencer had two). Freshman Ezekiel Elliott had a huge day, with 162 yards on 14 carries (11.6 YPA) and two touchdowns. The Buckeyes scored three touchdowns on their first eight offensive plays and never looked back.
Talk before the game 
"Time for Carlos Hyde to chow on some cupcakes!"
"With the weather like this, the Shoe is going to be half empty today."
VIPs in attendance
Despite it being a less-than-stellar matchup, there were some recruits on hand for the contest. Our own Jordan Wagner says '14 WR Kyle Frizzell (Springport, MI), '15 ATH Eric Glover-Williams (Canton, OH), '15 RB Larry "L.J." Scott (Hubbard, OH), '15 PF Carlton Bragg (Cleveland, OH), '16 SG Tyus Battle (Gladstone, N.J.), '16 SF Seth Towns (Columbus, OH), and '17 QB Danny Clark (Massillon, OH) were walking the hallowed grounds of The Ohio State University this weekend.
Also there were numerous scouts in attendance from the League:
NFL scouts scheduled to attend today's OSU game are from Falcons, Giants and Seahawks. Interestingly, a rep from the league is here, too.

— Lori Schmidt (@LoriSchmidt) September 21, 2013
Talk in the aftermath
"It was great seeing so many young guys today. EzE is going to be special."
"Ohio State won 34-2...in first downs."
Give that man a buckeye leaf (Player of the game)
Despite another solid performance by Kenny G, it's time to give some love to someone else. Elliott was a beast and turned nearly every touch into something exciting for the Buckeyes. The highlight among his highlights was a 57 yard gallop that he nearly took to the house. The freshman scored twice in the third quarter, on runs of 16 and 13 yards, and made it look easy. Give Guiton, Evan Spencer and Jamal Marcus honorable mention here because they all played well.
Snot Knocker of the Game
On just the second possession of the game, the Buckeyes lined up at the Florida A&M 11-yard line, following a long Philly Brown punt return and a tacked-on penalty. Guiton took the snap, looked to his right and fired a strike to Heuerman inside the five. Rattlers cornerback Devonte Johnson came up to prevent the touchdown. Instead, the junior tight end trucked Johnson and scored Ohio State's second touchdown of the game.
Did you see that?! (Play of the game)
A ridiculous game probably deserves an equally ludicrous play of the game. It happened on Ohio State's first drive. On third-and-goal, Guiton floated a pass toward the back of the end zone, where it was intercepted by Patrick Aiken. Rather than take a knee, Aiken decided to run it out from the back of the end zone. He was met at his own three by Jordan Hall, who forced a fumble and then recovered it. The Buckeyes were basically back where they started, but had a first down. Hall scored on the next play and the carnage was on.
If you prefer the more traditional type of play of the game, Brown's 65-yard punt return to set up the second touchdown should fit the bill nicely. Brown probably ran 120 yards on the play, sidewinding from sideline to sideline, repeatedly cutting back against the grain. Philly did a great job of following his blocks and a personal foul at the end moved it half the distance to the goal, leading to Heuerman's touchdown.
When you sank into your chair (The moment Buckeye football disgraced your family)
This moment had to be when Ohio State scheduled the game.
Jim Tressel's Least Favorite Moment of the game
It was late in the first quarter, and Tressel was working on his bonsai tree — a beautiful cherry blossom. As the former OSU coach snipped unwanted growths and tied others to ensure the tree grew to his desired aesthetics, Tressel saw the Buckeyes line up in a five-receiver set on first-and-goal from the Florida A&M two-yard line. "Tsk, tsk, Urban," said Tressel, as Guiton threw incomplete for Spencer. A pass interference penalty gave the Buckeyes the same down from a yard closer, and Kenny G shoveled a pass to Hyde to make it 27-0. "Dave's your man in that situation."
What you texted your friend at the end of each quarter
First: Well, that escalated quickly. Welcome back, El Guapo!
Second: FAMU thinks General Custer had it easy.
Third: EzE! We're shutting down the offense. Might not get 80 now.
Fourth: Not sure this game really does anything for us but hey, 4-0!
It was over when
Ohio State made it onto the field in time for the opening kickoff.
---
The season cranks up to the next level in six days, with the Wisconsin Badgers visiting the Horseshoe for the B1G opener. Will we see you at Eat Too, Brutus?