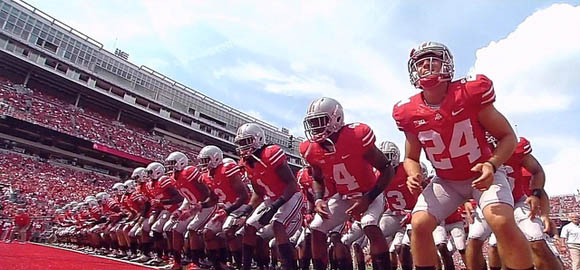 Few probably realize it, but Ohio State and Florida A&M already share a strong history. The Rattlers have had a luxury not many FCS schools have been able to replicate – a rich tradition dating back decades. Two of the school's all-time great coaches earned degrees from Ohio State.
Jake Gaither received his master's degree from OSU in 1937 before winning more than 200 games and six Black College National Championships at FAMU. In between, he was a victim of racism. Gaither was beloved by his fellow coaches, though, and legends such as Woody Hayes, Bear Bryant, Darrell Royal and Frank Broyles were attendees of his annual coaches clinics.
Gaither was the creator of the famed Split-T offense, which took off at big-time programs around the country. He was inducted into the College Football Hall of Fame in 1975.
One year earlier, Rudy Hubbard was named the head coach at FAMU. He arrived from Old Columbus Town, where he was a running back for the Buckeyes and then an assistant for six years under Hayes, including the 1968 national championship season. Hubbard became the first black assistant coach at Ohio State when Hayes hired him following his playing career.
He was the Buckeyes' running backs coach and quickly made a name as a recruiter. He lured Archie Griffin, Pete Johnson, Cornelius Greene, Leo Hayden, John Hicks and Neal Colzie to Ohio State, and he would help coach Griffin to two Heisman Trophies.
Hubbard sent several players to the NFL during his time at FAMU, including Nate Newton, Gene Atkins, Frank Marion and Greg Coleman. Stolen base extraordinaire Vince Coleman also played for the Rattlers, as a kicker.
Hubbard led the Rattlers to two Black College National Championships and the 1978 Division I-AA national title. It was the first and only instance where an HBCU was crowned the national champion of the entire division. But it was the next season when FAMU notched the biggest win in school history, defeating the Miami Hurricanes 16-13.
Opponent Breakdown
Florida A&M has two more connections to the state of Ohio. Head coach Earl Holmes was a member of the Cleveland Browns and athletic director Michael Hill is a graduate of Ohio State pipeline Cleveland Glenville.
Following a standout career at FAMU, Holmes played 10 years in the NFL, six with the Steelers, three with the Lions and one with the Browns. His lone season in Cleveland came in 2002, coinciding with the Browns' only playoff appearance since they re-entered the league in 1999.
Holmes has arguably the biggest play in the New Browns' franchise history. In the final week of the season, Cleveland had a must-win game to clinch a playoff berth. Leading 24-16 late in the fourth quarter, the Browns forced Atlanta to go for it on 4th-and-goal from the 1. It looked like Warrick Dunn had a clear path to the end zone until Holmes stuffed him just shy of the goal line to preserve the victory.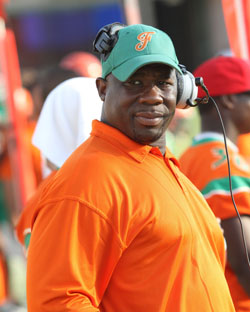 After the game, Cleveland players stayed on the field and celebrated the moment with their fans. That's what Holmes remembers most: the fan base.
"There's a lot of support in Ohio," he told Eleven Warriors. "As a player, you have to appreciate that. There's always that 12th man out there, from high school to college to the pros."
His team will find that out quickly, possibly even Friday night in Columbus. FAMU will be playing in front of the largest crowd in the program's history on Saturday. Some might be surprised at how rich that history is.
The Rattlers have won 67 percent of their games – 567 total – 12 Black College National Championships, one Division I-AA national title and sent dozens of players to the NFL. The school has four College Football hall of famers to its credit and one of the most famous bands in the world. The Marching 100 has appeared at Super Bowls, foreign countries and even the White House.
FAMU is a national brand, and a football game in Ohio Stadium on national television only adds to the exposure.
"Any time you can help yourself and help your brand in recruiting it's always a plus," Holmes said.
Winning that game is Mission: Impossible for the Rattlers. They're 1-2, coming off losses to Tennessee State and Samford. FAMU is scoring just 18 points per game behind a quarterback and run game that have been sub-par at best.
Running back James Owens is on NFL scouts' radar, though his season hasn't gone according to plan. He's gained 66 yards on 23 carries and caught three passes for 34 yards. Owens is yet to reach the end zone.
He's only 5-foot-9 and weighs 185 pounds, but Owens has been clocked running a sub-4.3 40. He's in the mold of a Chris Johnson or C.J. Spiller-like back. Holmes calls him "crafty" when he gets in space.
Quarterback Damien Fleming was an All-MEAC selection a year ago after completing nearly 70 percent of his passes for 2,157 yards, 16 touchdowns and five interceptions. However, his completion percentage is under 50 percent for this year and he's tossed five interceptions and only two touchdowns.
Fleming's top receiver, Lenworth Lennon, is averaging 76 yards per game after hauling in 71 catches, 699 yards and four touchdowns in 2012. FAMU also has a Clemson transfer at running back – Demont Buice, who is the thunder to Owens' lightning.
"Most importantly, you want your guys to come out and compete," Holmes said. "They understand what it takes because they have aspirations to play at the next level. Second of all, to gain experience, from the crowd all the way down. It's all about the game-day experience.
"I don't think [Ohio State] is going to underestimate us. I know our guys are going to be up for them. It's all about that exposure. We know Coach Meyer will have his team ready to play and we're going to go out and try and be competitive."
The defense has struggled this season after losing All-MEAC linebacker Brandon Hepburn and lineman Padric Scott. Jonathan Pillow and Brandon Denmark are the top returnees on the defense, combining for 120 tackles, 13 for loss, 4.5 sacks and two interceptions. 
But it's linebacker Michael Ducre who's producing so far this season. He has team-highs across the board: 29 tackles, 3.5 for loss and 1.5 sacks.
The defense will blitz about 95 percent of the time.
"We're a pro-style offense and a 3-4 defense," Holmes said. "We're going to line up and we're going to play. We plan on playing smart, physical football, and play with great effort. That's what it's about. We get after people."
Buckeye Breakdown
Ohio State is used to being in the spotlight. Just last week the Buckeyes played in primetime in California. This week features arguably the least anticipated game in the program's long history. Florida A&M comes to Ohio Stadium on Saturday, and it isn't just the fans who aren't enthused. From the sound of it, players and even coaches haven't warmed up to the idea of playing a middling FCS school.
"I could give you some coach-speak up here, but it does make a difference," head coach Urban Meyer said. "So we are going to have to really coach the players hard this week."
At the top of the Not Excited List is senior safety Christian Bryant, who said he'd rather play a top-10 team.
"I like to showcase our talent," he said. "I would like to play bigger games. But it's really out of our control. I'm not really sure who makes the schedule, but we've still just got to go out there and face whatever team is put in front of us."
Martin Jarmond, Ohio State's executive associate athletic director, is the man in charge of football scheduling. He explained that there are many factors in putting together a football schedule. When the Buckeyes added FAMU to the schedule in 2011, there weren't many teams with open dates available.
The original plan was to schedule Grambling, but it fell through. So Florida A&M, another HBCU, was tabbed because of its band. They won't be there Saturday, though, due to a hazing scandal. Now fans are left shelling out almost $80 to see one of the biggest mismatches in Ohio State history.
"I would be careful to characterize any football game as a mismatch," Jarmond told Ohio State. "We all can recite some of the biggest upsets in recent memory involving FCS and FBS contests. I believe seven FCS teams have already defeated a FBS team this season."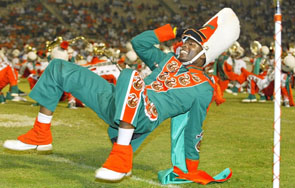 Holmes has no problem playing the role of sacrificial lamb. He's not bringing his team to Columbus with a negative mindset. But it doesn't mean he isn't realistic. Holmes knows it will take a Herculean effort to win in Ohio Stadium.
"It doesn't bother me at all, simply because the kids gain that great game-day experience and you see where you stand against some of the best," he said. "We have guys that are going to play in the pros, just like Ohio State will have guys play at the next level."
Said Hill: "We've taken the opportunity to play Ohio State and use it as a recruitment and branding opportunity for the entire university. We're not chasing the color of money. You can have too many of these games. We aren't building our program on the backs of young men and young ladies in an undesirable way. It's important we have a balance."
Ohio State will have its marquee game wish granted the next two weeks when it plays Wisconsin and Northwestern. First, though, comes FAMU. The Buckeyes have been in this situation before, taking on Youngstown State twice during the Jim Tressel era. Both games resulted in big margins of victory for the home team.
But the days of over-the-top easy schedules are coming to an end, at least in the Big Ten. Jim Delany has been a big proponent of conference schools beefing up their future schedules, and Gene Smith has taken that torch and led the movement for the Big Ten.
Ohio State's future features home-and-home series with Oregon, Oklahoma, Texas, Virginia Tech, TCU, Boston College and North Carolina. The Buckeyes – and Big Ten – are going away from MAC and FCS matchups, though they'll still occur sporadically.
Don't bet on Ohio State being among the FCS schedulers, though. Saturday is more than likely the last call. The team will use it almost as a practice to improve on fundamentals and other areas that need addressed with two of the biggest games of the season looming – Wisconsin and Northwestern.
"The one thing I told my guys today, I said, 'Listen, this week is about us,'" tight ends and fullbacks coach Tim Hinton said. "This is a challenge for us. The bottom line is how well do we do what we need to do. Normally, the odds are in our favor that if we do a pretty good job, we'll win the game."
That shouldn't be an issue against the Rattlers. Ohio State has had nary a problem against three FBS opponents this season. The Buckeyes have won handily while forcing twice as many turnovers than their foes. 
"Our job is to go out there and be ready to play 60 minutes of physical, tough, Ohio State football," defensive line coach Mike Vrabel said.
Meyer has lauded his coaching, especially after two valuable members of the defensive line went down and the unit continued to perform as advertised. There is youth all across the defense and it was expected to improve as the season progressed. Consider them ahead of schedule.
Now the defense finds itself in a spot where depth has been developed, which has allowed coaches to get creative. At Cal, Ohio State fielded as many as seven defensive backs at one time. It's called the "penny."
This week – and the rest of the season – the Buckeyes will concentrate on forcing turnovers and correcting missed tackles. Ohio State has created turnovers at a 2-to-1 rate against opponents, but the missed tackle issue arose again at Cal.
"It's just things we have to keep working on," Bryant said. "Turnovers, that's the key to the game as far as defense goes. We try to force as many turnovers as we can throughout every game and try and lead the nation in that category."
How it Plays Out
Bucknotes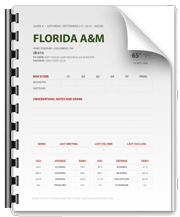 Bucknotes are your guide to Saturday's action. Download, print and become the smartest Ohio State fan in the room.
Ohio State will face little in the way of resistance. It has outscored opponents 68-14 in the first quarter this season, and that number is certain to grow come Saturday.
Many fans are hoping Braxton Miller rests again, but, in theory, this presents a perfect opportunity for him to get in a rhythm and then hand things over to Guiton. Playing a few series against an inferior opponent would go a long way in improving before next week's test against Wisconsin.
Florida A&M has some talented players, but it doesn't change the fact that Ohio State has the upper hand at every position, sometimes two and three deep. The advantage along both lines is where the Rattlers will be undone. Miller and Kenny Guiton should have gobs of time to throw the ball, and the running backs should find it easy to gain yards on the ground. FAMU's blitz-happy defense stands little chance at slowing a potent Buckeye offense. On defense, the Silver Bullets, especially the defensive line, should find it easy to sail into the backfield.
This is the type of game fans hit the exits early. Why fight traffic? Well, on Saturday the reason to fight traffic is to see the future play in the present. The second half will give freshmen and other under classmen the opportunity to gain playing time and introduce themselves to college football.
---
ELEVEN WARRIORS STAFF PREDICTION: Ohio State 59, Florida A&M 3