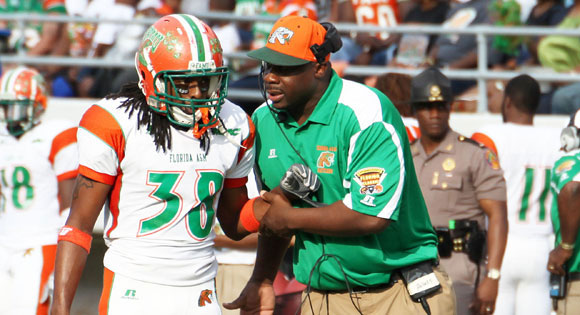 Saturday will be a homecoming of sorts for two members of the Florida A&M traveling party: its head coach and athletic director. Head coach Earl Holmes played one season for the Cleveland Browns, while AD Michael Hill is a Cleveland Glenville graduate.
When kids return home after a long absence, family is excited, they're greeted warmly and sometimes dad slips them a 20-dollar bill as they walk out the front door. In FAMU's case, Ohio State fans are eager to notch the program's 16th consecutive win, the fangless Rattlers won't be treated with the normal venom reserved for more potent foes and Gene Smith will hand over a $900,000 check as FAMU departs for the airport.
So-called guarantee games have become commonplace in college football and basketball. But the amount of money thrown around for football games can almost support an entire year's budget. The $900,000 FAMU is receiving for playing the Buckeyes is more than 30 percent of the football program's $2.8 million budget. In comparison, Ohio State's nears $35 million.
For the Buffalos, San Diego States and Florida A&Ms of the world, guaranteed payouts are a means to survive. Without BCS schools and their fat wallets, the Mid-American Conference, Sun Belt and FCS schools would have an even tougher challenge staying afloat in college athletics' deep end.
The Buckeyes paid the three aforementioned schools a combined $3.1 million to travel to Columbus and take a whoopin'. Dating to 2000, San Diego State has played in 26 guarantee games and won a grand total of zero. But, hey, the bottom line grew by more than $8 million.
If you're really impatient, you can notch almost $2 million a year by playing multiple guarantee games. San Jose State did so in 2010 with trip to Tuscaloosa and Madison on consecutive Saturdays. The result: $1.825 million. And an average score of 38-9 – in favor of the home team, of course.
"I think $1 million is going to be the market price in the coming years," said Ohio State athletic director Gene Smith, after the Buckeyes forked over $1.45 million to Navy in 2009.
The 12th game has been the biggest culprit in the price of lesser opponents rising. So, too, has the business of being in college sports. Big stadiums equal big paydays for the home team. Ohio State, which functions on a seven-home game model, makes upwards of $6 million each game in Ohio Stadium. But with the 12th game and large guarantees has come the occasional – or frequent – blowout matching traditional powers against overmatched middling programs.
In 1997, almost 80 percent of teams played a full slate of games against FBS teams. That number is only 15 percent for the current season.
"It's an issue of supply and demand," Smith said. "You have about 120 FBS schools, with six major conferences and about 10 or 11 teams in each league. Everybody is trying to play about four non-conference games a year and wants to play them in September before the league schedule starts.
"You've got to find teams that have open dates when you're looking to fill a date. The math often doesn't work out. There are not enough opponents out there, without scheduling the guarantee games."
The Rattlers enter Saturday's game as an overwhelming 57-point underdog. It's the largest Ohio State has ever been favored. It's a dream day for Florida A&M; it'll play in front of the biggest crowd in the proud program's history – FAMU has won one 1-AA national championship and 12 Black College Football national titles, the most recent in 2010 – and do so on national television.
"Most definitely," answered Florida A&M head coach Earl Holmes when asked by Eleven Warriors if the exposure would benefit recruiting. "Any time you can help yourself and help your brand in recruiting it's always a plus."
So much so that the university's president, athletic director, vice president of development, vice president of student affairs and other university personnel arrived in Ohio on Wednesday to travel around the state and sell the university at-large to high school students.
"We've taken the opportunity to play Ohio State and use it as a recruitment and branding opportunity for the entire university," athletic director Michael Hill told Eleven Warriors. "We're not chasing the color of money. You can have too many of these games. We aren't building our program on the backs of young men and young ladies in an undesirable way. It's important we have a balance."
The Buckeyes' excitement is waning. They just got done playing in primetime on the West Coast. Now, the No. 4 team in the country must try and get up for a game against a lower-division team with a 1-2 record.
Even head coach Urban Meyer admitted the intensity level drops in the locker room for such an unappealing game.
"I could give you some coach-speak up here, but it does make a difference," he said. "So we are going to have to really coach the players hard this week."
Senior safety Christian Bryant didn't mince words. He said he'd rather play top-10 teams.
"I like to showcase our talent," he said.
That's exactly what FAMU hopes to do, too.
"Most importantly, you want your guys to come out and compete," Holmes said. "They understand what it takes because they have aspirations to play at the next level. Second of all, to gain experience, from the crowd all the way down. It's all about the game-day experience.
"I don't think [Ohio State] is going to underestimate us. I know our guys are going to be up for them. It's all about that exposure. We know Coach Meyer will have his team ready to play and we're going to go out and try and be competitive."
Whether Florida A&M is competitive or not is irrelevant. The Rattlers receive their money regardless. This is the third installment of Ohio State versus an FCS school. The previous two came during the Jim Tressel era in games against Youngstown State.
The Buckeyes have no future games scheduled with FCS programs and only a handful with MAC teams. Instead, Smith has taken a hard stance against weak schedules. With the College Football Playoff on the horizon in 2014, teams are doing their best to beef up non-conference schedules to enhance the possibility of being one of the top-four teams selected.
"The only way it'll change is if FBS teams decide they don't want to necessarily pay a guarantee to a team to come in and they start playing each other at the higher level, every home and away is against top six conference," Tony Weaver, an assistant professor for sport and event management at Elon University and a former college administrator, told the Star-Ledger. "But the reality is that's hard to do is because everybody wants to play at home."
For smaller programs, however, a new scheduling philosophy could have negative effects. Last year, everyone learned who Savannah State was. The Georgia HBCU lost 84-0 to Oklahoma State and was then a record 70.5-point underdog at Florida State. SSU was spared, though, when lightning struck – literally. They only lost 55-0 to the Seminoles.
The results were ugly, but Savannah State pocketed enough money to equal nearly 25 percent of the school's endowment. A game at Miami on Saturday will net SSU another $375,000. It's a sink or swim world, and without guarantee games, the Savannah States and Florida A&M's could sink.
"I think FCS schools have to start repositioning themselves and preparing themselves for the real possibility that FBS schools could stop playing them," Hill said. "We have to think the same way. We have to think about how do we get those key games, those matchups that are attractive and create a level of revenue opportunity and great competition that people want to see."
Big Ten schools have played Missouri Valley Conference schools in recent years, which has created publicity for the MVC and generated revenue. Big Ten commissioner Jim Delany said members won't be punished for playing FCS schools, but it's clearly frowned upon. Rutgers, who doesn't join the league for another year, has already dropped a future game with Howard University, while Minnesota erased South Dakota State from the schedule in favor of TCU.
"We're the conference that would take the brunt of this unfortunate decision by the Big Ten," Missouri Valley commissioner Patty Viverito told the Argus-Leader. "As a league, we play guarantee games and we're going to continue to do that. It's always preferable to play them in geographic proximity not only because of the cost but also because of the interest in the game.
"Nobody will ever convince me that Northern Iowa not being able to play Iowa is a good thing."
South Dakota head coach Joe Glenn, previously the coach at Wyoming, joked that his school is willing to play the Bears or Packers so long as they receive compensation.
FCS teams have had the occasional success against big-time programs, none more famous than Appalachian State's win over Michigan in 2007.
"From a competitive standpoint, it's not an ideal situation," said then-Delaware State head coach Al Lavan, in 2009, prior to his team playing at Michigan. "You always have hope."
In Week 1 of the 2013 season, North Dakota State won at Kansas State and Eastern Washington won on the road against a ranked Oregon State team. Five other FCS teams won in FBS schools' home stadiums. The seven were paid a combined $2.375 million, according to ESPN. North Dakota State has won at such a high rate against FBS opponents – the Bison are 7-3 – that it may be locked out. But overall, FCS programs have only won 10 percent of the games against their bigger brothers. There are other negatives that come with guarantee games, not just losing.
Kent State rested some of its star players in 2007 when the Golden Flashes took on Ohio State. They were more concerned about winning a MAC title. In its 2013 opener, Central Michigan's quarterback and running back suffered a broken collarbone and broken ankle, respectively. That $850,000 paycheck came with a price.
Perhaps the ultimate loss, though, was Delaware State's. To play Michigan and reap the $550,000 reward, DSU was forced to forfeit a conference game because they broke a contract with North Carolina A&T.
The final score: Michigan 63, Delaware State 6.
"It felt good," said Michigan defensive end Brandon Graham.
Fans of college football thought, and still think, otherwise.