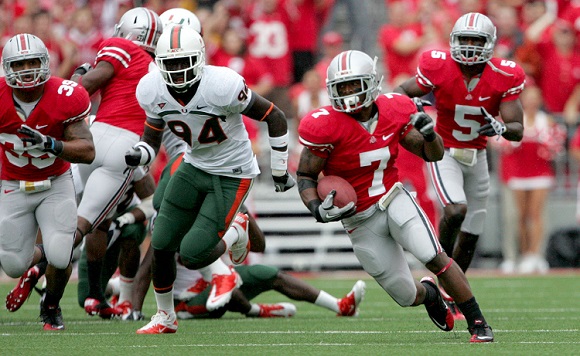 This week Ohio State welcomes some new visitors to the old Horseshoe. I say new not because the Rattlers of Florida A&M have just started playing football (they produced Ken Riley, after all), but new in the sense that they have never played the Buckeyes before and will be new to the experience of entering one of college footballs most revered arenas. 
Because I have no Florida A&M flashback to offer you this week, I thought I might offer a few thoughts on OSU's best non-conference home games. Or at least the ones I can remember. In recent years the pre-conference schedule has been, shall we say, a bit light. With all due respect to the UABs and Buffalos of the world, I prefer a visit from a big conference team that might be a contender for a conference championship.
Not that we don't still have one of those here every now and then; one that happened only three years ago is profiled below. But starting in the Tressel era, you were more liable to see Youngstown State or Akron on the pre-conference schedule. And sometimes the teams that the schedule-makers thought would be contenders at the time they were scheduled (several years in advance) were somewhat less imposing when they finally made it to town (think Washington 2003 and Cal 2012). 
This list is not definitive; in fact, I'm quite sure that there have been some better games, but I don't like to think about some of them. For example, Oklahoma 1977 or Texas 2005. No, I'm not going to write about losses. The games that are memorable to me are wins over well-known adversaries. These are my favorites. I'd love to hear about some of yours in the comments.
MIAMI 2010
From the moment that Ken Dorsey threw incomplete to end the longest and most exciting BCS Championship game ever, the Miami Hurricanes had nursed an enduring hatred for all things Ohio State. Finally, they would get their chance to repay the debt and humiliate the hated Buckeyes in their own stadium on national television. The players were ready, the fans were poised to claim revenge, the reporters eagerly awaited a good revenge story.
However, the story they actually wrote was quite a different one. It was a story of how the supposedly slow team from the midwest went deep early and often and overwhelmed the visitors with both talent and poise. Terrelle Pryor passed for 233 yards and ran for another 113 to lead the Buckeyes to a 36-24 victory that was not as close as the score indicated. Of course, according to the NCAA, this game never took place. But since we had our first-ever Eat Too Brutus tailgate on that day, I think it will stick in my memory for a while. 
TEXAS TECH 2002
This game is memorable for several reasons. For one, it was the first game I had been able to attend in person since watching the Buckeyes demolish Toledo in 1998. Second, it was the debut for Maurice Clarett at Ohio State, and what a debut it was. Clarett carried 21 times for 175 yards and three touchdowns as OSU crushed the Red Raiders 45-21 in another game that was not as close as the final score indicated. 
Ohio State led the game 38-7 in the fourth quarter before emptying the bench and letting the reserves take over. Meanwhile, current Texas Tech coach and then-quarterback Kliff Kingsbury threw a pair of touchdown passes to Wes Welker to make the game look respectable. As I sat in the newly-remodeled Ohio Stadium on that day, I had no idea that this team, whose offensive line was patchwork and whose secondary seemed suspect, was on its way to an undefeated season and a national championship. Still felt good to win, though.
NOTRE DAME 1995
It had been 60 years since Notre Dame had visited Columbus to play Ohio State in football. The hype for the game was unbelievable, and it seemed nearly impossible for the game to live up to it. Nevertheless, the game was tight and filled with drama in the first half. Both teams moved the ball well, but the Irish got the better of it early, going up 10-0, and ultimately went to the locker room leading 17-14.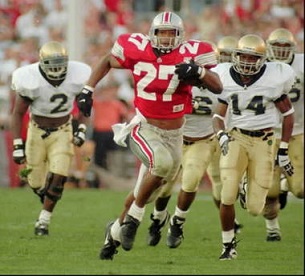 The second half was a different story. After spotting ND another field goal, the Buckeyes jumped on them for three touchdowns in the third quarter, one of them an electrifying 82-yard pass from Bob Hoying to Terry Glenn, to go up 35-20 entering the fourth. Eddie George and the OSU rushing offense controlled the clock from there and the Buckeyes cruised to a 45-26 triumph. 
WASHINGTON 1993
When the Washington Huskies came to town in 1993, on the return trip of a home-and-home series that began in 1986, it seemed like an opportunity for Ohio State to validate that they had returned to prominence after a period of being mostly irrelevant to the national football conversation. The Buckeyes were on an early-season roll, especially on offense, but this would be the first true test. It was a nationally televised night game, and the atmosphere was electric.
Scripting their first 15 plays (an innovation at that time), the OSU offense moved right down the field on their first possession and scored to go up 7-0. Then, in the second quarter, coach John Cooper went for it on fourth-and-two from the UW 35. Hoying spotted Joey Galloway open on the right side, and Galloway took the ball and scooted all the way to the end zone to put the Buckeyes up 14-3. They cruised from there to secure a 21-12 victory.
LSU 1988
One of Ohio State's greatest comebacks, albeit as part of their worst season in my lifetime, occurred when LSU came to town in 1988. Jeff has already written at length about this game, so I won't spend a lot of time on it. All I will say is that I was still a student at the time, and that I was late to work (at a pizza shop) so that I could stay for the whole game. It was worth getting into a little trouble with the boss to witness OSU's last official victory over an SEC team. 
That's my top five; how's it compare to yours? Tell me what you remember about these games and remind me of others I might have forgotten.