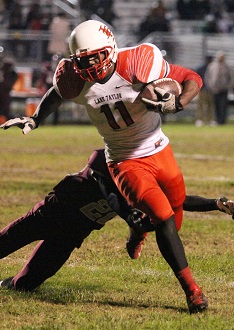 There are few places in the United States that have a higher violent crime rate than Norfolk, Virginia. It's a city rife with gangs and guns and the way out is often in a pine box or a prison cell. In fact, as a resident of Norfolk, you've got a 1-in-17 chance of being a victim of violent or property crimes. It's an area filled with despair and a murder rate almost three times higher than the national average, with robbery rates more than twice the national average as well. Jalyn Holmes knows about the stats, and he knows that he's one of the lucky ones, a kid from Norfolk with the chance to leave on his own accord and with a chance to make himself into a positive story for a community more known for its tragedies.
"If I wasn't playing football, I would probably be doing a lot of foolish things," Holmes told Eleven Warriors.  "I'm very lucky to have my parents always keeping me on a straight line, a straight path. Football has always kept me level-headed and focused. This area is tough, there's so many gangs, neighborhood shootings and all that. I see friends locked up or dead to the streets, it's not an easy life."
Unfortunately for Holmes, two weeks ago — during a nationally televised game against nationally-ranked Oscar Smith High School — he appeared to lose control of that level-headed approach for a single second. It was a moment that has changed how people viewed the nation's fourth-ranked defensive end, and not for the better. A decision that he's been widely-scrutinized for and deservedly so. Holmes after knocking down an opposing player, was ejected from the game for what looked like an attempt to kick the grounded player.
"I know how it looked on TV and to the officials, and I know that people think I am a dirty player because of it," Holmes said of the incident. "Honestly, I was just trying to step over him because he was on the ground in front of me as I tried to run the play down, but he was really long and I stepped on his facemask. When the officials ejected me I was just really confused because my intention was never to hit him. "
Intentional or not, Holmes becomes the poster boy for anyone wishing to apply lifelong labels to someone for a momentary mistake. He's heard some nasty things and whether he will freely admit it to most, he says it's impossible to not let it bother him.
"People call me some nasty stuff," he said of the reaction since the incident. "I've been told I was a gangbanger, a thug, a criminal. People are telling me that I am going to end up in jail like my cousin. He's 18 years old and in prison for robbery and abduction. I reached out to the guy I stepped on, unfortunately he has been posting stuff on Instagram calling me out too. I tried to apologize to him but he's not wanting to hear it yet. I know it makes people think I'm a certain way."
Realizing how he's being perceived, the onus falls squarely on Holmes to change his reputation. The biggest piece of the puzzle, he says, is having the support of his Lake Taylor coaches, teammates and fellow students; as well as the support from his future coaches at Ohio State.
"I have apologized to my coaches, my teammates, and the students at my school that I work with. I've been working to do anything I can on the scout team to help out during my suspension," Holmes added. "I feel horrible being on the sideline watching the game instead of helping them win, but they know who I am and they realize I am not the type of person to get kicked out of a game and hurt our team. I know that I am learning a lesson from this happening and I have to get ready to come back and be a better person after this is over. I've talked to Coach (Urban) Meyer and Coach (Mike) Vrabel and both of them basically just said to keep my head up, to keep focused and make sure who I am shines through when this is over, they have been very supportive."
One person that Holmes felt the need to apologize to was his friend Stacy, a special needs child that he's grown close to through a program at his school. Initially designed to be a program to help the children who needed assistance, Holmes insists he's the one that's gained the most from the developing friendship.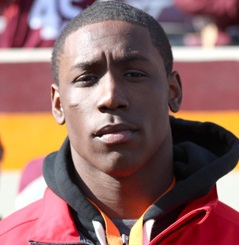 "I've been active in this special needs assistance program since the beginning of last year," he said of how he was introduced to Stacy. "Basically we were there to help them get exercise, to help them get from class to class, and honestly he's grown on me. When I hang out with Stacy I forget about the suspension, forget about my troubles and the negative things people are saying about me. One thing I've noticed about him is that he never judges me, he loves everyone for who they are. He supports me to the fullest."
Jalyn Holmes is a good kid. A good kid who made a mistake on the football field that will serve as a reminder to him always make better decisions. He has seen briefly how a life without football could end up, he has seen how quickly life and opportunities can disappear. He's seen the blessings of being a healthy, happy and talented kid while so many others struggle to get by in a town that seems to be getting worse by the month. Jalyn Holmes realizes that football is a gift, and he realizes that it's a way to bigger and brighter things. He's a student-athlete with a GPA approaching 3.0 and a desire to be more than just a football player. He's a humble guy that doesn't like talking about himself, but recognizes that he's in the spotlight for now and the foreseeable future.
That spotlight is one Holmes will relish and he will be a part of for the right reasons. Lesson learned.
"I'm a pretty quiet guy," Holmes said of himself and where things are heading. "I don't want people talking about me other than talking about how I'd take a bullet for my team, for my guys. That's all I am going to focus on, getting better and being a better teammate and person moving forward."