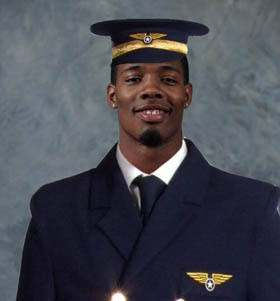 SUNDAY
Ohio State dropped to 4th in a poll everyone told us didn't matter last year.
Campus Browns fans were still Browns fans for some reason.
Stat: Terrelle Pryor actually lead the NFL in rushing yards.
Aaron Craft got engaged (to every B1G point guard).
And DT Michael Bennett agreed to sell us his 12-0 ring during our "twinterview."
MONDAY
A cyclist gained the respect of every pedestrian by ringing his bell on the sidewalk.
Ohio State's next home game was still 12 days away, reported a student drinking at 10 AM.
A fraternity brother learned he had fathered a child via one of several Buckeye Crushes twitter accounts.
Ohio State Student Wellness began offering free restraining orders.
And dorm room bathrooms across campus were a different color than they were three weeks ago.
TUESDAY
Kenny Guiton aced Braxton Miller's midterm for him.
We asked readers, "Which word can your foreign professor not say quite right?" and got close to one hundred replies.
North Commons added robotic servers.
And the second-best stadium in Columbus hosted the second-best kind of football.
WEDNESDAY
The TFL Forecast showed rain now and then probably not rain later.
Campus Humans vs Zombies returned as a semi-annual reminder of who the weird kids are.
And a football school's basketball tickets sold out in 20 minutes.
THURSDAY
The Carmen classlist person finder feature was still yet to be used even once for a purely innocent reason.
Advice: How to have a great away game experience.
Huntington Bank was set to open a new campus branch within a Starbucks within a Barnes & Noble within another Huntington Bank.
And a student running around campus aiming a Nerf gun at unarmed human beings was probably sane and nothing to worry about.
FRIDAY
Freshmen across campus started packing to return to the place they still considered home for the weekend.
Kenny Guiton was announced as the starting pilot for Ohio State's trip to Cal.
The Donatos DJ was thinking about maybe playing 'Radioactive' next.
And Cal was really hoping Braxton Miller would play.
SATURDAY (GAME DAY)
Fans who laughed off Friday the 13th made sure to put on their lucky game day underwear.
Brady Hoke wasn't sure why his wide receiver kept throwing bad interceptions.
Ohio State set a record for farthest away home game.
The Buckeyes' white outfits were cuter, campus girlfriends reported.
Kenny Guiton was announced as the starter for next week's game, then for Wisconsin, then for the National Championship Game as the game progressed until he was finally selected as the overall number 1 pick in the NFL draft by probably the Browns.
Braxton Miller started considering his transfer options.
Urban Meyer couldn't believe his decision to punt on 4th and 1.
Stat: Every one of Ohio State's 7 touchdowns was scored by a backup.
And Maurice Clarett jerseys across the country were dug out of closets.
---
The Fake Lantern is the fake student voice of The Ohio State University. You should follow them on Twitter: @TheFakeLantern.