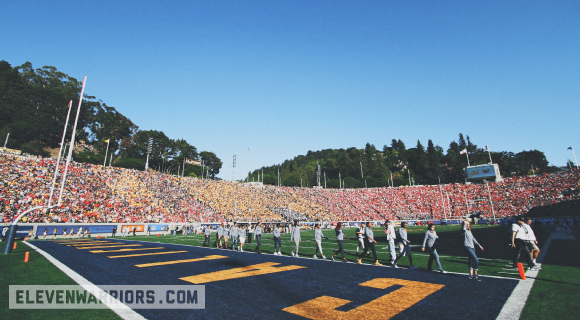 BERKELEY, Calif. – Ohio State's trip to California was billed as the Buckeyes' first road game. But when the team got off the buses Saturday afternoon in Berkeley, they saw a scene reminiscent of their walk from the Blackwell to St. John Arena.
Scarlet and gray were the only colors in sight. An estimated 25,000 Ohio State fans were inside Memorial Stadium for the Buckeyes' 52-34 win. They've always traveled well, but to see such overwhelming numbers in California raised eyebrows.
With the game in hand in the fourth quarter, the O-H-I-O cheer went around the stadium. Cal students tried to drown it out with chants of "California," but the attempt was futile.
The support did not go unnoticed by head coach Urban Meyer. The first thing he did in his post-game press conference was recognize Buckeye Nation.
"I'd like to thank our fans," he said. ""I expected it just from years ago I remember on the road trips there would be a bunch of Buckeyes in the stadium. But hats off to all those scarlet and grays who travelled across the country. I've got the feeling there's a bunch of California Buckeyes out here, too.
"What an environment."
Added Meyer: "That was fun to watch."
The atmosphere was ratcheted up thanks to Kenny Guiton's first-quarter touchdown passes. Ohio State scored its first three touchdowns in 10 plays.
"He's a very good distributor," Meyer said. "He gets the ball to the right people at the right time. What I was more impressed with him were the downfield throws. A few of those were right on the dot with a couple of excellent catches. I'm not surprised with him distributing the ball right away, but I am surprised that he looked complete."
Meyer said he knew Thursday Braxton Miller wasn't going to be able to play. He never told Guiton he'd start. Meyer said it was obvious.
"I really never was told I was going to start, but all week I was with the ones, so I kept the mindset like I was going to start," Guiton said. "Today when I got the nod, I was just ready to go. I always try to prepare. The coaches came up with a great game plan. We actually hit them deep a few times early, and I think that opened up a lot more for our offense. I was nervous, but I think being nervous helps you prepare harder."
Suddenly, Ohio State is in the midst of a minor quarterback controversy. Not in the sense of who will start, the job is Miller's once he's healthy, but it's going to be hard to keep Guiton off the field when he's been so efficient and effective.
Ohio State 52, Cal 34
"I think Kenny will get in the game a little bit," Meyer said. "He's throwing the ball better than he has and throwing the ball down field, so that's something I'll need to think about it."
For the second straight week, Dontre Wilson provided the Buckeyes with game-changing speed. He didn't score a touchdown, but he did manage to establish himself of the missing link in what Meyer and Tom Herman want in a dynamic offensive player.
"I see myself as a big time playmaker, as a game changer," Wilson said. "Every time I get in I tell myself that. Without having Braxton, we lose that threat of running by the QB. They bring me in to stretch it out and just make a big play when the time is needed. Every time I get the ball I'm trying to show the coaches what I can do."
Asked about the Ohio State offense and it's ability to score points in bunches, Philly Brown used the words "ridiculous" and unbelievable."
Cal quarterback Jared Goff added to his stats, but for the most part, Ohio State corralled the nation's No. 1 passer.
"They are a great team," Goff said. "They're all they're talked up to be. There were chances we had to score two or three more touchdowns that we slipped on. There were a few turnovers we had that we shouldn't have had. We get a slip here, we get a break here and it could have been different and we could have stayed in that game a little longer."