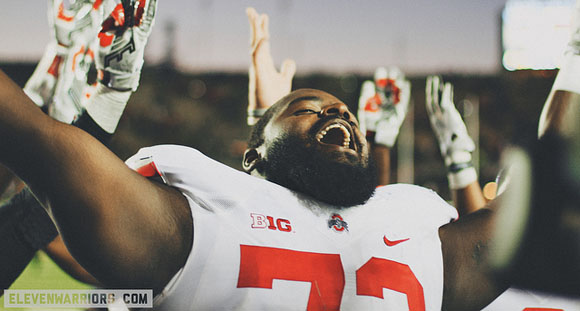 It's time for your Week 3 debriefing. Ready?
Ohio State took its first road trip of the year, going west to pay a call on the California Golden Bears. Cal entered off two fairly unimpressive games (except for its passing offense), losing to Northwestern, 44-30, and edging Portland State, 37-30.
Cal's "Bear Raid" passing attack had been by far the most impressive part of its game. It seemed that both teams would be able to put some points on the board. The Buckeyes brought Braxton Miller (knee) on the road but determined he couldn't go, and the junior quarterback did not dress. Instead, Urban Meyer handed the keys to the offense to senior backup Kenny Guiton.
Adolphus Washington (groin) didn't even make the trip. So Steve Miller and Joey Bosa would be asked to step up their game.
With Cal averaging nearly 100 offensive snaps per game, would Ohio State be able to cut that number down? Would the smaller travel squad be able to withstand Cal's fast pace for four quarters? Could the Buckeye defense confuse freshman quarterback Jared Goff?
Here's what you need to know about the contest between your Buckeyes and the Bears from the Pac-12 Conference.
Water Cooler prep (Everything you need to know…in one paragraph)
Ohio State jumped out to a 21-0 lead and traded points from there, en route to a 52-34 win. Cal made a game of it with a couple of big plays, but Ohio State was never seriously threatened. Guiton led an offense that rolled up 608 yards. Jordan Hall ran for 168 yards and three touchdowns. Devin Smith caught three balls for 168 yards and two scores.
Talk before the game 
"I see no reason to risk further injury to Braxton. Go get 'em Kenny G!"
"There are more Ohio State fans than Cal fans in Memorial Stadium."
Talk in the aftermath
"Another great game by Kenny G and no interceptions."
"No need for Braxton Miller to rush back when you've got Kenny G playing his smooth, smooth jazz."
Support from #BuckeyeNation was amazing today,felt like a home game!

— Joe Burger (@jburgs37) September 15, 2013
Give that man a buckeye leaf (Player of the game)
In his first career start, Kenny G played the opposing defense like a soprano saxophone. His first half alone was better than the day most of the nation's quarterbacks had yesterday — 13/20 for 228 yards and three touchdowns. For the game, Guiton was 21/32 for 276 yards and four touchdowns, and he ran for 92 more yards on 14 carries (6.6 YPA). A master of option football, Kenny nearly always made the right decision on when to give or keep, selling the fake at the mesh point like a maestro.
Snot Knocker of the Game
Ohio State faced a fourth-and-one at the Cal 38-yard line on the first drive of the second half. Guiton kept on an option play over the right side and scurried 33 yards to the five. On the play, Ohio State center Cory Linsley hustled downfield and pretty much trucked a guy, sending him flying.
Did you see that?! (Play of the game)
On just Ohio State's second offensive play, the Buckeyes lined up at their own 10. Guiton faked a handoff to Hall and unleashed a bomb to Smith, who caught it in stride near midfield and raced untouched to the end zone. It was Ohio State's longest ever play from scrimmage and really set the tone for the Buckeye offense. Guiton and Smith would later hook up for a 47-yarder.
When you sank into your chair (The moment Buckeye football disgraced your family)
Late in the third quarter, Ohio State forced Cal into a third-and-20, following a holding penalty and a sack by Noah Spence. The Buckeyes had been getting after Goff and were primed for a big play. Corey "Pittsburgh" Brown read Goff's eyes the freshman quarterback threw the football right to him. Brown jumped and prepared to make a drive-killing interception. Instead, the ball went through Brown's hands, hit off his left shoulder pad, and bounced straight to Cal receiver Jackson Bouza, who caught it for a first down. The Golden Bears had a fresh set of downs at the Ohio State 41 while Buckeye Nation face palmed.
Jim Tressel's Least Favorite Moment of the game
Ohio State 52, Cal 34
With time winding down in the second quarter, Cal lined up in punt formation on fourth-and-seven at the Ohio State 38-yard line. As Tressel hunched over the meal on his living room TV tray, Jared Goff — who wears the same number as Cal's punter — threw a strike to Stefan McClure for a first down. Suddenly not hungry anymore, Tressel pushed the unfinished Chicken Carbonara from Lean Cuisine's Culinary Collection away and said "No sir. You never know what could happen on a fake punt. You have to go ahead and kick it there. Pin them deep, make them drive the length of the field, and so forth."
What you texted your friend at the end of each quarter
First: Awesome start, but have to eliminate the dumb mistakes.
Second: Can't seem to pull away. At least Shazier came back.
Third: Offense is clicking. Have to stop missing tackles!
Fourth: 3-0! Let's keep it rolling.
It was over when
Kenny Guiton dropped a perfect pass over the top to Philly Brown from six yards out, capping a punishing 15-play, 80-yard drive that used up 6:13 on the clock. The Buckeyes increased their lead to 45-20 on Guiton's fourth touchdown pass of the game, with under six minutes to play in the third quarter. Although Cal's offense played well, it couldn't keep up with Ohio State and that score ended any real hopes of the Bears making a game of it.
---
That's it. Now you know what to say if the game comes up as a topic of conversation. Next week: Florida A&M.