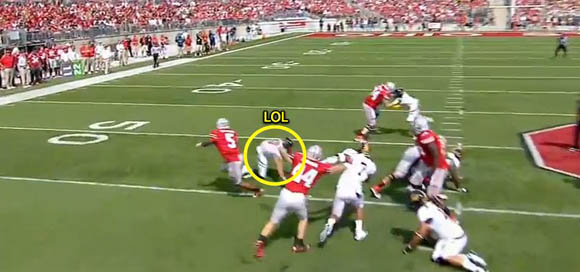 Ohio State-Cal doesn't kick until 7 p.m. tonight, but unlike last week, the non-conference action is pretty hot this Saturday.
Start with the noon clash between Nebraska and UCLA (ABC), the first of four B1G-Pac battles on the day. The Bruins were the first to punch holes in Nebraska's defense last season and the Cornhuskers will be eyeing redemption.
Louisville-Kentucky is also worth a look, if for nothing else than to see what small-time hate looks like. It's kind of adorable, actually. The noon hour features the typical run of meh Big Ten games including Akron at Michigan (BTN, Go-Go-Tressel magic), Bowling Green at Indiana (ESPNU) – you are three-point favorites, IU, it's time reexamine your station in life – and Youngstown State (MANGINO!) at Michigan State (BTN, 2 p.m.).
Once the noon games are over, you'll tune into CBS, like everyone else in America, to catch Alabam-Texas A&M. Aggies got their yell-on last night and their ready for Saban.  Following that clash, it's go time in Berkeley.
Here's your Cal game preview and Bucknotes to print off.
| Kickoff (ET) | matchup | tv | internet | favorite |
| --- | --- | --- | --- | --- |
| 12:00 p.m. | No. 16 UCLA (1-0) at No. 23 Nebraska (2-0) | ABC |   | NEB (-3) |
| 12:00 p.m. | No. 5 Stanford (1-0) at Army (1-1) | CBSSN |   | STAN (-30) |
| 12:00 p.m. | No. 7 Louisville (2-0) at Kentucky (1-1) | ESPN | WatchESPN | LOU (-15) |
| 12:00 p.m. | Akron (1-1) at No. 11 Michigan (2-0) | BTN | BTN2GO | UM (-37½) |
| 12:00 p.m. | Tulsa (1-1) at No. 14 Oklahoma (2-0) | ESPN2 | WatchESPN | OU (-24½) |
| 12:00 p.m. | Bowling Green (2-0) at Indiana (1-1) | ESPNU | WatchESPN | IU (-3) |
| 12:00 p.m. | W. Illinois (2-0) at Minnesota (2-0) | BTN | BTN2GO | MINN (-24½) |
| 2:00 p.m. | Youngstate State (2-0) at Michigan State (2-0) | BTN | BTN2GO | MSU (-23½) |