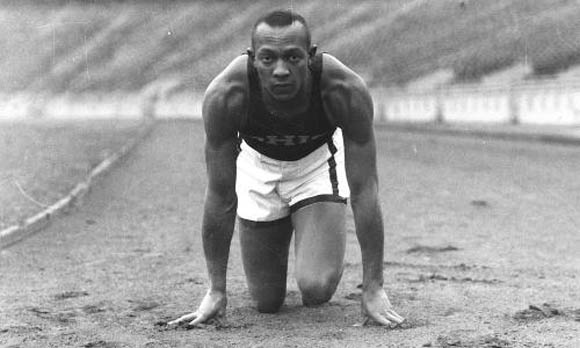 Happy birthday to James Cleveland "Jesse" Owens, who would have been 100 today.
Before Owens sailed across the Atlantic to pimp-slap Adolf Hitler at the '36 games, the "Buckeye Bullet" torched the Big Ten and collegiate scene in the states, winning a record eight individual NCAA championships, four each in 1935 and 1936.
That's why he's known as the first King of Ann Arbor:
Owens's greatest achievement came in a span of 45 minutes on May 25, 1935, during the Big Ten meet at Ferry Field in Ann Arbor, Michigan, where he set three world records and tied a fourth. He equaled the world record for the 100 yard dash (9.4 seconds); and set world records in the long jump (26 ft 8 1⁄4 in or 8.13 m, a world record that would last 25 years); 220-yard (201.2 m) sprint (20.3 seconds); and 220-yard (201.2m) low hurdles (22.6 seconds, becoming the first to break 23 seconds).