It used to be going west was a monumental trip for Midwestern boys. The luster has been lost since the inception of the Bowl Championship Series. All of a sudden, the Rose Bowl didn't become the end of season goal for Big Ten teams. The national title game eclipsed the Granddaddy of Them All.
Ohio State has played in the Rose Bowl Game exactly twice since the 1985 season. That number would be much higher without the BCS. The Buckeyes have played in the BCS National Championship Game three times and made multiple trips to San Diego, Phoenix, New Orleans and the state of Texas during that time period.
"My only experience with [going west] is when I was at Notre Dame going out to USC," Meyer said. "You would think that would be the biggest thing in the world and I used to sometimes wonder. I would imagine it is. I don't know that."
It's a personal opinion for many. Wide receiver Philly Brown left no doubt about his feelings on the trip. Brown said he'd never been to California. Asked if he was excited about seeing some of the world famous destinations in the Bay Area – Golden Gate Bridge, cable cars, Alcatraz, etc. – Brown didn't give off the slightest bit of interest.
The team arrives in California on Friday – they'll be headquartered in Oakland. Consider the challenge of staying focused while stationed in an exotic locale easy for Brown.
"I don't think there's anything there anyway," he said. "California is not a special state."
Running In Place
When you think of a Sonny Dykes-coached offense, passing and getting plays off quicker than a basketball team come to mind. But the run game is also an important staple.
Through the first two weeks of the season, true freshman quarterback Jared Goff leads the nation in passing yards. It has Cal fans excited after a couple down years. Still, Dykes is looking for a more balanced approach. The Bears averaged 2.6 yards per carry against Northwestern and only 3 yards against FCS foe Portland State.
With Ohio State traveling to Berkeley this weekend, Cal will need more than a pass-happy offense to derail the Buckeyes' defense. Ohio State ranks 18th nationally in total defense, allowing 269 yards per game and ninth in rush defense, yielding 68.5 yards per game. Goff has thrown for nearly 1,000 yards in two games, while the Silver Bullets are giving up just over 200 passing yards.
Dykes called the Bears' rushing offense a "concern" and said inconsistent line play has been the issue.
"We've got to raise our level of play," he said.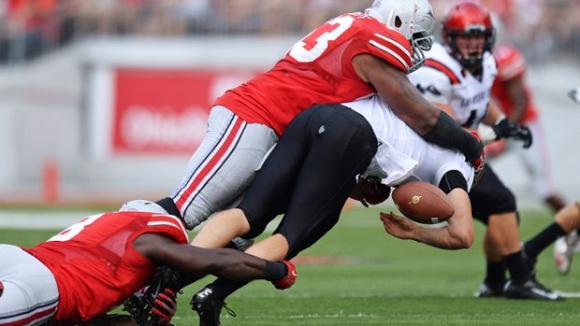 Necessary Roughness
The defense's play during the second half of last season left many excited for the possibilities ahead in 2013. Through two games, one can argue that the defense has been the better unit when compared to the offense.
Coming off a complete 60-minute domination of San Diego State, Meyer said the defense was forming into "the kind of defense that I dream of seeing." It starts in the trenches, where the Buckeyes have been able to add depth and rotate fresh players in. It's given them the upper hand against subpar competition so far. Against Cal, the depth will become an asset due to the Bears ability to run around 100 plays per game.
"Our defensive line is playing at a very high level right now," Meyer said. "I don't want to jinx them. They are not perfect at all. As a matter of fact, they are very poor in some things they do. But as far as effort, energy, enthusiasm, esprit de corps, that whole unit is playing [great].
"I have to give credit to their coach, Mike Vrabel. They play like Mike coaches and I imagine the way Mike played here. It's just a high energy, intense, very close knit group. They are buying what he's selling. That's very much a positive right now."
Starters Noah Spence, Adolphus Washington, Michael Bennett and Joel Hale have receive just credit. Behind them, though, has been a plethora of production. True freshman Joey Bosa and Michael Hill have adapted well to the college game, and junior Steve Miller replaced Washington on Saturday after he suffered a groin injury. All Miller did was come up with a sack.
Almost exactly one year ago, the Silver Bullets allowed 512 total yards and 28 points to Cal. Running back Brendan Bigelow finished with 160 yards and two touchdowns on four carries.
"It was very, very poor tackling and very poor leverage on the football," Meyer said.
It's caused some angst in the lead up to this season's game. But Meyer and Co. noted the Bears' offense is structured completely different than last year.
"Different offense, different personnel and a little bit different scheme," co-defensive coordinator Everett Withers said. "I think this offense is totally different than last year's offense. I think Coach Dykes is more of the fast paced, get the ball out quick type offense, so we have to have a little bit different plan than last year's plan. I don't think we even looked at last year's tape."
Pole Dancing
Experienced head coaches pay little attention to the polls. Two weeks into the season, Ohio State has fallen one spot in the Coaches Poll, from No. 2 in the preseason to No. 3, and one spot each week in the AP Poll, from second to fourth. With potentially 11 games left before the bowl, Meyer is on the side of unconcerned.
"It doesn't impact us, and I can't explain it," Meyer said. "So I think at the end of the day, everything's going to work out. The best teams will be up there."
Oregon and Clemson moved past the Buckeyes in the AP, while the Ducks also jumped to No. 2 in the Coaches Poll, which is part of the BCS formula. Oregon has racked up impressive offensive numbers in its first two games, and Clemson defeated then-No. 5 Georgia. 
September isn't the time to fret, though.
"No, we're not worried about polls," Brown said. "We know if we keep winning, they can only drop us so far. How far down can you drop an undefeated team?"
It's possible an answer could come in December if the Buckeyes, Ducks and Tigers continue piling up victories. In the final year of the BCS, it'd only be appropriate to end with controversy.