As we head into week three of college football season, the Big Ten is doing solid on the gridiron. Most Big Ten schools are not doing as well on the recruiting trail. 
Michigan State and Wisconsin are the only schools to land a 2014 commitment in the past seven days. Penn State could potentially land a commitment today. 
With two new pledges, we saw some movement in our B1G football recruiting rankings. Michigan State jumped Penn State for the fourth spot and Wisconsin added a commitment, but it wasn't enough to move them up in the rankings. 
Ohio State didn't add a commitment this week, however, Noah Brown's official visit appears to have went well. The Buckeyes will look to add Brown to the current group of 17 commits in the '14 class. Quite a few underclassmen also made the trip to Columbus this weekend, including Massillon freshman quarterback Danny Clark. 
Week two wraps up with two prospects committing on official visits. What should you expect in week three? We have you covered here. 
Now, on to the rankings:
14. Indiana
Indiana fell to Navy, 41-35. It's a disappointing result for a team that many thought could be a sleeper. With each loss, Kevin Wilson's seat gets a little warmer. Wilson has also struggled on the recruiting trail. The Hoosiers will forever be a basketball school. 
Commitments: No new commitments this week. 
Visitor news: Bowling Green comes to town to take on the Hoosiers. I haven't been able to find any list of visiting recruits, but I'm guessing it won't include any big names. Last week's visitors, including '15 DB Dante Redwood, took notice of Navy running all over the Hoosiers. 
13. Minnesota
All is quiet in Minnesota. With only six commitments, the Gophers are second to last. A class of about 12 commitments is expected, therefore it's safe to assume they'll continue to be near the bottom. The quality of recruits is solid, which is a sign Jerry Kill has the potential to do good things at Minnesota. 
Commitments: No new commitments this week. 
Visitor news: Minnesota returns home this weekend to take on Western Illinois. Two-star running back Gregory Howell is the only prospect scheduled for an official visit. Howell has offers from Buffalo, Florida Atlantic, Louisiana Tech, Miami(OH), Western Kentucky and others. Sept. 28 is setting up to be a big recruiting weekend for the Gophers, when they face Iowa.  
12. Purdue
Darrell Hazell continues to struggle in recruiting and the football field. The Boilermakers were only able to beat Indiana State by six points and he hasn't exactly lit things up on the recruiting trail. He did manage to land Elite 11 quarterback David Blough, who is a good building block for Hazell. 
Commitments: No new commitments this week. 
Visitor news: It's Purdue's turn to take on Notre Dame. High school senior ATH Shaq Vann is one of the confirmed uncommitted visitors, while a lot of their verbals will be in attendance. Vann has offers from Central Michigan, Eastern Michigan and Miami (OH). Their visitor list will continue to take form as the week progresses. 
11. Illinois
Tim Beckman has Illinois off to a 2-0 start, but he has yet to get things going on the recruiting trail. "Who doesn't Illinois offer?" is a running joke in recruiting circles. The Illini typically find themselves recruiting against MAC schools. A winning season would grab some attention, though.  
Commitments: No new commitments this week. 
Visitor news: The Washington Huskies will march into Champaign. I haven't been able to find a list of visitors, but I'm sure this big game will be utilized for visits.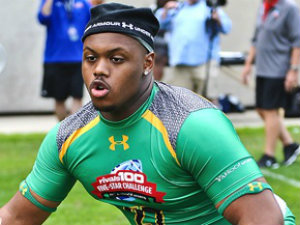 10. Maryland
Maryland plans to take 20 commitments in this class. The Terrapins are battling with Ohio State for offensive linemen Damian Prince and Brock Ruble. While they check in at ten now, it's a safe bet that Maryland will finish in the top half of the rankings. Maryland desperately needs more talent on their roster. 
Commitments: No new commitments this week.  
Visitor news: The Terrapins will travel to Connecticut this weekend and no recruit is scheduled to visit Maryland. 
9. Iowa
Kirk Ferentz holds onto his job for another week. Recruiting hasn't been going well for Iowa, but it never really has. The Hawkeyes will continue to find themselves near the bottom of the rankings until they get a capable coach. 
Commitments: No new commitments this week.
Visitor news: The Hawkeyes will travel to Ames to take on Iowa State, therefore no visits will take place this weekend. 
8. Nebraska
One would expect Nebraska to recruit better, but it looks like they are poised for a solid finish. Prospects raved about their recent visits, but no one has pulled the trigger. The Cornhuskers have been going hard after numerous committed prospects including Erik Brown (Washington), Brandon Powell (Miami), Mavin Saunders (Florida State) and Dallis Todd (Oklahoma).  
Commitments: No new commitments this week.
Visitor news: UCLA heads to Lincoln, Saturday, which should be a good game. Four-star defensive tackle Ricky Walker is expected to be in attendance. The Huskers are in the mix, but Virginia Tech is the current leader. Miami(FL) commitment Brandon Powell tweeted he would be visiting Lincoln this weekend, as well. 
The prospects on campus last weekend raved about their visit on Twitter. Now, Bo Pelini needs to seal the deal.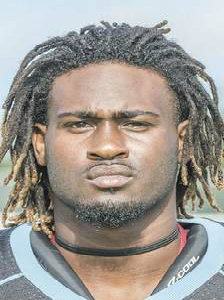 7. Wisconsin
Gary Andersen continues to recruit well for the Badgers. Wisconsin added a commitment this weekend, but it wasn't enough to bump them past Northwestern. They appear to be the favorites for several three-stars, including WR Krenwich Sanders, CB Demarion Morris, CB Jalen Embry, ATH Zavior Hoxie and DE Joe Keels.
Commitments: Defensive end Rohan Blackwood committed to the Badgers after concluding his official visit. The Florida native held offers from Nebraska, Cincinnati, Florida International, Iowa State, South Florida, Miss. State, West Virginia and many others. Blackwood's commitment gives Wisconsin 12 commitments, including four defensive lineman. 
Visitor news: Wisconsin travels to Tempe to take on Arizona State. They will not host any prospects this weekend. 
6. Northwestern
The Wildcats continue to be quiet on the recruiting trail. Four-star Parrker Westphal continues to favor Northwestern, but Michigan could be a threat if they reenter his recruitment. Pat Fitzgerald has put together a solid recruiting class, as expected. 
Commitments: No new commitments this week.
Visitor news: Northwestern will play Western Michigan in Evanston this weekend. Northwestern recruiting news is not the easiest to come by. Some fan bases just don't take recruiting as seriously as Buckeye fans do. 
5. Penn State
The Nitany Lions move down to the fifth spot after Michigan State passes them. It's possible Penn State will land a commitment today from three-star running back Qadree Ollison. He has offers from Penn State, Wisconsin, Pitt, Syracuse, Rutgers and others. Bill O'Brien is doing good things in Happy Valley. 
Commitments: No new commitments this week.
Visitor news: Central Florida will travel to Happy Valley for a 6 p.m. kickoff. The whiteout should be a great atmosphere, but most of the visitors will likely be junior prospects. A lot of times, prospects tend to just show up to games and not speak with the media beforehand. 
4. Michigan State
Michigan State moves up a spot in the rankings after picking up a commitment from offensive lineman Nick Padla. I would insert a Jim Bollman joke here, but he is actually the tight end coach. Four-star safety Montae Nicholson visited this past weekend and it appears it went well. However, Penn State and Pittsburgh are the favorites to land his commitment. 
Commitments: Offensive tackle Nick Padla was offered on his visit to East Lansing, causing the in-state prospect to commit immediately. Padla (6-6/280) held offers from Akron, Cincinnati, Illinois and Kent State. Michigan State now has 15 commitments. 
Visitor news: The Spartans will take on Youngstown State, Saturday. Who wouldn't want to see their potent offense hang 14 points on Youngstown State?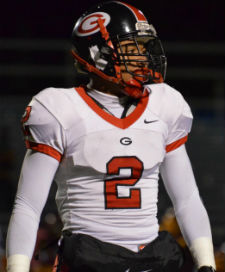 3. Rutgers
With 23 commitments, Rutgers has slowed down their pace. It seems like the Scarlet Knights reached on a few prospects early in the process and are paying the price. It's still a good class for Rutgers. Don't completely rule them out for in-state receiver Noah Brown, although I predict he'll commit to Ohio State. 
Commitments: No new commitments this week.
Visitor news: Rutgers will host Eastern Michigan this weekend. It should be an easy win for the Scarlet Knights, but it's not a marquee game that recruits want to see. The following weekend, when Rutgers takes on Arkansas, will be a game that a lot of recruits will attend. 
2. Michigan
Michigan's atmosphere drew rave reviews from visiting recruits. The Wolverines continue to look like the clear favorites for Da'Shawn Hand and Malik McDowell. With only a few spots remaining in 2014, Brady Hoke is already off to a fast start with six commitments in '15. 
Commitments: No new commitments this week.
Visitor news: As discussed last week, Michigan expected to have a huge recruiting weekend. The Five-star Hand and four-star McDowell attended, while four-stars Marshon Lattimore and Erick Smith were surprise visitors for the Wolverines. The Glenville duo are considered Ohio State "locks." 
After a huge weekend, the Wolverines will now host Akron. The Zips-–Wolverines is not a must-see game for recruits. 
1. Ohio State
Noah Brown appears to have enjoyed his visit to Columbus. It's not surprising that he chose not to commit, since he would surely want to talk it over with his parents. Ohio State and Rutgers continue to battle for the four-star receiver, with a decision expected to come no later than Thursday. 
Buckeye fans should stay tuned, as we could be on commitment watch. 
Commitments: No new commitments this week. 
Visitor news: Ohio State hosted quite a few prospects on Saturday. Here is an update on some of the visitors. 
The Buckeyes travel to Cal, this weekend, and will not be hosting any visitors. The big recruiting weekend will be the Wisconsin game, at the end of September. 
---
Rankings Overview
| No. | School | Commits | Scout ★ AVG | Rivals ★ AVG | 247 ★ AVG | ESPN ★ AVG | Overall ★ Avg |
| --- | --- | --- | --- | --- | --- | --- | --- |
| 1 | Ohio State | 17 | 3.71 | 3.59 | 3.88 | 3.71 | 3.72 |
| 2 | Michigan | 16 | 3.56 | 3.47 | 3.44 | 3.86 | 3.58 |
| 3 | Rutgers | 23 | 3.00 | 2.91 | 2.96 | 3.17 | 3.01 |
| 4 | Michigan State | 15 | 3.20 | 3.13 | 3.40 | 3.29 | 3.26 |
| 5 | Penn State | 12 | 3.33 | 3.25 | 3.33 | 3.42 | 3.33 |
| 6 | Northwestern | 13 | 3.08 | 3.08 | 3.31 | 3.31 | 3.20 |
| 7 | Wisconsin | 12 | 3.25 | 3.08 | 3.08 | 3.25 | 3.17 |
| 8 | Nebraska  | 12 | 3.08 | 3.00 | 3.08 | 3.25 | 3.10 |
| 9 | Iowa | 13 | 2.69 | 2.69 | 2.77 | 3.09 | 2.81 |
| 10 | Maryland | 10 | 2.89 | 2.89 | 2.89 | 3.38 | 3.01 |
| 11 | Illinois | 12 | 2.53 | 2.75 | 2.67 | 3.00 | 2.74 |
| 12 | Purdue | 8 | 3.00 | 2.63 | 2.88 | 3.00 | 2.88 |
| 13 | Minnesota | 6 | 3.33 | 3.00 | 3.17 | 2.80 | 3.08 |
| 14 | Indiana | 10 | 2.90 | 2.60 | 2.60 | 3.00 | 2.78 |