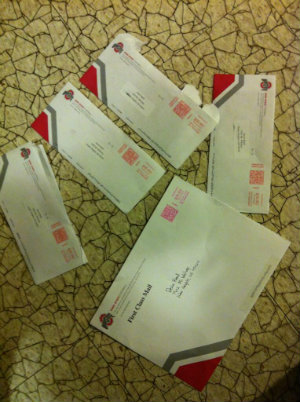 Welcome to another edition of the Ohio State football recruiting notebook. We wrap-up this week in recruiting and give you a preview of what is to come.
Buckeye fans are patiently waiting for another commitment. They could be in luck with Sparta (N.J.) receiver Noah Brown visiting this weekend. A college decision is expected by Thursday. The Buckeyes appear to be the favorite, with Rutgers and Virginia Tech in the mix. 
The staff has put in many hours on the recruiting trail this week. Sept. 1 was the first day college coaches could contact junior prospects. The staff wasted no time, as prospects began receiving calls at midnight. 
Expect the 2015 class to have around 25 commitments, since the Buckeyes will return to the full scholarship allotment. Some of their targets will travel to Columbus, Saturday, for the San Diego State game. 
Most of the current commitments will be in action this weekend, except Jamarco Jones (shoulder) and Kyle Berger (ACL). 
Join us after the jump to look at the present and future of Ohio State football recruiting.
The week that was
The staff has been busy this week, contacting with 2015 prospects – or as Ohio State recruiting coordinator Mark Pantoni calls them, "swaggernauts." He was as excited as a kid on Christmas day and Eleven Warriors was unable to confirm if Pantoni has slept at all in the past week. 
Hunting season for 2015 Swaggernauts has begun! #GoBucks

— Mark Pantoni (@markpantoni) September 1, 2013
Pantoni and the coaches have contacted too many recruits to count. At this point, a lot of the contact is to build relationships with prospects, but some recruits have already been offered by the Buckeyes this week. That includes '15 DE Joshua Sweat of Virginia. You can watch Sweat on ESPNU, tonight, at 8 p.m. 
There are a few updates on the list of the prospects who visited for the Buffalo game. Galion (Ohio) '15 safety Cario Davison was one of the prospects in attendance.
"The game atmosphere was crazy loud and intense. I loved it," Davison said. Justin Hilliard, Sam Hubbard, Sean Nuernberger and '15 safety Reggie Rogers were also in attendance. 
The staff is not completely ignoring the 2014 class, however. Noah Brown will officially visit Ohio State this weekend, per his twitter. Other than Brown, many of Ohio State's targets do not plan on announcing until after football season. 
Most of the Buckeyes' commitments played last week. You can check out Birm's article for stats on the future Buckeyes. 
High School Football Preview
| Position | player | school | opponent | comment |
| --- | --- | --- | --- | --- |
| QB | Stephen Collier | Lee County (Ga.) | Albany (Ga.) | Collier will look to build on his six touchdown performance last weekend.  |
| WR | Parris Campbell | St. Vincent-St Mary (Ohio) | Walsh Jesuit (Ohio) | Campbell's speed will be on showcase against their rivals. We'll see how he does against a better team this week.  |
| WR | Terry McLaurin | Cathedral (Ind.) | St. Joseph's (Ind.)  | Despite a huge game, McLaurin was unable to lead Cathedral to a victory last week. They'll go for their first win on Saturday. |
| OT | Jamarco Jones | De La Salle (Ill.) | Hale's Franciscan (Ill.) | An injury is currently preventing Jones' from putting on the pads. It didn't stop him from trying on his UA All-American jersey.  |
| OT | Kyle Trout | Lancaster (Ohio) | Lakota East (Ohio) | The future Buckeye is still full from all those pancakes last week. Trout will now face a tough Lakota East team. |
| OG | Marcelys Jones | Glenville (Ohio) | Solon (Ohio) | Glenville will look to rebound after a loss to St. Edwards.  |
| OG | Demetrius Knox | All Saints Episcopal (Texas) | Carter-Riverside (Texas) | Meechy has left twitter (and 11W) to focus on football. All-Saints' running game looked good in a win.  |
| DE | Jalyn Holmes | Lake Taylor (Va.) | Oscar Smith (Va.) | Tune in to ESPNU at 8PM tonight to check out Jalyn Holmes.  |
| DE | Dylan Thompson | Montini Catholic (Ill.) | East St. Louis (Ill.) | Thompson will look to match his ten tackle and two sack performance.  |
| OLB | Kyle Berger | Ignatius (Ohio) | Mentor (Ohio) | Berger continues to be a great teammate despite his season-ending injury.  |
| OLB | Dante Booker | St. Vincent-St Mary (Ohio) | Walsh Jesuit (Ohio) | Will Booker continue to be unblockable against better competition?  |
| CB | Damon Webb | Cass Tech (Mich.) | Northwestern (Mich.) | Webb Island? Will someone dare to throw at the Buckeye commitment? |
| S | Malik Hooker | New Castle (Pa.) | Riverside (Pa.) | Hooker will look to rebound after a tough opener.  |
| ATH | Sam Hubbard | Moeller (Ohio) | Covington Catholic (Ky.) | Moeller is looking to start 2-0. Hubbard will continue to line up all over the field for the Crusaders.  |
| ATH | Lonnie Johnson | West Side (Ind.) | Andrean (Ind.) | With five receiving TDs in two games, Johnson leads the state of Indiana.  |
| ATH | Curtis Samuel | Erasmus Hall (N.Y.) | Tottenville (N.Y.) | With his commitment out of the way, Samuel can focus on his senior season.  |
| K | Sean Nuernberger | Oldham County (Ky.) | Franklin County (Ky.) | Nuernberger kicked five touchbacks this past week. He witnessed his first Buckeye game in person last weekend.  |
| WR | Johnnie Dixon | Dwyer (Fla.) | Jupiter (Fla.) | Dixon appears to be a long-shot for the Buckeyes.  |
| TE | Mike Gesicki | Southern Reg (N.J.) | Long Branch (N.J.) | The athletic freak will open his senior season this weekend. He reportedly had a nice TD catch in a recent scrimmage. |
| OT | Chad Mavety | Nassau C.C. (N.Y.) | Navy Prep (R.I.) | Mavety will continue his play at the community college level this weekend.  |
| OT | Damian Prince | Bishop McNamara (Md.) | Georgetown Prep (Md.) | The slimmed down Prince is still one of the top offensive lineman in the nation. The Buckeyes are definitely in the mix for the five-star.   |
| DT | Thomas Holley | Abraham Lincoln (N.Y.) | Curtis (N.Y.) | Thomas Holley has an idea of where he wants to go to school, but will take visits before announcing.  |
| ILB | Raekwon McMillan | Liberty County (Ga.) | Appling County (Ga.) | Arguably Ohio State's top target. A "must get".  |
| S | Erick Smith | Glenville (Ohio) | Solon (Ohio) | Smith hauled in a short TD pass against St. Edwards. Glenville will look to rebound against Solon.  |
| ATH | Noah Brown | Pope John XXIII (N.J.) | OFF | Brown is making an official visit to Ohio State this weekend. Will open season on 9/12.  |
| ATH | Marshon Lattimore | Glenville (Ohio) | Solon (Ohio) | Lattimore is hoping for a break out game after being held in check by the St. Edwards' defense.  |
Looking Ahead
The biggest development is the official visit and impending announcement from four-star receiver Noah Brown. He will head to Columbus for his final visit, tonight, which will include the game against San Diego State, Saturday afternoon. This surprise visit puts Ohio State back in a good spot to land him. A commitment this weekend should not be totally ruled out since he has maintained a Sept. 12 deadline for his decision. 
A commitment from the 6-foot-2-inch, 212-pound receiver would likely end the pursuit of Florida receiver Johnnie Dixon, although Urban Meyer always surprises. Brown would give the Buckeyes a bigger wide receiver target to compliment the current commitments. 
The staff will also be hosting quite a few 2015 prospects this weekend. Here is a quick list of uncommitted prospects who intend to travel to the San Diego State game:
'15 ATH/WR Devin Reed – Huber Heights, Ohio: The 6-foot-3-inch athlete has yet to earn any offers, but he has been attracting major interest from Ohio State, Michigan State, West Virginia, Cincinnati, Toledo and Air Force, among others. These schools are waiting on test scores before verbally offering the junior prospect. Reed spoke with Mark Pantoni and Tim Hinton yesterday. Some Ohio State coaches plan to be in attendance for the Wayne vs. Trotwood Madison game, tonight, to check out Reed and others. Ohio State will remain in contact as they are "waiting on [his] breakout season", as Reed described it.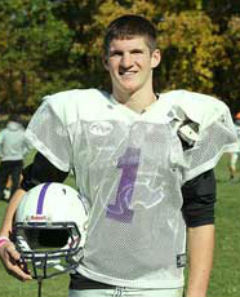 '15 TE Austin Dorris – Shadyside, Ohio: Dorris, an under-the-radar tight end, will visit this weekend. He recently spoke with Mark Pantoni, who asked him to come down to Columbus for a visit. West Virginia, Tennessee, Ohio, Purdue and Toledo have also invited the Ohio prospect to games this season. The 6-foot-5-inch, 215 pounds prospects plays quarterback for his high school team. 
'15 TE C.J. Conrad – Lagrange, Ohio: The 6-foot-5-inch, 225 pounds tight end will possibly receive an offer in the coming months. After an impressive Friday Night Lights performance, the Buckeye staff challenged Conrad to improve his blocking. The highly-regarded tight end will visit this weekend after speaking with Urban Meyer a few days ago. He has early offers from Illinois, Indiana, Kentucky and Toledo. He grew up an Ohio State fan and he says an offer would be "amazing."
'15 LB Anthony McKee – Columbus, Ohio: The Walnut Ridge prospect already put together a solid offer sheet, with Arkansas, Tennessee, Kentucky, Illinois, West Virginia, Toledo and Bowling Green. McKee told Eleven Warriors the OSU staff hasn't said much about a possible offer, but they have indicated they plan to watch him closely this season. 
'15 WR Charlie Fessler – Erie, Pa.: Ed Warinner and Pantoni spoke with Fessler this week and asked him to come to the game. He doesn't hold any offers, but had an impressive summer on the camp circuit. The 6-foot-3-inch receiver would give the Buckeyes a big target. 
'17 QB Danny Clark – Massillon, Ohio: The freshman quarterback made history, becoming the first freshman QB to start a game for Massillon High School. Thursday was his first start, and he looked good at times. His offensive line struggled, however. If he continues to improve, Clark could very well be a Buckeye down the road. In the meantime, he'll visit Columbus again this weekend. 
Note: Ohio State commitments Kyle Trout and Sean Nuernberger are also expected to be in attendance. 
There will be other guys visiting this weekend that aren't on this list, but we have yet to identify those prospects. We'll have plenty of recruiting and high school coverage this weekend here at Eleven Warriors. Stay tuned, as we could be on commitment watch over the next few days.