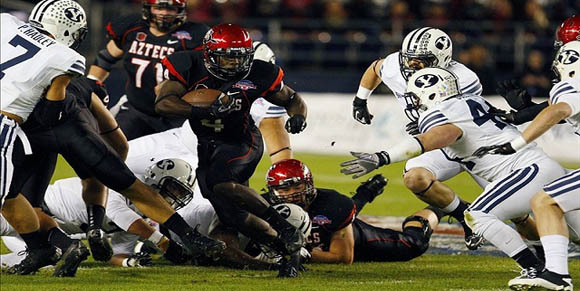 It certainly wasn't supposed to start this way for San Diego State. The Aztecs, coming off a nine-win season and another bowl game, were going to win easily the first week against Eastern Illinois and come into Ohio Stadium during Week 2 and give the Buckeyes all they could handle.
The second part of that scenario could still happen. The odds are decidedly against San Diego State, though, after a three-touchdown loss to an FCS school that won 11 games the past three seasons. Suddenly, a 20-point win over Buffalo doesn't seem so bad.
"We came in and thought it was going to be easy," said San Diego State safety Nat Berhe.
Going on the road to face Ohio State isn't exactly an ideal game to regroup for. The Aztecs say they'll be ready, though. The talk in San Diego all week has centered on one game not defining a season. But for San Diego State, it could happen. Not the loss to Eastern Illinois, but a win against the Buckeyes.
It would end Ohio State's hopes of a national title and register as the biggest upset of the season.
"We have to get everybody on the same page and we have to lead by example on the field," Berhe said. "We have to persevere and get everybody back on track and let them know that we can do this thing."
Opponent Breakdown
The high hopes for San Diego State's 2013 season were born out of nine wins last year, a Mountain West division title and a bowl appearance.
Then Eastern Illinois happened.
"We just have to let that game go and rebuild," said left tackle Bryce Quigley. "There's a lot more to play for. That's just the first game of the season."
The Aztecs averaged 34 points per game a year ago. But the offense that clicked last year was stagnant on Saturday. Part of the problem was running back Adam Muema's ankle injury. When he went out of the game, there was a noticeable dip in production.
San Diego State ran 99 plays last week, tied for the most in the country with Cal. Sixty-seven of those plays were called as passes, a huge uptick from last season when the Aztecs averaged just 24 attempts per game. Quarterback Adam Dingwell only completed 43 percent of his attempts against Eastern Illinois, throwing zero touchdowns and four interceptions while getting sacked four times.
In his past two games, Dingwell is 39-of-92 for 462 yards with zero touchdown and seven interceptions. It's a stat that will make Bradley Roby slobber.
Still, head coach Rocky Long and quarterbacks coach Brian Sipe are committed to Dingwell as the starter. He has options at receiver – Colin Lockett and Ezell Ruffin both neared 100 yards in the opener – Dingwell just can't deliver a solid pass every throw.
"To me, it seems like he gets rattled pretty quick," said Ohio State linebacker Ryan Shazier. "So we're going to try and put pressure on him to get him rattled."
Muema gained nearly 1,500 yards and scored 16 touchdowns in 2012. His rushing total contributed to the 20th-best rushing attack in the country. Muema is the offense's motor. Despite suffering an ankle sprain last week, Muema is expected to play Saturday. If he's limited or can't go, it puts major pressure on Dingwell to be efficient in the passing game.
If the offensive line doesn't perform up to task, it won't matter who the running back is. Right guard Nico Siragusa was yanked in favor of Darrell Green in the middle of Saturday's game. Long hasn't decided who will start against the Buckeyes.
"We're back to basics," Long said, "We've got to get better at lining up right, doing our assignments, blocking, tackling, chasing the ball. Pass protection has got to get better, [we've] got to get in the right coverage instead of wrong coverage, cover punts, do a better job on our returns, the way we kick it. I could go on and on.
"This is about us getting better. It has nothing to do with who we play or what time of year it is."
Defensively, the Aztecs feature a solid unit. Once again, Ohio State has to deal with a 3-3-5 alignment. Michigan head coach Brady Hoke, who was formerly the Aztecs' coach, believes Long will use defensive sets that the Buckeyes won't see all year.
When Urban Meyer was a young head coach at Utah, he lost a grand total of two games in two seasons. The last came to New Mexico, where Long was head coach. On that day, it was Long's offense that bruised and battered Meyer's team.
"That's a fallacy, that we out-schemed them," Long said. "It's funny how different coaches see those things differently. I have yet to see a coach win a football game. Players have to execute your schemes. I didn't have anything to do with beating Urban Meyer that day, that was all the players."
San Diego State didn't do anything in Week 1 that would make Ohio State nervous. The Aztecs sacked Eastern Illinois quarterback Jimmy Garoppolo, who Meyer called one of the best quarterbacks he's ever seen, zero times. Garoppolo finished with 381 total yards of offense and three passing touchdowns.
Perhaps it wasn't surprising, since rush defense is what San Diego State does well. A year ago, the defense only allowed 3.6 rushing yards per carry and less than 20 points per game.
Linebacker Jake Fely is the top player on the defense. He had a team-high eight tackles Saturday but wasn't able to stem the second-half meltdown. Five turnovers by the offense also didn't make matters any easier.
The Aztecs will be without the services of OLB Derek Largent, which is a blow to a defense that is already breaking in a new secondary. Six players shared time at cornerback in the loss to Eastern Illinois.
Put simply by Long, "They didn't play good enough for us to win."
Braxton Miller showed off his much improved passing ability against Buffalo, a defense that gave him problems at times.
"The biggest thing is execution and intensity," said defensive end Cody Galea. "You can say a bunch of different things and make excuses, but just flat out, we need to do it. [Miller] is a good quarterback, but they're all the same. If you hit him enough times, he's not going to play as well. So we've just got to get there."
Buckeye Breakdown
The theme from the Woody Hayes Athletic Center this week was no complacency; don't let up on offense or defense. That's exactly what Ohio State did in its 40-20 season-opening win over Buffalo.
The Bulls certainly made it difficult for the Buckeyes – more difficult than many thought – but Ohio State opted for cruise control after building an early 23-0 lead, instead of putting the pedal to the floor.
Scoring on the first three possessions, the Buckeyes' totaled 117 passing yards and 99 rushing yards in barely more than six minutes.
"You can't play much better than our guys did," Meyer said. "We're pushing the ball down the field and guys were making plays."
Everyone knows the rest of the story. Ohio State was outscored 20-17 the final three quarters. This week, players on both sides of the ball admitted they got a little too comfortable in building an early lead.
Meyer made it clear that any easing up and mental lapses will not be tolerated going forward. Saturday's game against San Diego State will again be used as a proving ground for players aiming to contribute and the offense as a whole to click on all cylinders.
"They have too many good players for us to do anything but just try to put our players in the best position against their offense," Long said. "It's nothing to do with who their players are because every one is good."
Listen to Meyer talk, though, and you'd think Ohio State was gearing up for another southern California team from a different decade. The Buckeyes will again face a 3-3-5 defense. They won't have to deal with an All-American on the other side of the ball this week, but the Aztecs don't come void of playmakers.
"San Diego State has a lot of athletes on their defense," said offensive lineman Marcus Hall. "Not taking away anything from Buffalo, they did, too, but that definitely prepared us for this defense."
The best preparation for the Ohio State defense is the return of Bradley Roby and C.J. Barnett. The youth in the secondary a week ago was evident. Armani Reeves, Pittsburgh Brown and Tyvis Powell all played the most snaps of their careers. Results were mixed, but it's hard to compete with Roby and Barnett, an All-American and a captain.
Despite the occasional hiccup, Meyer was pleased with the depth the Buckeyes established. It wasn't just limited to the secondary; the defensive line and offensive line each rotated players in on the humid afternoon.
Nine true freshmen played on top of the seven new starters.
"We felt really confident about however many snaps Joey Bosa had to play," said defensive coordinator Luke Fickell. "He's a guy that's proven it. He's done a great job against our offensive line. To me, he's as good as there is in college football, and he's going to be well prepared to help us throughout their entire season."
Ron Tanner was another bright spot on the defense. He's not a freshman, but Tanner is inexperienced. He had the lone Ohio State interception Saturday after being called the best tackler on the team earlier in the week by Barnett. Meyer confirmed that statement on his call-in show Thursday by echoing Barnett's comments.
"C.J. Barnett was down, nobody ever said a word about it and Ron Tanner steps up and does a great job for us," Fickell said. "I think that's the mentality we want to have because this is going to be a long season.
"We kind of talked about it being Christmas morning, we got a lot of new guys opening presents, I knew what was inside, but I wanted to see what happened when all of a sudden something didn't go well."
How it Plays Out
Bucknotes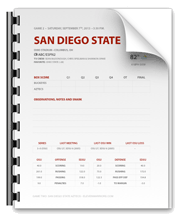 Bucknotes are your guide to Saturday's action. Download, print and become the smartest Ohio State fan in the room.
Ohio State will make the second game leap. It's hard not to when you're already a quality team that is welcoming back two key defensive starters and an important backup on offense. Roby and Barnett could make life miserable for a quarterback that's thrown seven interceptions in his past two games.
On the other side is a defense that game up more than 500 yards to an FCS team.
"I want to score every time we touch the ball," Meyer said. "I'm disappointed if we don't score."
The Buckeyes shouldn't have a problem, though the perceived layup could turn into a game. San Diego State's performance last week was more mirage than norm. Dingwell has the ability to stretch the field, which is why Muema's presence is vital to open up the passing game.
Considering the numbers that Garoppolo put up, Miller could have a career day. Ohio State's offense is far different this season. With multiple options at running back and wide receiver, it is not just the Braxton Miller show. That means a handful of players could put up monster stats.
"We're better suited this week to go against [a 3-3-5 defense]," Hall said. "We'll have less mistakes."
---
ELEVEN WARRIORS STAFF PREDICTION: Ohio State 48, San Diego State 17