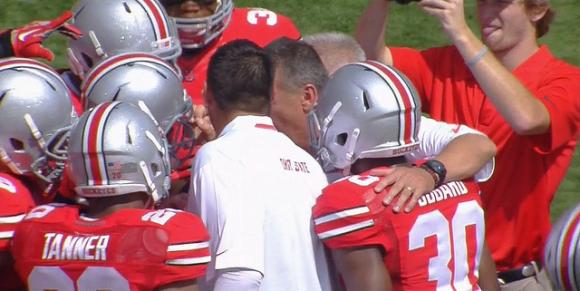 Few players begin their career as starters. The route to eventual stardom originates as a backup and special teamer. At Ohio State, even upperclassmen serve as regular special teams contributors.
Want to catch touchdown passes? Make a special teams play. Want to sack the quarterback? Contribute on special teams. Chris Fields and Noah Spence have been examples of this policy.
"We kind of have a rule around here that you can't play unless you're involved in special teams," head coach Urban Meyer said.
The Buckeyes are an equal opportunity provider when it comes to playing time. You just have to earn it. From walk-ons to scholarship players to returning starters, any and all of the above can be seen on Ohio State's special teams units.
Noah Spence had the Buckeyes lone sack in Saturday's season-opening win over Buffalo. He also appeared on the punt coverage unit. Chris Fields has spent his entire career on special teams. He scored the biggest touchdown of the season a year ago and caught two scoring passes Saturday.
"Special teams is very critical," Fields said.
"We have a philosophy that if you want to play your respective position, you have to provide some value to this team on special teams," said running backs coach Stan Drayton.
Another coach brought into the fold on special teams is Mike Vrabel. During his exemplary career that included All-America honors, Vrabel stuck out on special teams units. He became a key contributor again in the NFL. 
A year after Meyer's viewpoint on special teams and how it coincides with playing time took hold for the Ohio State football program, Fields has become one of the most improved players on the team. 
"I've been trying to get my value on the team as much as possible and everybody else knows that," he said.
"It's difficult to get on the field."
Someone who wouldn't mind the same results is sophomore running back Bri'onte Dunn. He's been lost in a shuffle that includes seven ball carriers. Inevitably, one – or more – person becomes the odd man out. Dunn has discovered he's that guy.
But it's not due to a lack of effort. Drayton said Dunn has continued to be a workhorse in practice. It translated into zero carries against Buffalo. 
"Bri'onte needs to continue to compete with his teammates to find a little bit more of a role on special teams so that he gets an opportunity to play on offense," Drayton said. "It's justified."
Making his first career start at cornerback in place of the suspended Bradley Roby was Armani Reeves. He played far more defensive snaps than his previous career high of two. Reeves was on the field from kickoff until the clock read 0:00 in the fourth quarter against Buffalo.
He made a name for himself last season as a piranha on the kick coverage unit until a knee injury shortened his season. Reeves credited the special teams experience with molding his overall game. With Roby's impending return, Reeves will once again shift over to special teams with the hope of spelling Roby for a handful of snaps each game.
"It's difficult to get on the field," running back Jordan Hall explained.
If Reeves looks to his right or left prior to Drew Basil's kicking off, he may notice Carlos Hyde and Rod Smith. The idea is for them to add value to the special teams unit. Few teams in the country employ special teams that feature the preseason first- and second-string running backs. And by few, that number is hovering at zero.
"Nothing is given to these guys," Drayton said. "Again, it starts with special teams."
The importance levied toward special teams gives the position a dose of legitimacy with players. Hall said he'd be surprised to find out there's another team in the country that practices special teams more than the Buckeyes. That emphasis has led to a quality in each coverage unit.
"It's very competitive," Fields said. "Coach runs a business that you gotta get stuff done. You've got to come out every day with a good day."
That's the focus needed is Ohio State wants syzygy within it's three units – offense, defense and special teams.
"I think our kids understand the priorities special teams plays for our team," special teams coordinator Kerry Coombs said. "So I think they play really hard as a result of that."
An adjective Coombs is happy to use when special teamers emerge.