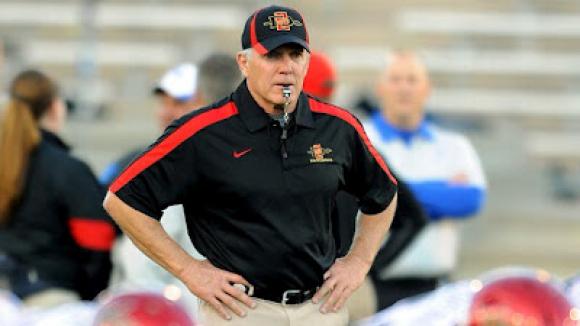 Urban Meyer only lost two games during his two-year stint as Utah's head coach. The second of those came against New Mexico. The head coach on the Lobos' sideline that day was none other than Rocky Long.
On Saturday, Long brings his San Diego State Aztecs to Ohio Stadium to take on Meyer's Buckeyes. The quality of the two teams is far different, but that doesn't mean Ohio State sees an easy victory ahead. Meyer knows better.
"Rocky Long is a very tough guy. Our defense took a beating that I can't remember our defense ever taking before," said Meyer, recalling Utah's struggles. "Very physical. He uses a creative, disruptive style of defense."
San Diego State lost by three touchdowns to FCS member Eastern Illinois last week. After watching the film, Meyer understands why. He referred to the EIU quarterback as "one of the best I've ever seen." Aztec signal-caller Adam Dingwell didn't far as well. He threw zero touchdown passes and four interceptions.
Despite throwing 63 passes, Meyer doesn't expect San Diego State to come out throwing this week. It's not Rock Long's style, he said. Instead, he expects a heavy dose of running back Adam Muema. That is, if he's healthy.
"He might be the best running back we see all year," Meyer said.
In regards to Bradley Roby, Meyer said no decision has been made on whether he will start or not. That announcement will come on Thursday. Until then, Meyer said Roby has to beat out Armani Reeves, not the other way around.
"If there's competition, there's no complacency," Meyer said.
Big Ten Teleconference Notes
Brady Hoke:
Bo Schembechler used to tell him this is how you can judge your team early in the season – how you play against Notre Dame.
Hoke is hopeful the Michigan-Notre Dame series will come back. He said the 2011 game is one of the best he's been a part of his entire career.
Talking to San Diego State's coaches is not on Hoke's agenda this week. He said he speaks to quarterbacks coach Brian Sipe a few times a month. Hoke expects Rocky Long to throw some defensive formations at Ohio State that the Buckeyes won't see all season.
Gary Andersen:
Joel Stave was flawless in his run checks, according to Andersen.
Wisconsin had three running backs rush for 100 yards. Andersen said the offensive line and running backs played well, but communication was the biggest factor in the rushing output.
Bo Pelini:
Nebraska didn't play up to their potential on any side of the ball against Wyoming. Pelini believes jitters had something to do with it.
Southern Miss, the Cornhuskers' opponent Saturday, has lost 13 consecutive games. Pelini says they're much better than that record indicates. "They'll get your attention on film."
Pelini said the team "missed a couple layups," meaning they missed several tackles.
Big plays happen because of missed tackles and players being out of position.
Mark Dantonio:
The college football of today is up-tempo offenses, Dantonio said. But he added that it also depends on the style of players you have.
Dantonio said he wants his team to take on the identity of being tough and playing with great effort.
Safety Kurtis Drummond is someone who adjusts well to the offense and is a ball hawk. Drummond made one of the best plays of the first week with an acrobatic one-handed interception.
Kirk Ferentz:
Quarterback Joe Rudock's critical late-fourth quarter interception was more about ball placement than decision-making. Overall, Ferentz was happy with Ruddock's play in the loss to Northern Illinois.
"We saw an awfully lot of good from him. We're encouraged by what we saw."
Jerry Kill:
Ra'Shede Hageman's blocked field goal provided a big boost for the team, Kill said, and was a great play.
Kill said quarterback Philip Nelson performed well and will continue to improve with game experience.
Minnesota plays New Mexico State this week, a team the Gophers lost to two years ago at home. Kill said that will have the team's focus.
Tim Beckman:
The atmosphere on the sideline was completely different than last season. Beckman said the first step toward winning is creating a successful atmosphere.
Quarterback Nathan Scheelhaase was the Big Ten offensive player of the week. Beckman said he wouldn't have won it without the other 10 guys on offense, though.
Beckman is coaching the cornerbacks this season. He said he missed coaching a position group.
Darrel Hazell:
Hazell said Purdue has to execute much better to be a successful football team, but added that he believes the foundation is there after watching the game film.
The biggest issue in 42-7 loss at Cincinnati was communication. Hazell said there were communication issues throughout the game all over the field.
"I never saw that problem coming in a million years."
Hazell channeled his inner Jim Tressel against today. He's already pushing punter Cody Webster as the possible Ray Guy Award winner.
Bill O'Brien:
Christian Hackenberg was solid in his first start, O'Brien said. Believes he handled some tough situations well. Still room to improve.
Sam Ficken, Penn State's kicker who missed several field goals and extra points against Virginia last season, was the conference's special teams player of the week. O'Brien said he's come a long way, worked hard in past year to get better.
"I gotta stop calling bad plays. Once I improve, the running game will improve."
Pat Fitzgerald:
Quarterback Kain Colter is day-to-day. Fitzgerald said his reps should progress as the week goes on. Venric Mark will also be limited.
Because of a rash of injuries, Fitzgerald said the staff will be smart this week and not go as hard in practice.
"We've got to play much better if we expect to win the game." Northwestern hosts Syracuse on Saturday.
The Wildcats are another team that had communications issues. Fitzgerald said it's on the coaches.
Kevin Wilson:
Indiana plays Navy and it's unique offense this week. Wilson said the extra time to prepare has been a benefit for the Hoosiers. For Navy, it's the season opener.
Indiana will need to be efficient on offense, Wilson said, because Navy tends to hold on to the ball for long stretches.
Think Ohio State plays a lot of freshmen? Look at this stat: IU freshmen had 18 tackles, a sack and fumble recovery. Eight total freshmen played, six on defense.