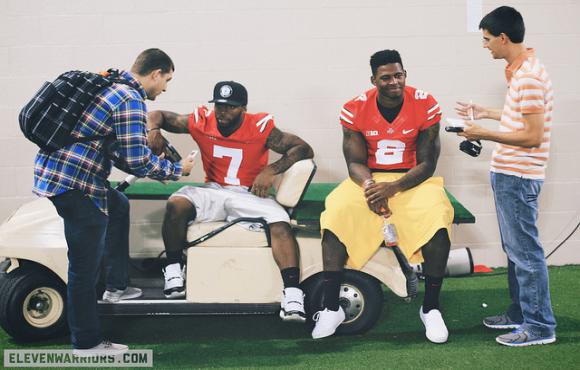 A shorthanded Ohio State defense more than held their own against Buffalo in the Buckeyes' season-opening 40-20 victory over Buffalo. That doesn't mean head coach Urban Meyer isn't welcoming back All-American cornerback Bradley Roby and safety C.J. Barnett.
The second-ranked team in the nation doesn't just have a stable of running backs. They also possess a plethora of defensive backs. Armani Reeves played adequately but was picked on for all four quarters and missed several tackles.
Still, it doesn't mean Roby will start immediately. Meyer indicated all suspended players must earn a starting spot. The offense will welcome back a bigger faction of personnel as well. Running back Rod Smith served a one-game suspension against Buffalo and center Corey Linsley played less than a quarter due to complications from a prior foot injury.
"We are starting to get our roster back intact," Meyer said.
Ohio State only had the use of 70 scholarship players, essentially making them an FCS program. Division I's second tier can have 65 scholarships.
The quickest route to becoming a valued member of the Ohio State football team is to make an impact on special teams, which  was pointed out by Meyer, running backs coach Stan Drayton and cornerbacks/special teams coach Kerry Coombs.
How focused is Roby on his return? As his teammates spent last week preparing for Buffalo, Roby scouted San Diego State and broke down film on the Aztecs.
A full secondary means San Diego State Adam Dingwell could have another rough outing. In a shocking 40-19 loss to FCS member Eastern Illinois, Dingwell attempted 63 passes, was sacked four times and tossed zero touchdowns compared to four interceptions.
The running backs situation involves more intrigue than the comings and goings in the defensive backfield. Smith's presence brings a bruising back into the picture, something the Buckeyes didn't possess against the Bulls. It adds another peg in the backfield's rotation and means Jordan Hall, who's coming off a career-high 159 rushing yards, could shift to H-back. 
"Last spring I had the intention of making Jordan Hall more of an H, but an H that can come in motion, and that's when he can cause issues for defenses," Meyer said. "We'll see how [Smith] practices, I hope he does earn the right to carry the ball, because that will free up Jordan Hall to maybe help us in some other areas, as well."
Hall earned offensive player of the game honors and helped spur the Buckeyes' 23 first-quarter points. After that, though, came a lull. Ohio State was outscored 20-17 the rest of the game.
It left a sour taste in the perfectionist head coach's mouth.
"Very high expectations. I want to score every time we touch the ball," Meyer said. "I'm disappointed if we don't score. That's, once again, high expectations.
However, we have some talented guys. Our coaching staff has been together and we should have been better. We came out of the gate the way I kind of envisioned, and we finished the game kind of like I imagined we would, too."
Another lowlight came from the offensive line. Taylor Decker was beat consistently, but perhaps the most surprising routine of the day was Jack Mewhort's underwhelming play.
Decker's first career start included matching up against a potential All-American and first-round draft pick in Khalil Mack. Allowing Mack into the backfield was not part of the script, though. On Mack's interception, Mewhort missed a block.
"Well, we get beat a couple times and it gets exposed," Meyer said.  "For the most part we played OK. You just can't get exposed. The player they had, his stock in the draft just went up a little bit after playing against us. He did a very good job. He manhandled some guys and did a good job.  So whenever that happens, what do you do, you go back to your fundamentals and keep working and keep grinding. I have the utmost confidence in our offensive line and their position coach. What he did with them a year ago and what he is doing with them now, that they will play much better, and they have to. "
Coaches often say they are teachers at the core. On the practice fields at Ohio State, the Buckeyes' second week of the season will consist of plenty of educating.
Said Meyer: "I'm anxious to see a lot of improvement."