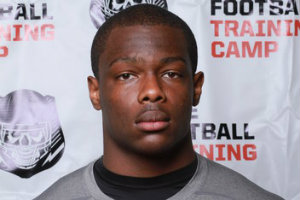 As we head into September, the Big Ten is struggling. Big two, little 12 continues to be an accurate description of recruiting in the B1G. 
Nebraska is the only school to land a 2014 commitment in the past seven days. Iowa managed to kick off their '15 class this weekend with an in-state commitment.
With the slow week, we saw no movement in our B1G football recruiting rankings. The Cornhuskers inch closer to Wisconsin, but they remain in the eighth spot this week. 
It was a slow week for Ohio State. The Buckeyes did have a few visitors in town for the Buffalo game, but expect to see more of the top targets on campus for the Wisconsin game, later this month. 
College football season has begun. Coaches are now allowed to contact 2015 prospects. Prospects are flocking to college campuses. We have you covered here. 
Now, on to the rankings:
14. Indiana
Indiana continues to bring up the rear. The Hoosiers started off their season with a nice win, but they desperately need to recruit better. It seems many of Indiana's top targets are waiting around for better offers. The Hoosiers did finish with a seventh ranked class in 2013. 
Commitments: No new commitments this week. 
Visitor news: Indiana will play Navy on Saturday in Bloomington. A few 2015 prospects are scheduled to attend, but Indiana will look to get most of their top targets in for their night game against Missouri. 
13. Minnesota
The Gophers still only have six commitments. They have a solid class, but the small amount of commitments is hurting them in recruiting rankings. Jerry Kill could take as few as 12 commitments, so no one should be panicking about the lack of commitments the Gophers have at this stage. They'll probably finish near the bottom of our rankings. 
Commitments: No new commitments this week. 
Visitor news: Minnesota is on the road this week against New Mexico State. No visitors this weekend, but the Gophers are setting up to have a big recruiting weekend on September 28th when they take on Iowa. 
12. Purdue
Darrell Hazell has struggled on the recruiting trail and the football field. Hazell could be close to landing his first commitment from Ohio. Cincinnati Colerain three-star receiver Travon Hudson plans to announce in the next coupe of weeks and Purdue has a chance at landing the Ohioian. 
Commitments: No new commitments this week. 
Visitor news: The Boilermakers will host Indiana State this weekend. Notre Dame/Purdue is the following game and is clearly more attractive for recruits to attend.  
11. Illinois
Tim Beckman's seat is still hot after only beating Southern Illinois by a touchdown. Beckman is clearly over his head at Illinois. He has struggled on the recruiting trail, often battling with MAC schools for prospects. Illini fans are starting to miss Ron Zook. 
Commitments: No new commitments this week. 
Visitor news: The Illini will take on Cincinnati this weekend. Illinois fans are too busy missing Ron Zook to discuss recruiting. For the Big Ten's sake, hopefully they can step it up.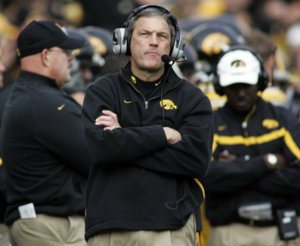 10. Maryland
Maryland remains tenth in our rankings after failing to land a commitment this weekend. The Terrapins check in near the bottom of the rankings right now, but expect them to finish in the top half of the Big Ten recruiting rankings.  Mike Locksley continues to prove he is one of the nation's top recruiters with his work on the majority of the Terrapins' top recruits. 
Commitments: No new commitments this week.  
Visitor news: Old Dominion comes to town this weekend. It seems like Maryland is holding off most of their official visits until later in the season. Five-stars Jalen Tabor and Damian Prince could be in attendance for the Maryland vs. Clemson game in late October. 
9. Iowa
Despite a loss to Northern Illinois, Kirk Ferentz still managed to pick up a commitment in the '15 class. Ferentz continues to be paid a huge salary for mediocre recruiting and on-the-field performances. 
Commitments: No new '14 commitments this week. The Hawkeyes did manage to kick off their '15 class this weekend. In-state offensive lineman, Jacob Newborg, committed to the Hawkeyes on his visit this weekend. 
Visitor news: They will take on Missouri State this weekend. Ferentz is already having a difficult time recruiting and things aren't going to get easier. I wouldn't expect many prospects to travel to Iowa City to watch a bad Iowa team vs. a worse Missouri State team. 
8. Nebraska
Despite a commitment from Peyton Newell, Nebraska remains in the eighth spot in the rankings. The Cornhuskers could find themselves moving up in the rankings if they manage to land a commitment this weekend, which appears possible. Bo Pelini has surprisingly struggled to put together a highly-rated class after a ten-win season.  
Commitments: Nebraska was the only school to add to their '14 class this week. The Cornhuskers picked up commitment number 12 when four-star defensive lineman Peyton Newell committed over offers from Kansas, Kansas State, South Carolina and others. The 6-foot-2, 282-pound lineman becomes Nebraska's highest rated commitment, according to 247Sports. 
Visitor news: Florida State tight end commitment Mavin Saunders is expected in Lincoln this weekend. Madre London and Joshua Kalu are two more Nebraska recruits to make the visit this coming weekend. Both are recruits that are considered Nebraska leans. Commitments cannot be ruled out.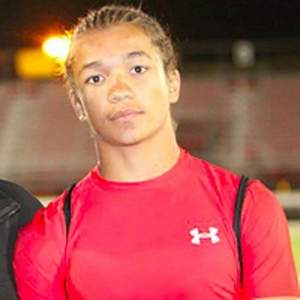 7. Wisconsin
Like most of the Big Ten, the Badgers have been quiet as of late. Gary Andersen has done a good job in year one, picking right up where Bielema left off. Wisconsin has shown that they can recruit well, but now it is time to see how Andersen and the Badgers perform on the field. 
Commitments: No new commitments this week.
Visitor news: It looks like Wisconsin is setting up for a pretty solid recruiting weekend with Tennessee Tech coming to town. 
Some of the Badgers' top targets will in attendance for the game, including three-stars Rohan Blackwood, Jeremy Patterson, Krenwick Sanders and four-star tight end Ryan Izzo.
6. Northwestern
Northwestern has been very quiet on the recruiting trail. Four-star corner Parrker Westphal could end that drought soon. Westphal, once considered a Michigan lock, seems to be heavily favoring the Wildcats over Vanderbilt. Pat Fitzgerald has done a great job with this recruiting class. He started off great, but has been passed by Rutgers, Penn State and Michigan State since June. 
Commitments: No new commitments this week.
Visitor news: Syracuse will travel to Evanston this weekend. Northwestern recruiting news is hard to come by. I've had trouble finding any list of visitors. 
5. Michigan State
It has been a while since the Spartans last picked up a commitment for the '14 class, but Michigan State is still positioned for a strong finish. Four-star Nyles Morgan recently named MSU in his final six with Vanderbilt, Ole Miss, Tennessee, Florida and Texas A&M. Vanderbilt and Ole Miss are the clear leaders here. It's not surprising to see the Spartans in on one of the top talents from the Chicago area.
Commitments: No new commitments this week.
Visitor news: Michigan State will take on South Florida this week in East Lansing. Michigan State will look to make a move for four-star Montae Nicholson on his visit this weekend. Penn State currently leads for the safety. A lot of Michigan State's younger targets will be headed to Ann Arbor for the Michigan/Notre Dame game. 
4. Penn State
Penn State has done a great job dealing with the limited number of scholarships. The Nittany Lions can only hand out 15 scholarships in 2015, however, there are ways to increase that number with early enrollees. Four-star safety Montae Nicholson has been trending towards Penn State on the crystal ball after it favored Michigan. Thomas Holley, Mike Gesicki, Dravon Henry and Qadree Ollison are in the mix for Penn State. 
Commitments: No new commitments this week.
Visitor news: Penn State hosts Eastern Michigan in their home opener on Saturday. None of their top prospects are scheduled to be in attendance. Penn State hosts Michigan on October 12th, which should be a good recruiting tool for the Nittany Lions.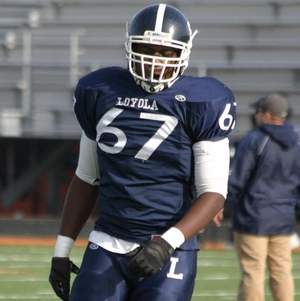 3. Rutgers
One of Rutgers' top remaining targets, Noah Brown, will visit Ohio State this weekend. The Scarlet Knights are thought to be the favorite to land Brown, but Ohio State will look to close this weekend. By landing Brown, Rutgers would continue locking down their home state. 
Commitments: No new commitments this week.
Visitor news: Rutgers will take on Norfolk State on Saturday, which isn't a game that recruits are dying to see. The Scarlet Knights' class is already at 23 commitments, so they are quickly running out of available scholarships.
2. Michigan
Michigan's recruiting pace has slowed after quickly filling up the majority of their class. The Wolverines are only expected to take a few more prospects in the '14 class with Malik McDowell and Da'Shawn Hand being their top targets. While that would definitely be an impressive finish, the Buckeyes remain the favorite to finish at the top spot in our recruiting rankings. 
Commitments: No new commitments this week.
Visitor news: The Wolverines will host quite a few prospects for their game against Notre Dame this weekend. Five-star Da'Shawn Hand and four-star Malik McDowell are scheduled to be in attendance. Some of the Buckeyes' '15 targets including DT Tim Settle, DE Jashon Cornell, LB Justin Hilliard and RB Mike Weber will attend.  
1. Ohio State
The Buckeyes had a slow recruiting week. The staff contacted numerous juniors yesterday on the first official day of contact. The big news from this week is Noah Brown's planned visit this weekend. 
Most of the Buckeyes' targets plan to wait a while before committing. Could Noah Brown be the next commit for Ohio State? Or will Rutgers continue their hotstreak? 
Commitments: No new commitments this week. 
Visitor news: Last week, the Buckeyes did not host very many prospects. Here is an update on the prospects that did manage to make it to Columbus. 
This week, Noah Brown will take an official visit to Ohio State for the SDSU game, per his twitter. The Buckeyes are going head-to-head with Rutgers for Brown with a decision expected by September 12th. Besides Brown, a lot of the other Buckeye targets are waiting to visit for the Wisconsin or Penn State games. 
---
Rankings Overview
| No. | School | Commits | Scout ★ AVG | Rivals ★ AVG | 247 ★ AVG | ESPN ★ AVG | Overall ★ Avg |
| --- | --- | --- | --- | --- | --- | --- | --- |
| 1 | Ohio State | 17 | 3.71 | 3.59 | 3.88 | 3.71 | 3.72 |
| 2 | Michigan | 16 | 3.56 | 3.47 | 3.44 | 3.86 | 3.58 |
| 3 | Rutgers | 23 | 3.00 | 2.91 | 2.96 | 3.17 | 3.01 |
| 4 | Penn State | 12 | 3.33 | 3.25 | 3.33 | 3.42 | 3.33 |
| 5 | Michigan State | 14 | 3.21 | 3.14 | 3.43 | 3.31 | 3.27 |
| 6 | Northwestern | 13 | 3.08 | 3.08 | 3.31 | 3.31 | 3.20 |
| 7 | Wisconsin | 11 | 3.27 | 3.09 | 3.09 | 3.27 | 3.18 |
| 8 | Nebraska  | 12 | 3.08 | 3.00 | 3.08 | 3.25 | 3.10 |
| 9 | Iowa | 13 | 2.69 | 2.69 | 2.77 | 3.09 | 2.81 |
| 10 | Maryland | 10 | 2.89 | 2.89 | 2.89 | 3.38 | 3.01 |
| 11 | Illinois | 12 | 2.53 | 2.75 | 2.67 | 3.00 | 2.74 |
| 12 | Purdue | 8 | 3.00 | 2.63 | 2.88 | 3.00 | 2.88 |
| 13 | Minnesota | 6 | 3.33 | 3.00 | 3.17 | 2.80 | 3.08 |
| 14 | Indiana | 10 | 2.90 | 2.60 | 2.60 | 3.00 | 2.78 |