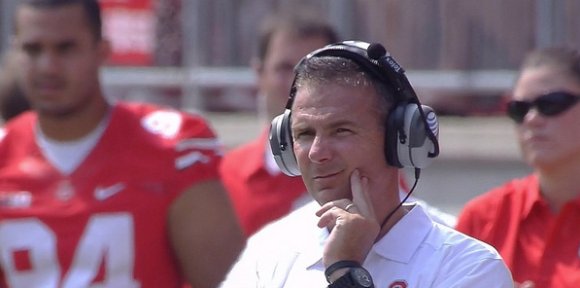 It wasn't quite as handsome as the players, coaches and fans would have liked but with just two of four returning starters available on defense, Urban Meyer doing his best to get a host of freshmen some very valuable playing time, and the squad apparently making little use of that fancy Gatorade setup in the WHAC (cramps much?), Ohio State still had more than enough to turn back Buffalo, 40-20, in a sweltering Ohio Stadium.
The win improved the Buckeyes to 14-0 in season openers since falling to Miami to start the 1999 season and gave the staff plenty of video they will no doubt turn into teachable moments. 
A ton of interesting things occurred during the game including the smooth jazz provided by Kenny Guiton, Drew Basil's willingness to get blasted as a lead blocker on a successful two-point try, and Beth Mowins' freakish skill of creating hybrid players through the magic of personnel-sniglets but as is an 11W Sunday tradition, we'll take a look a Five Things in particular that stood out before we officially turn our attention to the San Diego State Aztecs. 
NO HYDE, NO ROD, NO PROBLEM
I've never been wowed by Jordan Hall and it was only Buffalo but I tip my cap to Hall and his performance on Saturday. 
Between injuries, I've always viewed Hall as a highly serviceable though far from spectacular player; never really buying into the fact he could be a game-changing running back. 
I'm not sure my opinion has undergone a seismic change just based on the competition but after his 21 carries, career-high 159 yards and two scores along with three receptions, I have a much greater appreciation for Hall's skill set and absolutely hope he can have a similar impact on games once the competition heats up a little. 
It wasn't so much the stats that caught my eye as it was how he went about his business. The 49-yard touchdown run in which he basically ran untouched through a gaping hole between Andrew Norwell and Jack Mewhort was nice and certainly showed he's got decent wheels but it was his work in traffic that stood out. 
Stepping up on a team crushed by suspensions, injuries and cramps, Hall made quick decisions with the football flashing a burst and aggressiveness I haven't seen from #7 before. The new and improved running style which featured a spin-move he used frequently as he fought to reach the 2nd level, along with some decent run blocking up front, allowed Hall to gain positive yards on 18 of 21 carries.  
Meyer had been touting Hall's work all year but I still was a bit surprised to see him have such a stellar day, scoring 14 of Ohio State's 40 points. Bottom line, I think I might have finally learned to appreciate Hall for what he is instead of worrying about what he isn't. And that's a good thing.
BUTTER FACE
On the surface, the performance turned in by the Silver Bullets didn't feel all that sexy but when you look at the body of work and take into account the unit started the day with just two returning starters, playing much of it with only one thanks to Ryan Shazier leaving the field on a cart, it was actually a pretty impressive day at the office.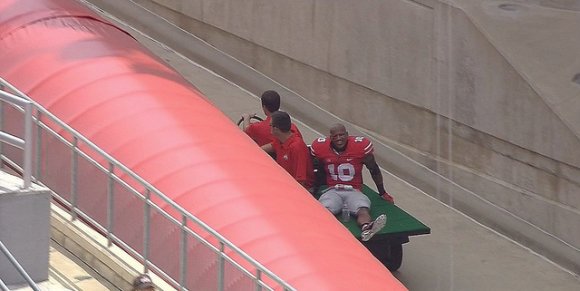 The retooled defensive line managed just one sack (Spence) but as we've seen from many an opponent in the past, Buffalo leaned on dink-and-dunks as their chief method of moving the ball through the air, limiting the seconds quarterback Joe Licata was vulnerable. 
The front seven limited the Bulls to just 2.1 yards per carry, allowing them just 73 yards on 35 totes. 
Ohio State also owned third down, stopping the Bulls 11 times in 14 tries, good for a 79% success rate. The Bullets added a goal-line stand early in the 4th quarter. Faced with 1st and Goal at the OSU 3, the Bullets stuffed two runs and forced an incomplete pass before blowing a 4th and 2. The Bulls did shoot themselves in the foot with a botched snap but Ohio State's surge up front was going to blow up the play regardless. 
The Buckeyes also picked up their first turnover of the year, an interception, turned in by Ron Tanner, aka Ohio State's 6th defensive back in the day's rotation. 
On the day, the Bullets surrendered a total of 13 points on 11 Buffalo possessions as they forced seven punts, created two turnovers (INT, TOD) holding the Bulls to less than 20 yards on seven different possessions. 
Buffalo's offense wasn't exactly electric but considering the depleted roster, the heat and amount of youth on the field, there's plenty for the defense to build upon. 
BRAXTON 3.0
The talk off the offseason centered on Braxton Miller's improvement from an electrifying runner playing quarterback to a more well-rounded, mechanically sharp and knowledgeable signal-caller.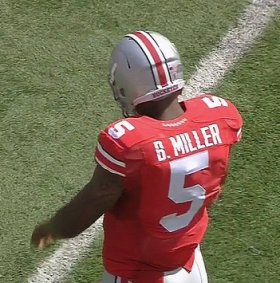 The first half showed as much with Miller completing 13 of 18 passes for 172 yards with a pair of touchdown strikes, albeit against one horrible pick six. Miller performed as advertised, often scrambling with the purpose of buying time to throw while keeping his eyes down the field instead of holding the ball way too long or immediately tucking and running at the first sign of trouble. 
Miller connected on seven straight throws to open the game and his eight was at least catchable but a diving Philly Brown couldn't haul it in. Braxton bounced back hitting on two more attempts to open Ohio State's 4th possession before throwing his first truly bad pass, an overthrow of Devin Smith on a post route that would have undoubtedly gone for six. Miller did cool off after hitting on nine of first 10 throws, misfiring on six of his final 12. 
Interestingly, it was a tale of two halves as Braxton threw 18 passes against just four rushing attempts in opening stanza but threw it only four times against 13 rushes in the 2nd half. Instead of looking to buy time with his feet as did in the 1st half, Miller quickly tucked and sprinted through holes or around defenders, racking up 60 of his 77 rushing yards in the 2nd half. 
Overall, by Miller's standard he was good but not great though I was encouraged with his ability to thread the needle when necessary while also taking something off his fastball when that was required. It was also nice to see him hit eight different receivers, often times getting through his progressions when given enough time in the pocket. 
THE KIDS ARE ALL RIGHT
With all the hype bestowed on the freshmen class – especially Dontre Wilson – it was going to be nearly impossible for the group to live up to the ridiculous hype in game one and while none of them blew up, a handful saw meaningful snaps and made significant contributions. 
Joey Bosa was credited with just one stop but made his presence known along the defensive front. It was Bosa who supplied the pressure on Licata leading to Tanner's interception and on Buffalo's last possession of the 1st half, Bosa overwhelmed the center with a bull rush forcing Licata to throw another one up for grabs. It should've been Bosa's 2nd caused-interception of the day but Armani Reeves, who struggled in just about every facet of the game, dropped the would-be turnover.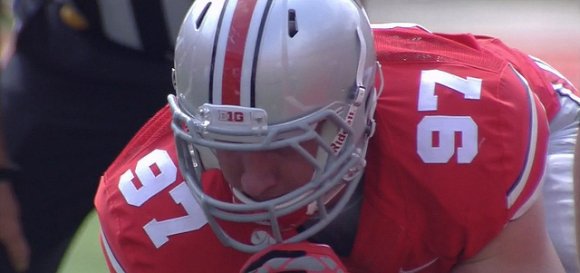 Wilson had an up and down debut but it's clear he'll get his touches because he's capable of taking it to the house on any given play. 
His first touch came on a well-thrown swing pass and he took it 18 yards, cornering like he was on rails, to jump start Ohio State's 2nd touchdown drive of the afternoon. 
Three possessions later, Wilson coughed up the football on a doomed sprint left as he tried to make something out of nothing, failing to secure the football despite heavy traffic. The turnover gave Buffalo the ball at midfield and they scored three plays later cutting the OSU lead to 23-7. 
To his credit (and Urban's for not benching the kid), Wilson responded on his very next touch. After Miller had just thrown his pick six, turning momentum and trimming Ohio State's lead to 23-13, Wilson took the ensuing kickoff 51 yards to the Bull 37 yard line. Hall would score one play later, reclaiming momentum for the Buckeyes, not to mention a 30-13 lead. 
On the day, Wilson finished 2nd on the team with 80 all-purpose yards. 
Punter Cameron Johnston got his first taste of college football and he responded with a 41.3 yard average, placing one kick inside the 20. He calmly fielded a high snap on his first punt and allowed ZERO return yards on the afternoon – exactly what Kerry Coombs has asked of him – via downed kick and two fair catches. 
Ezekiel Elliott played sparingly but Urban commented he wants to get him more reps in the coming weeks. Many other freshmen saw the field with DT Michael Hill and LB Trey Johnson seeing the most action out of the "2nd tier" freshmen contributors in game one. 
A ROUGH INITIATION
Taylor Decker, making his first career start for the Buckeyes at right tackle, didn't exactly give fans a ton of confidence in his ability to successfully replace Reid Fragel. 
Ohio State 40, Buffalo 20
The sophomore from Vandalia was abused more than a few times off the edge but I still have high hopes that Decker can absolutely solidify a line featuring seasoned veterans at the other four spots. 
I don't want to come off as a Decker apologist but I do think there are some things to keep in perspective when examining his stinker yesterday. 
First, Khalil Mack is a borderline freak of nature. He finished with 9.5 tackles, 2.5 sacks and the pick six, and Decker wasn't the only one victimized by Mack's dominant physical skills. In fact, Mack is now just 16.5 tackles for loss away from setting the all-time NCAA record and in eight career games against "Big Six" conference teams, he has 5.5 sacks and 12 TFLs. 
Second, it's important to remember that Decker, a Rivals 4-star before his arrival in the spring of 2012, saw action on the line last year in just four games, logging a then career high 22 snaps against Illinois. 
Being able to talk to him myself at least year's picture day and from all the quotes I've read, it's easy to tell the kid is committed to his craft and truly "gets it". As Urban even noted when giving one his speeches about how Ohio State doesn't redshirt players, most recently at media day, even he admitted that it's typically linemen who are the exceptions to that rule. Decker was good enough that a redshirt was never considered and now he's in the midst of truly finding his way. 
I want to see improvement and I have to believe it will come with more game reps.