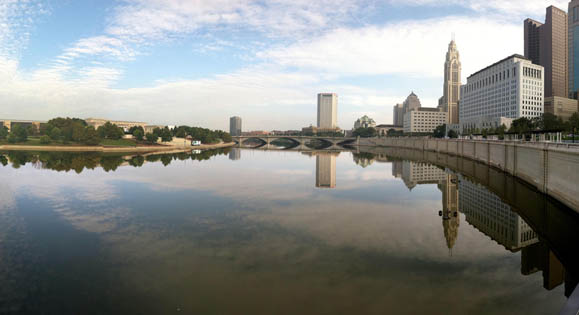 By popular demand, and because there's no flashback when you're playing a team for the first time, I've decided to extend the Road Tripping series for one more installment. In this case, the road trip is back to the 614. While central Ohio residents like myself can drive to the game in leisure, many Ohio State fans live out of town and must plan a trip in order to catch their favorite team.
In addition, there will be a few fans coming into town to root on the opposing team. While we wish them a very bad time while they are in the stadium, we would like them to enjoy their stay in Columbus. Besides, they'll probably need to knock back a few after watching their team get humiliated on national television.
I actually started this process two years ago. I put a blog post out there asking for suggestions from readers, and also solicited my fellow writers, and received quite a bit of feedback. I never published what I wrote, mostly because it got to be too big of a task. So this time I'm less ambitious: I'm starting the ball rolling, but I expect that all of you will pick up where I leave off.
What follows below is far from a comprehensive list of what to do in this town, but I know that our readers will not let the visitors down. Put your suggestions in the comments and help make this a much better guide for all of our out-of-town guests.
DURING THE DAY
If you are bringing your family with you to Columbus, you are in luck because there are plenty of things to do that the kiddies will enjoy. Start with the Center of Science and Industry, or COSI. Located right on the river in downtown Columbus, COSI has been amazing kids and adults alike for almost 50 years with activities and exhibits that challenge the mind and the senses. Those of us who grew up in this town have been there a million times, but if you're new to town and you have time to spare, check it out.
While the weather is still good, it's also a great time to make a trip to the Columbus Zoo and Aquarium. The zoo has a large variety of animals and they are helpfully arranged in a logical progression in areas based on which continent they call home. History buffs will want to check out the Ohio Historical Society and Ohio Village, just north of campus near the Ohio State fairgrounds. Art lovers might enjoy the Columbus Museum of Art.
While you're on campus, check out the Ohio Student Union and then take a walk across the Oval. While doing so, you'll get to see some of the most venerable structures such as University Hall, William Oxley Thompson Library, and Orton Hall. If you happen to be there at the top of the hour, you'll hear the famous bell chimes that are immortalized by the marching band in Carmen Ohio. Stroll a bit further south and you'll run into Mirror Lake, site of the annual jump prior to the Michigan game.
When you get to the stadium, you could hang around for some of the world's best tailgating, or you could walk across the street to St. John Arena for the Skull Session with the OSU Marching band. Myself, I like to hang around in front of the stadium until the Skull Session is over so that I can watch the players walk to the stadium. Then I proceed to my seat inside so that I can be there for the band's majestic entrance into the stadium. Trust me, this is the one thing you don't want to miss on gameday.
PLACES TO EAT
Breakfast
Buckeye Donuts is the ultimate quick-and-easy breakfast spot, serving donuts and coffee 24 hours a day, along with such traditional Greek and Middle-Eastern favorites such as Gyros, Falafel, and Baklava during the later hours. Other good campus spots for breakfast are Eggfast (12th and High) Hang Over Easy (Neil Ave. between 10th and 11th) or Brenen's (15th and high). For a more upscale breakfast, try Tasi Cafe (in the Short North area just North of downtown). They have most of the traditional favorites including Biscuits and Sausage Gravy, French Toast, Pancakes, and even Huevos Rancheros.
If your taste is a bit more on the snobby side, Northstar Cafe will fit the bill. Their menu includes House-Made Granola, Mushroom Frittata, and organic everything. You can get fresh squeezed orange juice or orange carrot juice. You can make your own breakfast by ordering the items separately to combine however you see fit. But nothing says snobby like a French restaurant, and for breakfast you can't beat La Chatelaine, located on W. Lane Avenue, just West of campus.
Lunch/Dinner
If you're going to an evening game at the 'Shoe, you'll probably catch lunch somewhere on campus or not too far from it. If the game is a normal daytime start, you'll want to get dinner after the game. Either way, the restaurants below will serve you well, and most of them have their own peculiar personality. But none are as well known as the famous Thurman Cafe in German Village.
You may have seen Thurman's featured on the ESPN segment called "Todd's Taste of the Town" with Todd Blackledge a couple years ago. Or you may have seen it on "Man vs. Food". Either way, Thurman Cafe is now nationally famous for their hamburgers, especially the "Thurmanator", which has two 12-ounce patties and loads of other yummy stuff. The only problem with going to Thurman's is that the wait can be kind of long for a table or booth. 
For pizza, either on or near campus, Adriatico's is probably the best. They make it New York style, with a sweet sauce and a generous amount of toppings. As with Thurman's, the place is pretty small, so you might want to order take out and eat it someplace else. If your pizza taste is more towards the thin crust variety, you might want to try Rubino's in Bexley. Rubino's has been serving pizza at the same location since 1954, which makes them Columbus' 3rd oldest pizza venue after Massey's and TAT. But if you want to stay on Campus, you might try Tommy's Pizza on Lane Avenue in Upper Arlington. Tommy's is a venerable campus establishment, and you shouldn't have any trouble finding a seat there.
One of my favorite places is Schmidt's in German Village, home of the world famous Bahama Mama sausage. There's usually a wait to get into Schmidt's, but it's well worth it because the food is excellent and it's not very expensive. I love the Bahama Mama but my wife prefers the Haus Saurbraten und Gravy. Also, their giant creme puffs are legendary. Since they don't take reservations, I recommend you go there for lunch, but if you're having dinner be prepared for a 30-45 minute wait to be seated.
Basi Italia, in Victorian Village just south of campus, is an upscale Italian restaurant with an extensive wine collection. In fact, they have a weekly wine tasting event called "Vino on the Veranda" where they let patrons sample any or all of the various wines served there. If you want to stay on campus or you want something a little more low-key, try Mama's Pasta and Brew at the corner of Pearl Alley and Campus Place near High Street. Mama's has a long and colorful history on campus, featuring a regular clientele and a "Hall of Fame" for those who frequent the place long enough. They also have regular dart tournaments so if you're into that you might enjoy Mama's. 
If you're looking for a good steak, there are lots of places you can go, but one place I would definitely recommend is Lindey's in German Village. I've only been there once, mostly because the price is so high, but I cannot emphasize enough how good the food and the service are. The tables are immaculate and everything is first class all the way. I had the New York Strip steak when I was there and it was heavenly. Also, since Cameron Mitchell Restaurants is headquartered in Columbus, we can give a shout out for Mitchell's Steakhouse, along with lots of his other places. If you have unlimited money, you might also consider Hyde Park.
Desserts
Jeni's Splendid Ice Cream is a Columbus-born business that now operates all over the state. People who try Jeni's can't say enough good things about it. The flavors range all over the place, but some of her signature blends are: Bankok Peanut, Cherry Lambic Sorbet, Pistachio and Honey, Salty Caramel, Ugandan Vanilla Bean, and Wildberry Lavender. Stop by and try a sample for free. But this will not be a cheap dessert so take your time and enjoy it.
On the subject of ice cream, one of the most popular ice cream shops in town is Graeter's, a business that originated in Cincinnati but has nevertheless become a Columbus tradition. If you're going to try Graeter's, make sure you go to the Main Street shop in Bexley and sit by the window so you can watch the cars go by while you eat. Trust me, the ice cream tastes better this way. 
As for myself, I've always thought Johnson's Real Ice Cream was better than Graeter's, and you can check out how they make it right there at the shop. Another favorite is Whit's Frozen Custard, which started out in Granville but now has a location right near me in Gahanna.
NIGHT LIFE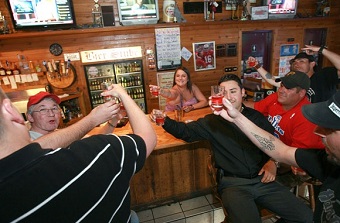 The campus area has an abundance of bars for your liquid courage diet. Over at the Gateway, you can take in the offerings at Ugly Tuna Saloona, or maybe get some grub with your drinks over at Eddie George's Grille 27. For old-timers, bring back some memories by going to the Bier Stube. For a good all-around drowning and maybe a dance or two, head over to Skully's Bar & Grill. 
If you're not confined to campus, the Arena District has several good watering holes, while the Brewery District lives up to its name with vigor. In the former location, you have your choice of Three Legged Mare, Gordon Biersch, Big Bang Dueling Piano Bar, A&R, Brothers, Bar Louie (home of the 2011 Drink Too Brutus), BBR, R Bar, and Park Street Patio. In the latter location, you can sample from World of Beer, Claddagh, Gresso's, High Beck, Club Diversity, Jimmy V's, Planks, Victory's, and many more.   
Now that I've gone way too long it's time to turn it over to you. I have no doubt left out many of your favorites, and it's time to let me have it for doing so. Be gentle though, my old aching bones cannot take too much of a beating. Besides, I have another child on the way in a week or so and I need to be in good shape to help my wife get through the delivery.