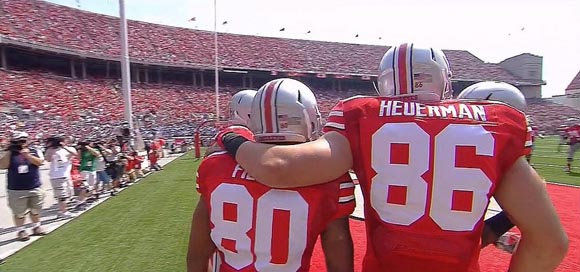 COLUMBUS – Urban Meyer's day started with the straight-laced, no-nonsense look of an Army sergeant. As he peered out from the tunnel in St. John Arena, Meyer was all business. Walking to midcourt, he took the microphone, shared his appreciation for Buckeye Nation and delivered a promise.
"To honor and defend, we will fight to the end, for Ohio," Meyer said. "For our families, for this great university and more importantly, each other. The journey starts today. Let's get to be 1-0."
Meyer used those words, a play on the school's fight song "Buckeye Battle Cry," to deliver a toast at the Blackwell to jumpstart Ohio State's season. It was a toast of championship water at Michigan State last season that put in motion the beginning of the Buckeyes' 12-0 record.
They decided not to delay the movement until the fifth game of the season in 2013. And the team adhered to Meyer's message on getting win No. 1 and not starting slow. Actually, there wasn't much Ohio State did slow in Saturday's 40-20 win over Buffalo.
The Buckeyes had three scoring drives of five plays or less, all of which took no more than a minute, 20 seconds. It was a far cry from last year's offensive debut against Miami (Ohio) that registered a grand total of zero first-quarter points. It took Ohio State 1:09 to pass that total Saturday.
Sure, there was some lollygagging during the middle portions of the game. Cramps took Braxton Miller and Ryan Shazier out of the game, and for the defense, that meant one returning starter was on the field. Still, Buffalo only managed 258 total yards and 13 points on offense. 
"I thought they came out of the chute fast," Meyer said. "Pretty strong week. Two quick scores. First quarter was script. You can't play much better than our guys did. We're pushing the ball down the field, guys making plays."
The Buckeyes led 23-0 after the first quarter and gained 216 yards on offense, scoring three touchdowns on just 17 plays. A 180 from trailing Miami (Ohio) 3-0 in Meyer's debut last year. Miller found Devin Smith open in the end zone for a 47-yard score and came back the next possession to Chris Fields, who caught a 7-yard touchdown pass.
Ohio State surprised everyone after both scores by lining up unbalanced on the point-after attempt. Kenny Guiton, serving as the holder, ran for two points after the first touchdown, then completed a pass to Jordan Hall on the next conversion.
They call the play magic. 
"It's a pain in the rear end that you have to prepare for,"Meyer said. "Coach Warinner's done a nice job with that. I think as many ways to get cheap points and make people work, it looked good today. Those guys did a nice job."
Hall finished off the first-quarter scoring with a career-long touchdown of 49 yards. The shaky play came during the second and third quarters. Buffalo linebacker Khalil Mack played like a first-round draft pick, never displaying his skills more than on a 45-yard interception return for a touchdown in the second quarter. He finished with a game-high eight tackles, 2.5 sacks and an interception.
"They've got a kid that kicked our tails, that outside linebacker," Meyer said. "He had a couple of sacks, pressures. I know he beat guys that I expect to play very well on our offensive line. So we've got to get that fixed. The good thing is we can. When you score 40 points and gain 460 yards or something like that and you're disappointed, that's a good sign. And the bad sign is we've got a long way to go."
Ryan Shazier missed a bulk of that time because of cramps. He spent most of the second quarter in the locker room, finally returning to the field after halftime. The Buckeyes led 30-13 at the break.
Ohio State 40, Buffalo 20
Miller was also sidelined with cramps. But Guiton came in and calmly led a touchdown drive to put Ohio State in front 37-20. The recipient was Chris Fields, reuniting the tandem who defeated Purdue.
"It's a concern," Meyer said about the cramping. "I know our strength staff and training staff work hard on the hydration, and I'm not sure if Buffalo cramped. So we've got to just continue to do a good job getting these guys [conditioned and hydrated]. But it was a hot mother out there now."
Buffalo's last chance to tighten the game came when they moved all the way to the 1-yard line. On 4th-and-goal, though, quarterback Joe Licata bobbled the snap and was tackled well before the goal line.
Drew Basil kicked a 39-yard field goal to provide the final margin.
Miller finished the first day on the 2013 Heisman campaign trail completing 15 of 22 pass attempts for 178 yards, two touchdowns and an interception. He ran 17 times for 77 yards, including a 40-yarder.
Carlos Hyde and Rod Smith's absence meant little, as Hall had a career-high 159 yards rushing, surpassing his previous high in the second quarter.
The Buckeyes finished with only one sack and forced one turnover, an interception by Ron Tanner. Ohio State turned the ball over twice – Miller's interception and a fumble by Dontre Wilson.