Faced with the possibility of getting placed on waivers, a 14-year veteran and former all-pro corner has decided to retire.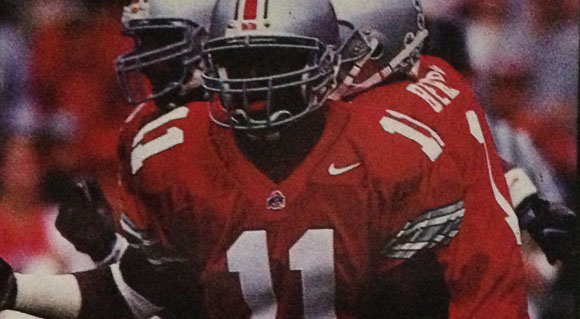 Meanwhile, the NFL season will officially kick off in three days. One ex-OSU player will take the field in the Thursday night Ravens-Broncos opener. Others aren't quite as fortunate, and didn't make a 53-man roster for any NFL team.
A Houston Texans wideout avoids being placed on the "physically unable to perform" list, as he continues his  recovery from major surgery.
Plus, a defensive back impressed his new coach at a position he hasn't played since his early days at Ohio State.
Winfield Announces Retirement
After eight years with the Minnesota Vikings, Antoine Winfield signed with the Seattle Seahawks in the off-season. Four months later, and at risk of being left off the 53-man roster, Winfield announced his retirement.
For what it's worth, he made the Pro Bowl in three consecutive seasons with the Vikings. He recorded 27 interceptions and 897 solo tackles in his career.
Over the course of 14 seasons, Winfield played for only 2 teams – the Buffalo Bills and Vikings. The Bills spent a first round pick on the Buckeye corner, in the 1999 draft.
Ohio State has a long legacy of producing NFL corners, earning the moniker "Defensive Back U" (along with 3 other schools, probably). In his senior season, Winfield won the Jim Thorpe Award, Jack Tatum Trophy and earned a consensus All-American honor – cementing his legacy among the Buckeye greats.
The 35-year-old Winfield is a Buckeye born and bred, originally hailing from Akron, Ohio, where he attended Garfield High School.
Despite spending only a short amount of time with Winfield, Seahawks coach Pete Carroll sent out this respectful tweet:
Wishing Antoine Winfield the best in his decision to retire. He's a consummate pro and a great team player. We were lucky to have him!

— Pete Carroll (@PeteCarroll) August 31, 2013
Buckeyes on 53-Man Rosters
The following players survived cuts and made the 53-man roster for their respective NFL team:
| Player | team | position |
| --- | --- | --- |
| Mike Adams | Pittsburgh Steelers | OT |
| Will Allen | Dallas Cowboys | S |
| Alex Boone | San Francisco 49ers | OG |
| Michael Brewster | Jacksonville Jaguars | C |
| Chimdi Chekwa | Oakland Raiders | CB |
| Kurt Coleman | Philadelphia Eagles | DB |
| Jim Cordle | New York Giants | C |
| Nate Ebner | New England Patriots | DB/ST  |
| Ted Ginn Jr. | Carolina Panthers | WR |
| Jonathan Hankins | New York Giants | DT |
| Brian Hartline | Miami Dolphins | WR |
| Ben Hartsock | Carolina Panthers | TE |
| A.J. Hawk | Green Bay Packers | LB |
| Cameron Heyward | Pittsburgh Steelers | DE |
| Santonio Holmes | New York Jets | WR |
| Malcolm Jenkins | New Orleans Saints | S |
| James Laurinaitis | St. Louis Rams | LB |
| Nick Mangold | New York Jets | C |
| Jake McQuaide | St. Louis Rams | LS |
| Mike Nugent | Cincinnati Bengals | K |
| Ryan Pickett | Green Bay Packers | DT |
| DeVier Posey | Houston Texans | WR |
| Terrelle Pryor | Oakland Raiders | QB |
| Dane Sanzenbacher | Cincinnati Bengals | WR |
| John Simon | Baltimore Ravens | LB |
| Rob Sims | Detroit Lions | OG |
| Donte Whitner | San Francisco 49ers | S |
| Doug Worthington | Washington Redskins | DT |
Practice Squad Members: Zach Boren (HOU), Reid Fragel (CIN), Daniel "Boom" Herron (CIN), Jake Stoneburner (GB)
Injured Reserve: Will Smith (NO)
Posey Returns In Final Preseason Game
He wasn't even expected to return, let alone add depth to an AFC contender. Yet, Houston's DeVier Posey made his 2013 debut, Thursday, against the Cowboys.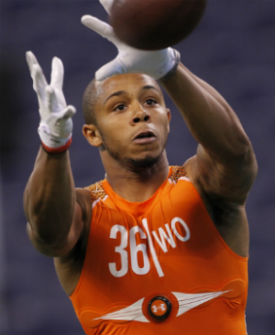 In last year's divisional-round matchup against the Patriots, Posey suffered a torn Achilles tendon. He recorded 47 yards on three receptions and scored a touchdown before the injury. Those three receptions matched a career high and accounted for a third of his total receptions on the season (including playoffs).
Oddly enough, his first career touchdown came in that playoff game against New England – a 25 yard, sprawling, bobbling reception.
Posey made a quick recovery from surgery and ended up on the field with third-string QB Case Keenum.
"It's been probably one of the happiest days of 2013 for me, man," Posey told the Houston Chronicle.
His teammates were excited to see him back on the field.
"Everybody's been rooting for him," Yates also told the Houston Chronicle. "He's come back so quick from that injury, and everybody's seen him all summer long, all offseason long really busting his tail every single day."
Coleman Makes Eagles Squad, Showcases Versatility
Philadelphia Eagles safety Kurt Coleman has started in 29 games over the last three seasons, but that didn't guarantee him a roster spot under recent hire Chip Kelly.
Coleman actually had to re-learn an old position to impress the new coaches – cornerback. Due to various injuries and starters sitting, he was forced to step in at his old position.
In 2006 – his freshman season at Ohio State – the Clayton, Ohio native was listed at corner. He spent most of his time on special teams, but played in 12 games.
Following that season, Coleman quickly elevated up the depth chart at a new position, and became the starting strong safety. In his senior year, he was a Sporting News first-team All-American and earned first team All-Big Ten honors.
Since then, Coleman has been a fixture on an Eagles defense that has seen a lot of change in his three years. Now, he's undergoing an adjustment to Kelly.
Presumably to the dismay of Eagles fans, (because what isn't?) Coleman made the 53-man roster and will play for a fourth consecutive season in Philly.