Welcome to another edition of the Ohio State football recruiting notebook. There was some pretty big news that came from this week and we're here to tell you all about it in this week's notebook.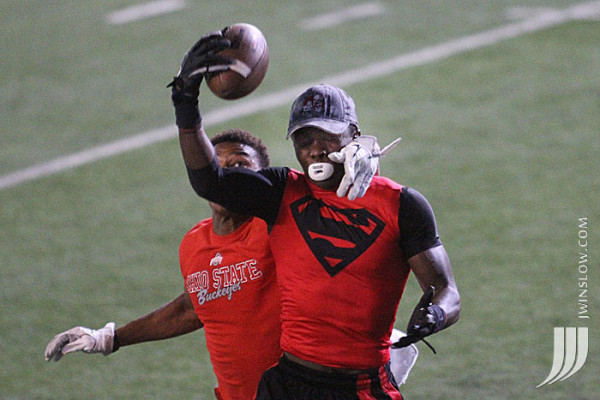 Canton (OH) McKinley athlete Eric Glover-Williams committed to Ohio State, becoming the first member of Urban Meyer's 2015 recruiting class. We'll have more on the super junior's commitment later in the buzz.
Unfortunately, some bad news dropped earlier this week. One of Ohio State's top 2014 commits will miss the entire 2013 football season due to an injury. We will talk more about this later in the notebook.
Many of Ohio State's commits and top targets are kicking off their high school seasons today. We'll give you the full report after the jump.
There was also a player who the Buckeyes offered that committed to another school last week. We'll tell you who and where they're headed.
Finally, we'll take a look in the the future of Ohio State recruiting.
Join us after the jump to look at the past, present, and future of Ohio State football recruiting.
The Buzz
The Buckeyes picked up their first commitment for the '15 class this week in Canton (OH) McKinley athlete Eric Glover-Williams.
He had long been considered a Buckeye lean and it was only a matter of time before he committed to the Buckeyes. He told me way back in June that Urban Meyer wanted him to be the face of the 2015 recruiting class.
Glover-Williams player quarterback for McKinley, but will likely make the transition to wide receiver or defensive back when he arrives at the college level next year. He is the number two player in Ohio, according the the 24/7 composite rankings.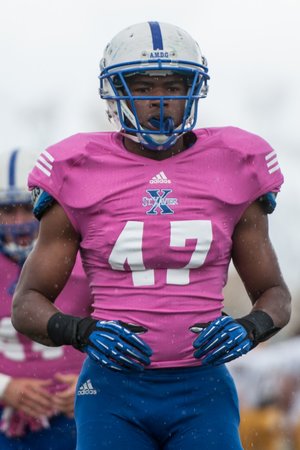 Meyer and the Ohio State coaching staff received some bad news this week when they heard Cleveland St. Ignatius linebacker Kyle Berger tore his ACL in his team's scrimmage.
The injury will force the standout linebacker to miss the entire 2013 season, but he will be ready when he arrives in Columbus next summer.
There will be at least three recruits on campus this weekend to take in Ohio State's season opener against Buffalo.
Two of the three are '14 commits – Cincinnati (OH) Moeller linebacker Sam Hubbard and Buckner (KY) Oldham County kicker Sean Nuernberger. Both of these recruits are firmly committed to the Buckeyes.
The other visitor is 2015 Cincinnati St. Xavier linebacker Justin Hilliard, one of Ohio's top juniors. I think Iowa and Notre Dame lead for his services as things currently stand. This will be a very good chance for OSU to make up some ground for the star linebacker.
High School Football Preview
| Position | player | school | opponent | comment |
| --- | --- | --- | --- | --- |
| QB | Stephen Collier | Lee County (GA) | Dougherty (GA) | Collier looks to kick off a strong senior campaign today. |
| WR | Parris Campbell | St. Vincent-St Mary (OH) | Garfield (OH) | Campbell had 98 yards on four carries adding a rushing touchdown. 52 yard punt return for TD. |
| WR | Terry McLaurin | Cathedral (IN) | Warren Central (IN) | 49 receiving yards and 30 rushing yards in 26-20 loss last week.  |
| OT | Jamarco Jones | De La Salle (IL) | Phillips (IL) | Jones will lead his team into their season opener Sunday. |
| OT | Kyle Trout | Lancaster (OH) | Logan (OH) | Trout will look to build on a successful junior season. |
| OG | Marcelys Jones | Glenville (OH) | Lakewood (OH) | Jones and Glenville have a tough opening matchup against Lakewood today. |
| OG | Demetrius Knox | All Saints Episcopal (TX) | Timpson (TX) | One of the best guards in the 2014 class will start at tackle for one last year. |
| DE | Jalyn Holmes | Lake Taylor (VA) | OFF | Holmes and Lake Taylor won 66-7 in their season opener last week. |
| DE | Dylan Thompson | Montini Catholic (IL) | Maine South (IL) | Thompson is expected to have another big season for Montini Catholic. |
| OLB | Kyle Berger | Ignatius (OH) | Brother Rice (MI) | Berger will miss the entire 2013 season due to a torn ACL. |
| OLB | Dante Booker | St. Vincent-St Mary (OH) | Garfield (OH) | Booker had 10 tackles, two for loss in his team's 63-0 victory yesterday. |
| CB | Damon Webb | Cass Tech (MI) | Southfield (MI) | One of the best players in the state of Michigan will look to build on his breakout season from last year. |
| S | Malik Hooker | New Castle (PA) | Central Valley (PA) | Hooker will play wide receiver and defensive back for New Castle |
| ATH | Sam Hubbard | Moeller (OH) | Pike (IN) | One of the most athletic commits will play tight end, linebacker, and safety for Moeller. |
| ATH | Lonnie Johnson | West Side (IN) | Lindblom (IL) | Johnson had 9 catches for 119 yards and two scores in his team's 47-34 loss last week. |
| ATH | Curtis Samuel | Erasmus Hall (NY) | OFF | Erasmus Hall is idle this week. They open their season next Friday. |
| K | Sean Nuernberger | Oldham County (KY) | North Oldham (KY) | Kicked a 46 yard field goal in his team's 33-0 victory last week. |
| WR | Johnnie Dixon | Dwyer (FL) | Glades Central (FL) | Dixon and his team were blown out 44-13 last week. |
| TE | Mike Gesicki | Southern Reg (NJ) | Lakewood (NJ) | The athletic freak is poised to have a big senior season. |
| OT | Chad Mavety | Nassau (NY) | Atlanta Sports Academy (GA) | One of the top players in junior college will look to have a strong final season in JUCO, before moving up to Division I next year. |
| OT | Damian Prince | Bishop McNamara (MD) | Mt. St. Joseph (MD) | Prince is poised for a big senior year after slimming down in the off-season. |
| DT | Thomas Holley | Abraham Lincoln (NY) | OFF | The state of New York's other star recruit is also off this week. |
| ILB | Raekwon McMillan | Liberty County (GA) | Bradwell (GA) | The Buckeyes's top target looks to start his senior year strong. |
| S | Erick Smith | Glenville (OH) | Lakewood (OH) | Glenville and Smith open with a tough game against Lakewood. |
| ATH | Noah Brown | Pope John XXIII (NJ) | Mystic Valley (NJ) | Brown is going to make his decision very soon. |
| ATH | Marshon Lattimore | Glenville (OH) | Lakewood (OH) | Ohio's top player will try to have another huge season for the Tarblooders. |
Happy Trails
There was only one player the Buckeyes had targeted or offered that committed to another school in the last week.
Charlotte (NC) Catholic running back Elijiah Hood, who was once committed to the Notre Dame fighting Irish, flipped to North Carolina a couple of days ago.
He was pretty high on the Buckeyes after he visited awhile back, but the Scarlet and Gray never had a legit shot at landing the star running back. This is a huge pick up for the Tar Heels.
We'll probably have more news in this section in the coming weeks.
Looking Ahead
Just like this week with the Buffalo game, we will probably see a couple of last minute visitors for next week's 3:30 showdown against the San Diego State Aztecs. There will be bigger visitor lists as the season progresses.
You can check out the complete list of visitors here.
Finally, I don't see any players committing to the Scarlet and Gray in the near future. The players to keep an eye on include the likes of Noah Brown, Thomas Holley, and Mike Gesicki.
I think Brown will end up committing to Rutgers or Virginia Tech, while I think Holley and Gesicki will eventually be Buckeyes, but it could take some time before they make their commitments known.