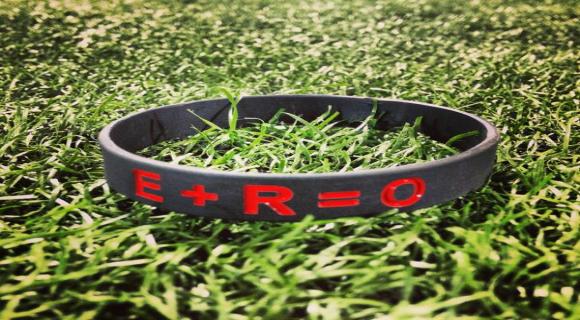 The biggest development during Ohio State's first game week has nothing to do with the opponent or even national championship hopes. It's actually something that doesn't relate to on-field play at all.
Leadership.
Luke Fickell called it a buzzword. But it's a real life truth. And when it comes to football, it's a necessity for greatness.
Last year, John Simon, Zach Boren and Etienne Sabino provided leadership at such a high level that it became the gold standard. Head coach Urban Meyer didn't need to interject.
Rumblings began in the spring that the 2013 group would be far different. The veteran offensive line has been deemed "the heart and soul" of the team, but behind them is a mix of fringe leaders who haven't taken the next step. Even further back are players who have never been in a position to lead. That's not to say the Buckeyes are devoid of leaders. There just isn't a transcendent personality on the team.
"I noticed very average leadership in January," Meyer said. "I saw a void in leadership. It's an uncomfortable position for an 18- or 19-year-old kid to be in. Guys are going to have to step out of their comfort zone."
All the evidence needed regarding a lack of leadership was the announcement of the captains on Tuesday night – and the previous delays. Ohio State named eight captains. It's an unprecedented move for the program and Meyer.
"It's the first time I've done something like this," he said. "We had eight individuals receive a lot of votes, and all were within 12 votes of each other. So they'll lead us into each game as captains and at the end of the year a decision will be made as to who will be the season's captains."
For the past week, the selection of captains has remained a mystery. On Monday, Meyer gave it some clarity, saying a vote would be held later in the afternoon. Then, no news. He admitted Tuesday afternoon this was the latest he's waited to announce team captains.
"I wanted to give it as much time as we could," Meyer said. "I just wanted to take our time to do it right."
Many fans point to noticeable names like Braxton Miller, Ryan Shazier and a cast of playmakers on offense as proof that the Buckeyes will contend for a national championship. But it goes well beyond the field of play and even the locker room on Saturdays. It's about character built during the summer and how players react throughout game week and moments of adversity.
"All great teams need great leadership," offensive coordinator Tom Herman said on Monday. "The unique thing about this team is that we have got a lot of guys on the fringe of being great leaders. They are good leaders. So we have got probably eight to 12 guys that are there on the fringe that are right there ready to make that next step into the elite leadership kind of category, but we are not there yet."
To help the process, Meyer used the services of Tim and Brian Kight, leadership experts from Focus 3 who hosted seminars for the Buckeyes during the offseason. Meyer said their involvement in the program has not only had a profound effect on the team but also himself.
The Tuesday classes started with fewer than 20 players but doubled soon thereafter. They were receptive and started to exhibit the traits elite leaders need.
"We met a fantastic group of young men who are very much still learning," Brian told Eleven Warriors. "Leadership is one of the hardest skills in life. It's really difficult. We work with a lot of seasoned professionals — executives, partners, vice presidents, owners — who don't put as much effort into their leadership skills as these guys did with us on their own time this summer.
"How hard did the group work this summer? I promise that no one in college football invested as much time, effort and attention. It was extraordinary."
"I promise that no one in college football invested as much time, effort and attention. It was extraordinary."
The foundation of the lessons was a formula: E (event) + R (response) = O (outcome). Each member of the team has a scarlet and gray wristband featuring the formula.
Everything that all 105 members of the football team do affects the others. If someone displays a negative attitude, the response trickles down. The outcome is completely different, though, if the player exudes a positive vibe.
"E + R = O represents the basic structure of how life works," Brian said. "Events happen. You choose how to respond and an outcome is produced. The only thing you, I, or anyone has control over in that equation — in life — is how to respond.  We call it 'The R Factor,' and it makes the difference between a good team and a championship team. It's not bench press or 40 time or the right play call. It's how you respond when situations get difficult."
Meyer has coached successful teams in each of his 11 years as head coach. Two won national championships. The common denominator on those teams was strong direction from the veteran players, not just captains. The 2006 and 2008 Florida teams finished with one loss, and it was in those weeks following heartbreaking defeats when unforgettable seasons bloomed.

A loss to Auburn in 2006 galvanized Florida, leading to seven consecutive wins to end the season. Two years later, it was Ole Miss who beat the Gators, in the Swamp of all places. Tim Tebow delivered "The Promise" after the game – now immortalized on the side of Ben Hill Griffin Stadium – and Florida didn't lose the rest of the season.
That's what Meyer covets, maybe even more than blazing speed.
"Each guy is learning what kind of leader he is and what kind he wants to be," Brian said. "It's still up to him to go be that leader. We have seen progress, setbacks and, most importantly, a willingness to step outside of what they've been comfortable with. Every program has a culture. As the leaders on the team make adjustments, they're not just changing themselves, but also the culture on the team and in the program. That's a very big, very important task. They're growing. It's been awesome to watch."
With anything, there's a learning curve. The players grasped that quickly. They went into the process with an open mind, not quite sure what lay ahead. It didn't take long to realize the Kights had their best interests in mind and would go to great lengths to make anyone and everyone a success story.
"We really challenge them. We push them," Brian said. "We question how and why they make decisions. We ask brutally honest questions and then wait for equally honest answers. Players grab us and tell us about their challenges, sometimes really challenging things, and ask for our help. It takes a lot of trust to do that. Their response has been very good."
And not surprisingly, it was the captains who attracted the attention. In any setting, true leaders will rise to the occasion, whether it's a football player on the field performing or giving a speech in the locker room, or a bank president doing a presentation in a boardroom.
"I was honestly surprised how quickly and fully most of the guys dove into the process, guys like Jack Mewhort, Ryan Shazier, Kenny Guiton, C.J. Barnett and Christian Bryant," Brian said. "They didn't just sit there and get through it, they really owned it and took it on their shoulders to not just learn, but to take our weekly and nightly challenges and go apply them in the weight room during their player-led workout sessions and in camp.
"A guy I'm impressed with is Braxton. People follow him. He has a quiet confidence not just as a player, but now as a leader, that is unmistakable. He has really embraced the reality that the team follows his lead. There's a lot more skill to build there, but we've seen a very confident Braxton Miller with this team. He's not loud and hyped like Christian, and he doesn't have to be. There are a lot of ways to lead. We like what we see in No. 5."
So do the coaches, and it could lead to No. 8. As in national championships.