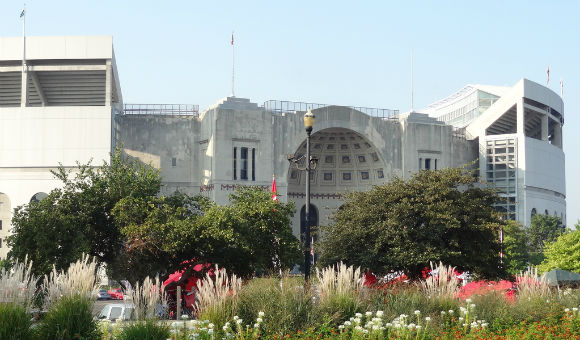 We're just three days away from the 2013 season opener against the Buffalo Bulls, who may not realize exactly what they're up against in this inaugural meeting between the schools.
Ohio State is riding the nation's longest winning streak (12) and has a long history of success on opening day, clowning opponents almost every year. The Buckeyes are 107-12-4 in opening games since the university began fielding a football squad in 1890. That's nearly an 89% winning percentage in the opener over the course of 123 years of Ohio State football.
A third of those opening day losses came before 1895. Another happened in 1943 to something called the Iowa Seahawks — a U.S. Navy pre-flight school at the University of Iowa. Considering the 41-12 OSU win in the previous year's meeting between the two teams, the Buckeyes no doubt threw that 1943 contest (28-13) to buoy the spirits of those future defenders of freedom during a tumultuous global political climate. Everyone else did too. The Seahawks went 9-1 in 1943 and finished No. 2 in the AP poll. #TheMoreYouKnow
Returning to modern times, the Buckeyes have celebrated a victory on opening day every year since 2000. With 13 consecutive wins in openers, Ohio State trails only Nebraska (27), Florida (23), USC and Wisconsin (15 each) for the longest current winning streak in the season's first game.
The Buckeyes are 32-2 in the last 34 season openers, with both losses coming at neutral sites against marquee programs. Ohio State dropped the 1986 opener in the Kickoff Classic at Giants Stadium in New Jersey against No. 5 Alabama, 16-10. In 1999, the Bucks again fell in East Rutherford, dropping a 23-12 season opener against the University of Miami, ranked No. 12 at the time.
The opening day numbers are even better at home. The Buckeyes have won 34 home openers in a row, dating back to a loss to No. 5 Penn State back on Sept. 16, 1978. Joe Paterno and the Nittany Lions served up a 19-0 smackdown on Woody Hayes that day, against freshman quarterback Art Schlichter, in what would become Woody's final season. That was nothing compared to the inaugural home opener. Those jerks from Wooster curb stomped the good guys back in 1890, 64-0. Ouch. #NeverForget For some reason, I can't find the box score on the internet. Oh well.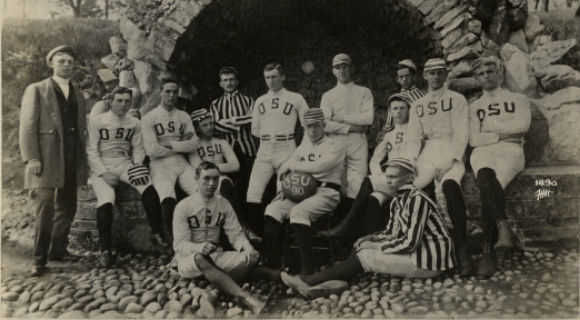 Overall, Ohio State is 111-8-4 (91.8%) in home openers. The percentage improves when you toss out the 28-2-2 mark predating Ohio Stadium. In the Horseshoe, the Buckeyes are 83-6-2 (92.3%) on opening day.
Over the last ten years, Ohio State has averaged a 38-9 victory on opening day, with two shutouts (42-0 over Akron in 2011 and 43-0 over Youngstown State in 2008). The defensive outlier is 2009, which saw Navy score 27 points in a 31-27 OSU win. That was also the largest opening day crowd in Ohio Stadium history, with 105,092 showing up to watch the Buckeyes take down the Midshipmen (albeit in a scary and way-too-close-for-comfort fashion).
While Ohio State has been fantastic in season openers, its head coach has been flawless. Urban Meyer is 11-0 in his career on opening day, with an average margin of victory of 31.3 points. Although Ohio State's closest opening day in the last 11 years was 2009, it was also Meyer's largest Week 1 victory. His Florida Gators chomped hapless Charleston Southern 62-3 that season.
As if Ohio State's opening day prowess wasn't enough of a worry for the Bulls, the Buckeyes are also killing it against unranked non-conference opponents in the Shoe. Ohio State has won 61 straight games against such opponents on home turf. The last time the Scarlet & Gray fell to an unranked non-conference team on their own soil was on Oct. 2, 1982, when Florida State won in Columbus, 34-17. As Buffalo doesn't currently appear on the AP Top 25, you have to like Ohio State's chances.
Then there's the Buckeyes' record against the Mid-American Conference. Ohio State holds a 28-1 (96.6%) all-time record against teams currently in the MAC.
Buckle up, Buffalo.