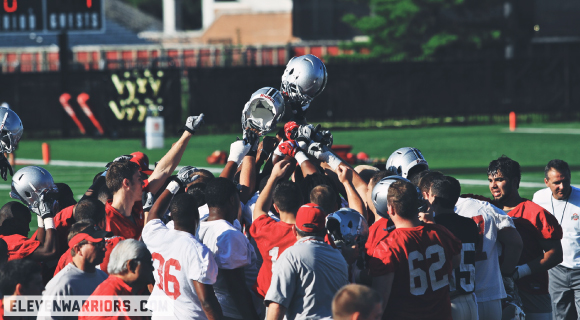 The 2008 Ohio State recruiting class was billed as a program savior. The Brew Crew was the perfect remedy for the Buckeyes, who were coming off consecutive losses in the national championship game. Big wins came along, as did shame. Some believed it was style and no substance.
Five years hence, Ohio State welcomes another ballyhooed class. But they don't need fancy nicknames. All that's needed is a football and field to prove their worth and value to a national title contender.
"I've been impressed by a lot of the freshmen, just the way they handle themselves," said senior left tackle Jack Mewhort. "They're very mature kids and came in here to work. I think that will show on the field. They've all come out and handled themselves very well in fall camp. I'm proud of them so far."
Dontre Wilson is the unquestioned centerpiece of the 2013 recruiting class, ranked No. 1 in the nation by some. The DeSoto, Texas, native gives Urban Meyer and Tom Herman a piece to the puzzle that was missing during the undefeated 2012 season. Think of a sports car enthusiast driving a Camry for a year before unveiling a brand new Lamborghini. That's why Meyer and Herman are so amped for what's to come.
Fans have been hearing about Wilson since he reneged on his commitment to the fast-paced Oregon Ducks and chose to be a part of the Buckeyes' up-tempo offense. Then he enrolled over the summer and the legend of Wilson grew even more. Upperclassmen raved about the running back who doubles as a wide receiver.
"He's a smart dude, a smart football player," said senior wide receiver Philly Brown. "When you learn concepts, you learn every position. It's easy for him."
So easy that he – and other freshmen skill players – made veteran defenders look like fools.
"I'm excited to see what those guys do against someone else," said junior linebacker Ryan Shazier. "The first time we went against them we were kind of shocked and surprised when we saw some of the things they were able to do. I can't wait for the world to see what they can do."
Some of Ohio State's greatest teams have enjoyed contributions from first-year players. In 1968, the Super Sophs – Rex Kern, Jack Tatum, Jim Stillwagon, Bruce Jankowski, John Brockington, Mike Sensibaugh, Jan White, Tim Anderson, Larry Zelina, Mike Vladich, Doug Adams and Mark Debevc – were integral in the Buckeyes first national championship in 14 years. Thirty-four years later, freshmen Maurice Clarett and A.J. Hawk helped end a title drought in Columbus.
Archie Griffin became a freshman sensation in 1972, while David Boston, Michael Wiley and Andy Katzenmoyer helped spur Ohio State to the 1997 Rose Bowl.
Freshmen have long held important roles for high-caliber teams. Few coaches hold first-year players in such high regard than Meyer. He's turned freshmen into difference makers at each stop of his head-coaching career. But no class compared to the legendary 2006 Florida Gators.
"Our theory is you don't redshirt, you play," Meyer said. "We're not saving them. When we recruit, we tell you you're going to play. If you don't play, it's because you're not good enough."
Tim Tebow and Percy Harvin were major factors in Florida winning the national championship – against Ohio State. Two years later, they, along with Brandon Spikes, Riley Cooper, David Nelson and Ryan Stamper, formed the nucleus of one of the best college teams in recent memory.
But it was the performance during their freshmen season that laid the groundwork. In a 41-14 humiliation of Jim Tressel's Buckeyes, the Gators played 12 true freshmen. Harvin finished with 82 total yards, making Ohio State defenders tackle air all night. Tebow had 39 yards rushing and a touchdown.
A heavy dose of veterans and youth is what made those Florida teams – and so many others – elite. And history could repeat itself for Meyer in 2013. There are juniors and seniors accompanied by freshmen with prominent responsibilities.
"I don't think those guys are short on confidence. They'll be all right." -jACK MEWHORT
"The '06 [freshmen] injected a bunch of speed and playmakers into that 2006 team," Meyer said. "I see very similar qualities, certainly on offense. You look again and you see what number that is and I feel like same way on offense. I feel a little bit of a jolt that's really going to help us."
Right now, there aren't a whole lot of freshmen who will watch from the sideline on Saturday against Buffalo. On Monday, Meyer said Wilson, Ezekiel Elliott, Joey Bosa, Michael Hill and Cameron Johnston will play. That doesn't include the dozens of others who should see game action in the second half.
When Brown was asked about his own unit, which features several members of the 2013 recruiting class, he couldn't hold back with the praise.
"All of them, for real," an excited Brown responded after being asked who's stood out. "They're all way ahead of where I thought they'd be at this point. That's a credit to the coaches and us as leaders getting them where they need to be. [The freshmen] are all strides ahead of where I thought they'd be."
Said Mewhort, about the freshmen as a whole: "I don't think those guys are short on confidence. They'll be all right. It's more exciting than anything. They have a lot of older guys in their position group they can look at for advice."
The toughest task of the day might rest with Wilson, who in all likelihood will return the Buckeyes' first kick of the season. Meyer joked that the freshman speedster might hyperventilate.
"When I was a freshman I was waving a towel, he's going to have a pretty important role," senior safety Christian Bryant said of Wilson. "The feeling is unexplainable. The only thing I can tell him is to take a deep breath. He's here for a reason. We all have confidence in him that he can get the job done."
All the hype hasn't led to any bristling among teammates. In fact, Brown said to keep upping the hype machine for Wilson. He can be described as diminutive, elusive and fast – all traits that strike fear in the opposing defense. At the same time, it stokes poise in Ohio State.
"I know he'll do well," Brown said. "We've had a couple scrimmages and he's gotten reps with the ones where he's shown up and made big plays. I have complete confidence in Dontre.
"He's very humble, accepts a lot of coaching and works to get better. He didn't come in here with a big head. He knows he's a freshman."
Perhaps the most meaningful and important moment for the freshmen won't come on their first play, first time they touch the ball or first touchdown. It will happen when they walk down the southeast tunnel into the masses and run through the band and into the Horseshoe.
"Running out of the tunnel in Ohio Stadium for the first time, I don't think there is anything like it in the world," Mewhort said. "It's definitely not something I'll forget anytime soon. It's a life changer. I'm excited for those guys to go out and see just how many people really come and support the Buckeyes on gameday. It's going to be a lot of fun for those guys."
And the veterans. In Pasadena on Jan. 6, it could be their combined effort that lifts Ohio State to its first national championship in more than a decade.