Recruiting, it's been said, is the gift that never stops giving. Wait. Nobody ever said that. Okay...let me try again. 
Recruiting is the gift that never stops giving, or never stops taking away, I said once to myself alone, banging my head against a wall.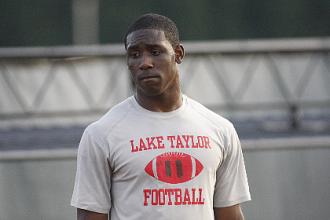 As I came to, I realized how quickly and how thoroughly things can change in the world of recruiting, I decided to take a gander at the 11W recruiting team's projections for the 2014 finish that we gave you six weeks ago. Since then, we've seen commitments from Curtis Samuel, Demetrius Knox and Malik Hooker, (kudos to Mike Young, our basketball guy for calling that one) while waiting for movement on a number of other excellent players that remain on Ohio State's board. 
Some, players like Raekwon McMillan, Damian Prince, the Glenville duo, etc. we know we'll be waiting for a while to hear anything concrete from. Others, like Arkansas commit Jermaine Eluemunor surprised many with his flipping and flopping but ultimately spurned Ohio State for the greener pastures of Fayetteville, and went from high probability to no chance faster than a Razorbacks fan could embarrass themselves on the internet or faster than a Razorbacks fan could embarrass themselves on the internet.
Now, with the college football season upon us, we enter into a whole new realm of recruiting. We turn our focus a bit more to 2015 and beyond as most of the 2014 crop has been harvested, or at least is widely recognized and targeted. As football teams across America start hitting each other, the players are hitting the books and will get lost in their senior seasons and fans across the country will find themselves in football induced comas. Occurring every Friday night and blissfully fading into Sunday evenings, these trips into football nirvana will last through December, and it's a glorious time to be alive.
With recruiting's ebbs and flows comes our own changes, and here's where we see things as we move into the season.
Who are the final names that Buckeye fans should think about when February comes around? Here's our look at a final six, which would put the Buckeyes at 23 players in the 2014 recruiting class, the number we feel most comfortable projecting. As before, Miles, Jordan and myself see things a bit differently towards the bottom, but the gist is this: there's some guys we all feel pretty darn good about.
11W Class Projection

| Jeremy | CONFIDENCE | JORDAN | CONFIDENCE | MILES | CONFIDENCE |
| --- | --- | --- | --- | --- | --- |
| Marshon Lattimore | 5 | Lattimore | 5 | Lattimore | 5 |
| Erick Smith | 5 | Smith | 5 | Smith | 5 |
| Raekwon McMillan | 4 | Holley | 4 | Gesicki | 4 |
| Damian Prince | 3 | McMillan | 4 | McMillan | 3 |
| Johnnie Dixon | 3 | Prince | 3 | Chad Mavety | 3 |
| Thomas Holley | 3 | Mike Gesicki | 3 | Holley | 2 |
Marshon Lattimore // ATH // Cleveland, OH (Glenville) and Erick Smith // DB // Cleveland, OH (Glenville)
Jordan Wagner  - I've seen some Ohio State fans worrying about Marshon Lattimore going to Michigan, but it's pretty much the same situation every year. Glenville kids typically wait until late in the recruiting cycle to announce their decisions and I'm very confident that Lattimore will be a Buckeye. It seems like he could announce at the All-American game in January. The Glenville product has the potential to be a lockdown corner for the Buckeyes. 
Miles Joseph  - These two are in the same boat. They're Glenville kids who usually wait on their decision but Ohio State is the clear leader for both. I would be shocked if either of these guys went elsewhere.
Confidence Rating: 5.00
---
Raekwon McMillan // LB // Hinesville, GA (Liberty County)
Jeremy Birmingham  -  McMillan has been the guy with which the 2014 Ohio State class was perceived to live or die with, but the recent commitments of players like Curtis Samuel, Jalyn Holmes should provide some respite for Buckeye fans if McMillan were to choose elsewhere. He's been clear that the Buckeyes have been at or near the top of his list for the majority of his recruitment but Alabama continues to chip away at Ohio State's comfort zone, especially the relationship the Georgia native has with Kirby Smart, the Tide's defensive coordinator. McMillan is the centerpiece of the 2014 defensive class and is especially important now as reports of a possible torn ACL for St. Ignatius' Kyle Berger. The Buckeyes want more help at linebacker and McMillan is the player that fits the mold, the need, and the defense the best. 
Miles Joseph - I think this will be a hard fought battle between Ohio State, Alabama, Florida, and Clemson, but I think Urban Meyer and the Bucks will win out when he announces at the Under Armour All-American Bowl in January.
Confidence Rating: 3.66
---
Thomas Holley // DL // Brooklyn, NY (Abraham Lincoln)
Jordan Wagner -Thomas Holley is a prospect that a few months ago I didn't think we would land. Mike Vrabel and staff have done a great job at getting him to visit and really recruit him hard. I think a defensive tackle is a need in this class, but only if we can land a top guy. If it comes down to Ohio State and Penn State, I like our chances.
Jeremy Birmingham - Back in June, Ohio State had a few key visitors along the defensive line that included Holley, South Carolina native (and now Louisville commit) Poona Ford, and Kentucky hoss Matt Elam. After those visits, the Buckeyes made a choice to really keep recruiting only two of them and Holley is the guy that the Buckeyes see as the best fit for their defensive approach. The commitment of fellow Brooklyn native Samuel can't hurt the Buckeyes' chances here either. Look for Ohio State, Notre Dame and Syracuse — yes Syracuse — to be involved here until the end.
Confidence Rating: 3.00
---
Mike Gesicki // TE // Manahawkin, NJ (Southern Reg)
Miles Joseph - I think Urban really wants Gesicki to be a part of this class. I definitely think Ohio State is leading right now.
Jordan Wagner - You really don't hear too much about Gesicki, but he did well enough at camp to earn an offer from Urban Meyer. Tight end/H-Back is somewhat of a need, but scholarship numbers are pretty tight. Wisconsin could be a team to watch for Gesicki. They have quietly put themselves near the top of his list. Florida State and Penn State are also possibilities. I think he will be a Buckeye, but I wouldn't be surprised if he went elsewhere.
Confidence Rating: 2.33
---
As you notice we've got only five guys listed there, the five with the highest combined confidence ratings. Each of us, as was the case before, sees a different final piece or two in the 2014 class. Miles likes Nassau (N.Y.) C.C. lineman Chad Mavety to round out the offensive line haul while Jordan and myself still see the Buckeyes reeling in Maryland's Damian Prince against the odds.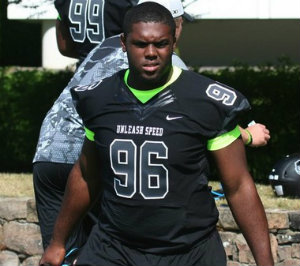 My final piece, Johnnie Dixon, is not a common projection at this point but Ohio State has been relentless in their pursuit of the Florida wide receiver and while he's not the "big" wide receiver most expect the Buckeyes to finish with, he's so highly regarded by the Ohio State staff that it doesn't matter. 
There's also the case of Noah Brown, another megatalent from the Northeast that the Buckeyes continue to chase. At 6-foot-2 and 212 pounds, Brown does fit the need for a bigger, outside "x" receiver that Ohio State covets. He's down to the Buckeyes, Rutgers and Vanderbilt but it seems to be a two-horse race between the homestate Scarlet Knights and Ohio State. He will make a decision by September 12th, and it could happen literally any day. For Brown it comes down to relationships, and he's recently spent a lot of time at Rutgers, which is where I think he lands. If Brown were to surprise and choose Ohio State, that could eliminate Dixon as a possibility.