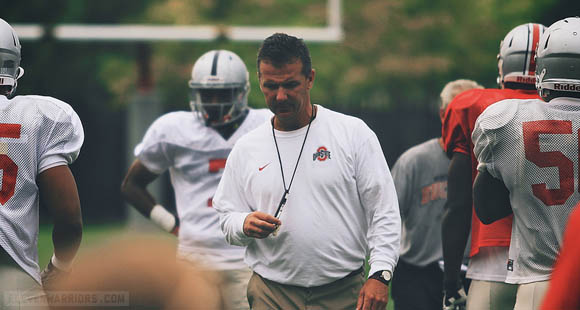 For 27 years, Urban Meyer has prepared for a college football season. Still, he couldn't hide his excitement on Monday when he previewed No. 2 Ohio State's opener versus Buffalo.
"I just can't wait to play football," he said.
Who is on the field remains to be seen – Meyer didn't reveal a depth chart – but one thing that is known is there will be plenty of freshmen who get their first Buckeye experience. Dontre Wilson, Ezekiel Elliott, Joey Bosa, Michael Hill and Cameron Johnston will all play on Saturday, according to Meyer.
Wilson has been the most talked about freshman to arrive in Columbus since Terrelle Pryor in 2008, and like the former quarterback, Wilson's athleticism and dynamic playmaking ability is the reason 105,000 scarlet- and gray-clad fans will jump to their feet the first time he touches the ball.
"He's going to touch the ball," said offensive coordinator Tom Herman. "We'd be foolish not to have him touch the ball. "
The non-conference schedule will be used to get Wilson up to speed – literally – before unleashing him on the Big Ten. Camp has been used to inundate Wilson with possible plays Meyer and Herman would want to incorporate him into. Now the offensive gurus are paring down the selection.
"This last week will be kind of fine tuning, 'Here is what you need to be really good at come Saturday against Buffalo,'" Herman said, adding that Wilson will have a package of eight to 10 plays and formations he's used in. 
Wilson, who is slated to be the primary kick returner, will likely return the first kickoff Ohio State receives. That is, unless he hyperventilates, Meyer said.
An Ohio State spokesman said Meyer declined to release a depth chart because of injury concerns. But when Meyer stepped to the podium he admitted the team was "relatively healthy." The only possibility of a change is an unexpected happening in practice this week.
One surprise the coaches would welcome is solidifying the depth at linebacker. Ryan Shazier is arguably at the top of the line when it comes to college linebackers. Behind him is nothing more than serviceable backups. Two of them, though, must develop into starters.
If the season began tomorrow Curtis Grant (Mike) and Josh Perry (Sam) would start alongside Shazier. Grant would be in during the nickel defense, which Ohio State plans on using liberally in 2013. Grant has missed a bulk of fall camp due to complications from a concussion, but coaches indicated he'll be ready Saturday.
One year ago it was the offense that received most of the criticism. Times have changed. Now they receive applause from Meyer. When he rattled off each position Monday, it was followed with "[I] feel very good about it."
"I just can't wait to play football." -Urban Meyer
Along the offensive line, depth is the area where camp has yielded the best results. Four of five starters returned and Taylor Decker quickly performed at a high level. The second-string line was mentioned in the same sentence as the linebackers until they earned the coaches trust.
"Offensive line, I feel very good about," Meyer said. "We're much deeper."
Chase Farris, Pat Elflein, Jacoby Boren, Kyle Dodson and Darryl Baldwin have bolstered the second unit with a strong showing during fall camp. Meyer said he's now comfortable with one of them stopping in if needed.
"Pat Elflein is a great story. What a worker, what a tremendous kid, tremendous family," Meyer said. "Just tough. I love that group. He's a guy that has really come on. Kyle Dodson has come on. A guy named Darryl Baldwin has come on. Those are all players that a year ago, to think you would ever let them on the field in a situation where it counts, that's not going to happen.
"Darryl Baldwin, he's one of the most improved players on the team. I don't know if I've even mentioned him. What great kid, no maintenance, no nothing, other than just hard working guy that gets great grades and is a wonderful player. Great, great representative of Ohio State."
Running behind the Buckeyes' line will be Jordan Hall, Bri'onte Dunn, Warren Ball and Elliott. Carlos Hyde and Rod Smith are suspended, and from Meyer's tone it sounds like the two backs will have to earn their playing time once they return.
"Jordan Hall is the best running back on our team right now," Meyer said. "And so he'll have to lose that spot. I'm talking next week, the week after, whatever. He's a tailback at Ohio State. He's earned that right."
Four receivers have stepped to the front of the line – Philly Brown, Evan Spencer, Devin Smith and Chris Fields – which led Meyer to say they're "the most improved position on the team." Battling to be included in the rotation is Michael Thomas, Corey Smith, James Clark and Wilson. Jalin Marshall's name is not included because he suffered a concussion and fell behind.
With captains set to be announced sometime Monday, leadership again became a popular discussion point. The story of the 2012 Buckeyes has already been told, but the theme is leaders. Meyer called John Simon, Zach Boren and Etienne Sabino among the best group of leaders he's ever been around, going as far as to say they made an impact on himself as a person and coach.
Their absence leaves a void on a team with national championship aspirations. All great must have leaders, a message Herman confirmed. So far, Ohio State's 2013 team doesn't have the same level of personalities the 2012 version had. But there are several players with the same qualities.
"The unique thing about this team is that we have got a lot of guys on the fringe of being great leaders," Herman said. "They are good leaders. We probably have eight to 12 guys that are there on the fringe, that are right there ready to make that next step into the elite leadership kind of category. But we are not there yet."
Fear not, the regular season doesn't begin for five more days.