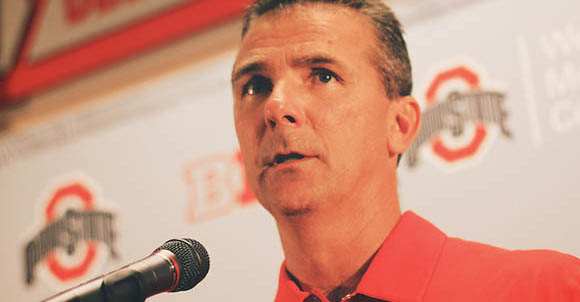 Urban Meyer walked to the podium on Monday with confidence. After all, his Ohio State Buckeyes are ranked second in the nation and feature a smorgasbord of talent. For the head coach the next five days will feature preparation and excitement.
"I just can't wait to play football," he said.
No depth chart was released because Meyer is still checking with trainers on the health of a few players, but he said the Buckeyes are "relatively healthy." Meyer did say that the team would vote on captains later in the day and will have an announcement following the vote.
Other items to come out of Meyer's Buffalo presser:
It's no secret that the linebackers are the weakest spot on the team. Urban said they're still trying to solidify the position. He mentioned depth issues and Curtis Grant's injury, saying Grant is rebounding, but needs more time at the Mike spot.

Urban rattled off all the offensive positions and said he feels good. That's a big change from last season, especially wide receiver.

As for a defensive line replacing all four starters, Meyer is feeling good, saying "The defensive line is young, but Coach

Vrabel

has done a really great job with them."

Jacoby

Boren

and Pat

Elflein

will play on Saturday, Meyer said. They earned it and deserve it.

Freshmen who will play Saturday:

Dontre

Wilson and Ezekiel Elliott on offense. Joey

Bosa

and Michael Hill on defense. Obviously, Cameron Johnston at punter.

Meyer's Year 2 record is well-documented. Staff continuity and just being in a groove with the offense and defense are the main components, he said.

There's no doubt that the skill players are a night and day difference from last season. Urban said Braxton will not have to do it all this year.

Dontre

Wilson will be the primary kick returner. Meyer joked that the only way Wilson won't be back on kickoffs is if he hyperventilates from being nervous.

Urban says he believes the O-line is deeper than he thought he would be. Mentioned Pat

Elflein

, Kyle Dodson and Darryl Baldwin as guys he's comfortable with if they are called upon.

"Jordan Hall is the best running back on the team right now. He'll have to lose that spot." 

Hall,

Bri'onte

Dunn, Warren Ball and Ezekiel Elliott will all have carries on Saturday, according to Meyer.

Meyer noted that he's excited about the Buckeyes' two home night games and how much it helps with recruiting because of atmosphere and convenience.

A good game Saturday, according to Urban, would be playing well and playing clean. It took about four games for Ohio State to get into a rhythm last year.

Meyer on Buffalo's defense: "They play their defensive tackles inside your tackles which screws up your blocking schemes."
Updates from offensive coordinator Tom Herman:
Offensive coordinator Tom Herman reiterated that he does not have a set number of plays in mind for the team to run. He just wants to win.

Herman on

Cardale

Jones: "His good is really, really good. But his bad is really, really bad."

Herman said it's too early to make a decision on J.T. Barrett's

redshirt

. Added that Ohio State hopes it doesn't have to play the fourth-string

QB

.

Braxton Miller is a new quarterback this season, according to Herman, because he has confidence in himself. Was missing that part mentally last year.

Herman says the top 4 wide receivers are Philly Brown, Evan Spencer, Devin Smith and Chris

FIelds

. There's a competition for the fifth spot.

Herman said

Dontre

Wilson will also be "sprinkled in" at wide receiver. "He will touch the ball. We'd be foolish if he didn't."

Herman said this week will be a period where

Dontre

Wilson will be told "these are things you need to be really good at."

Ohio State has a number of running backs available. Herman said they'll feed whoever needs the ball, is playing well.

Herman said Buffalo's defense is difficult to prepare for because it's so different from what the offense went against all of camp. Buffalo will play three linemen, three linebackers and three safeties. Unique defensive formation.

Jalin

Marshall has been set back by a concussion issue. Herman said he has some ground to make up.
Updates from defensive coordinator Luke Fickell:
Fickell isn't worried about linebacker Curtis Grant's injury setback. Mentioned it's his third year in the program, so he's not totally inexperienced.

Ohio State has not done a lot of live tackling, according to Fickell. The Buckeyes have struggled with missed tackles the last two years. It will be something to keep an eye on Saturday.

Fickell on the front seven: "I feel great about them." The defensive line doesn't look like much of a concern. Linebackers other than Ryan Shazier seem to have a way to go.

"Leadership" is a buzzword in Fickell's eyes. He said the defense is 11 guys and multiple players can step up as leaders at any given time, going on to say the true measuer of a great leader is consistency. Fickell did go on to mention Ryan Shazier, Christian Bryant, C.J. Barnett and Michael Bennett as guys who will be leaned on for leadership this season.

Fickell, when asked whether he voted for Mike Vrabel as a captain in 1996, deadpans, "No," before following up with, 

"I can't remember. I've been hit in the head too many times."

No change at starters for Ohio State at linebacker: Shazier, Grant and Perry.