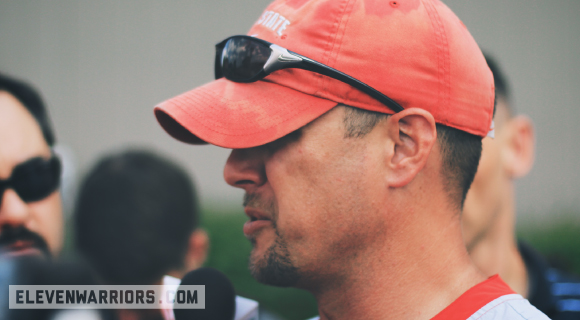 Tom Herman was a relative unknown when Urban Meyer reached out to the then-Iowa State offensive coordinator late in the 2011 season. Ohio State fans quickly learned who he was due to the Cyclones' upset of second-ranked Oklahoma State. Mixing Meyer and Herman's offensive genius would ensure points galore and yardage totals that would require calculators.
The Buckeyes ushered in their new era with an undefeated season, thanks to a do-it-all quarterback and dynamic offense. Herman's play-calling earned him positive reviews from all corners of the state after 10 years of an offense that harkened back to the Eisenhower Administration.
But even with zero losses and Braxton Miller's record-setting performances, the offense left a lot to be desired. Meyer and Herman admitted as much. With less than a week remaining until the 2013 season opener, there's a unanimous opinion among coaches and players that this year's offense will be more inline with the expectations that accompanied Herman when he came to Ohio State.
Miller and the wide receivers are improved, the offensive line returns four starters, freshmen playmakers provide an added dimension and the tight ends free Miller to be more creative.
"He's head and shoulders better than he was and farther ahead," Herman said of Miller's progression. "The more he learns, the more fluent he gets. It just kind of snowballs a little bit."
The Buckeyes averaged eight more offensive snaps per game in 2012 than the 2011 season with Jim Bollman as the offensive decision maker. Ohio State had 70 snaps per game last season, which was the middle of the road in FBS.
Herman, a statistics guru, said there is no number in mind when it comes to the number of plays he would like to run. The ultimate goal is to win, whether the Buckeyes run 50 or 100 plays. An efficient no-huddle offense could mean fewer total plays and a lot more points than the opponent.
An element missing last season was gamebreaking players. There is no shortage this year, but it doesn't act as a guarantee of moving up and down the field. Herman indicated he won't let the newcomers cloud his judgment on deviating to what made Ohio State one of the top teams in the country.
"We're going to do what we do and plug those pieces of the puzzle in when we need them," he said.
There's never an urge to inject Meyer and Herman with truth serum. Both coaches are straight shooters. Ask them to analyze the team, and they will give you a description filled with adjectives, either positive or negative.
Prior to the 2012 season – and during and after – both had little problem with putting down the offense to the point where it verged on demeaning. It's been the complete opposite as the 2013 season looms, giving many the impression that an offensive onslaught is six days from beginning.
"We're much faster," Herman said, sending chills up the spine of Buckeye Nation. "We're much more well-oiled, if you will, with our jet pace and our up-tempo stuff. It's running a lot smoother. I sleep a lot easier at night than I did last year at this time."
Perhaps the most underrated aspect of the offensive philosophy is the tight ends. Meyer and Bill Belichick have made the position in vogue in recent years. Each coach has won championships in their sport due to tight end utilization.
Jeff Heuerman and Nick Vannett have been referred to as the top duo Meyer's ever had and among the best on any team in the country. They're athletic, fundamentally sound tight ends who can block or catch the ball over the middle.  
"It allows you to have more freedom in the run game and pass game," Herman said. "The good thing about us being no-huddle is that we don't have to take those guys off the field. We don't have a blocking tight end and a pass-catching tight end. We've got two tight ends that can line up and do both things. It allows us to play faster and keep the entire offense in out of one personnel group."
All told, the 2013 finished product likely won't even resemble what Ohio State considered its offense one year ago. It starts with Miller. Despite finishing fifth in the Heisman Trophy voting, by all indications, he's a changed player.
Herman said he's like Miller to improve upon his 58 percent completion percentage and raise it to the 67 to 70 percent range. Combined with his elusiveness running the football, an ability to be accurate throwing the football would put Miller into elite status.
"The quarterback helps," Herman said. "When he's going and leading the charge, it certainly helps. But all the other guys are certainly faster and they're not thinking, they're just playing, which certainly helps."
As does the presence of Herman, a savior after a decade of anguish with runs up the middle on 3rd-and-5.