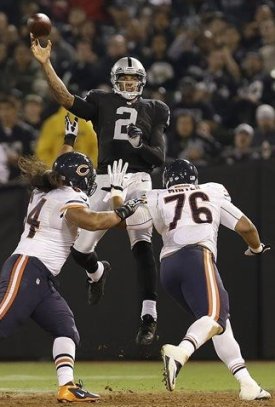 After current #1 Raiders quarterback Matt Flynn was pulled late in the 2nd quarter for stinking up the joint with two interceptions in six attempts and just two total 1st downs, Terrelle Pryor came in and gave the Oakland offense a shot in the arm.
Finally allowed to change his number from 6 to 2, Pryor sparked the Raider offense leading them on a field goal drive to end the half.
Pryor was even better in the 3rd quarter as he led the Raiders on a five play, 55 yard scoring drive capped by a nifty 25 yard gallop for six. Before the scamper, Pryor connected with Rod Streater for 19 yards on 2nd and 14 following an athletic scramble to buy time. 
A few possessions later, Pryor would find TE Nick Kasa for a 19 yard touchdown on 3rd and 16 cutting the deficit to 27-20 before he was pulled for the night.
Overall, Pryor connected on 7/9 passes for 93 yards and added another 37 on the ground. The Raiders scored 20 points on his five drives of action.