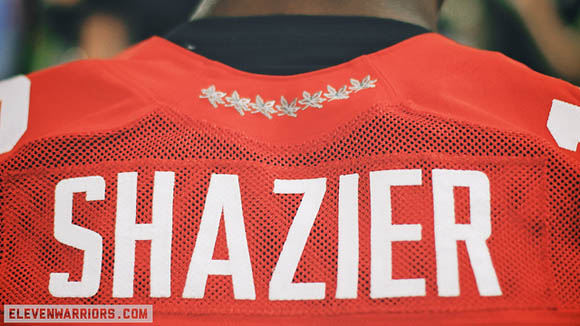 Football is a numbers game. Mismatches, points, down and distance. Every direction you turn inside a stadium, numbers are in plain sight. The same is seen in the hallowed halls of the Woody Hayes Athletic Center. Stats, awards and coaching records are all listed.
Numbers can be manipulated to tell many different stories. But there's nothing false about the equation when it comes to Ohio State's linebackers. Twelve All-Americans, eight first-round draft picks, two Butkus Awards and two Lombardi Awards. Other schools – Penn State – claim to be Linebacker U. Upon further review, though, the Buckeyes have a legitimate claim to the honor.
Ryan Shazier, a tackling machine that moves from sideline to sideline like a circling shark, would like to add more separation between Ohio State and other linebacker factories. He'd also like to etch his name alongside the likes of Spielman, Gradishar, Katzenmoyer, Hawk, Laurinaitis and other Buckeye greats.
In Shazier's first career start as a freshman, he finished with 15 tackles. During his sophomore season, Shazier finished in the top 10 of the conference in five different defensive stat categories. He led the Big Ten in tackles for loss – 17 – and was second in total tackles – 115. The latter number was the most by an Ohio State player in a decade.  Shazier was a first-team All-Big Ten selection and honorable mention All-American.
For someone who's attempting to leave a lasting legacy, Shazier's first two seasons have certainly made an impression.
"Things have come pretty naturally for Ryan, pretty easy," said defensive coordinator and linebackers coach Luke Fickell. "But with the abilities that he has and the expectations we have for him, he's got a long way to go. That's what I keep telling him.
"I compare him to some of those ones I've had the fortune of coaching here, and I'm going to continue to push him to be that kind of guy and get that much better."
The spotlight will shine brightly on Shazier this season for a whole host of reasons. For starters, he's the top defender on the second-ranked team in the country. A young defensive line could put pressure on the linebackers, though expectations are high for the line, even with all the youth.
That word – youth – could describe the linebacker corps. Take Shazier away and they could be rated near the bottom of the Big Ten. Shazier's 15 career starts are 12 more than Curtis Grant, the only other linebacker who's started. Entering Year 3, Grant, the No. 2 overall recruit in 2011, still isn't up to speed. Sophomore Josh Perry will start at strong side. He only played on defense in four games last season.
The relative inexperience has thrust Shazier into a leadership role. He plays the part of teacher and motivator. He's a vocal presence that becomes animated when demonstrating how to play the position. Last year, he played through a sports hernia injury that ultimately sidelined him from spring practice. The devotion impressed his coaches and teammates.
"Shazier's a name that he's always been kind of that young linebacker," Meyer said. "Guess what? He's not a young linebacker. And he's earned it. He played very well through injuries."
Shazier understands how to lead by example and when to speak up after witnessing the leadership qualities of Etienne Sabino and Zach Boren last season. Meyer praised both players for helping the defense evolve and being uplifting forces for the team.
"Everyone learns in different ways," Shazier said. "You just have to use different techniques for everybody.
"I need to focus on the things I need to focus on right now, and that's leading these guys to where they want to go. I just have to keep working on what the coaches keep telling me to do and just keep leading these guys."
Fickell described Shazier as "charismatic" and someone who has the unique ability of allowing his actions to speak louder than words. There's often a misconception that leaders can only lead by being seen and heard. It's not entirely true, though. It takes some form of action, but it doesn't need to include a vocal authority, being the best player on the team or someone who has regular playing time.
Take Thomas Matthews for example. He was a minor contributor for the Buckeyes from 2000-2004, but was considered to be one of the team's largest personalities and someone who provided inspiration. 
"Ryan has that ability to make others around him better because he has that giant heart," Fickell said. "I think that's one of those great qualities in a leader that people don't talk about all the time. His actions will speak."
Leading isn't the only transformation is Shazier's game. When he arrived at Ohio State, he weighed less than 200 pounds. For a Big Ten linebacker, it's nearly impossible to last a grueling October and November stretch without a bulky frame. So Mickey Marotti put Shazier into a program that elevated his weight to 229 pounds, a majority of the added weight being muscle. All of a sudden, Shazier is a gym rat.
A change in physique wasn't the only alteration that benefited Shazier. He got down to the basics – fundamentals, especially footwork – to add another gear to his on-field performance.
"Once I started focusing on those things, it helped me get where I wanted to go," he said.
In the future, the final destination is a national championship. But a Butkus Award wouldn't be all that bad, either.