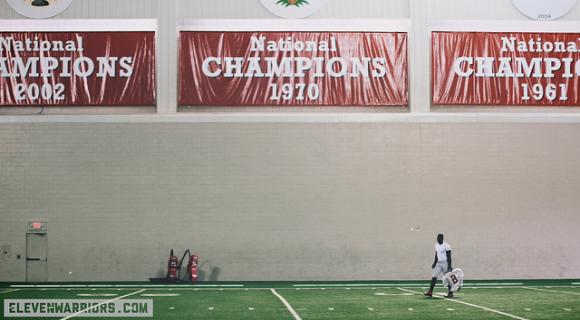 If you choose to play for Urban Meyer, you know an immediate impact is expected. Over the course of Ohio State's undefeated 2012 campaign, two freshmen defensive linemen – Adolphus Washington and Noah Spence – seized their early playing time and foreshadowed the Buckeyes' future.
When Johnathan Hankins opted to leave for the NFL, it signaled an historic change on the line; all four starters were gone. It's the first time in a generation Ohio State has been saddled with a complete overhaul of one of the sport's most important units. 
But Mike Vrabel went to work and molded a cast of inexperienced players into a group that's primed to have a more productive year than their predecessors.
"It's a lot more go get 'em, a lot more speed and everything like that, so that's a big difference," Spence said. "God willing, we'll be just as good, if not better than last year."
The bookends at defensive end may be the youngest members of the newly established defensive line, but their importance as the cornerstones is not lost. The youth is a factor in defensive coordinator Luke Fickell's restless nights. For Washington and Spence, delays in sleep come from the roommates trash talking.
When Spence committed to the Buckeyes, he quickly reached out to Washington on social media to help recruit him to Columbus. From there, the friendship blossomed. As they enter their second season at Ohio State, Spence and Washington have forged a brotherhood.
"Since that first day when he hit me up, we talked almost every day about the future at Ohio State," Washington said. "Now, we're actually living out that dream."
Year 1 saw Washington and Spence combine for 21 tackles, 4.5 tackles for loss, four sacks, a forced fumble and a blocked field goal. The duo chides each other about their stats. Spence edged Washington in total tackles last season, but the man they call "Diesel" paced the tackles for loss and sack categories.  
Spring practice marked the time period where coaches realized Washington and Spence could be difference-makers as sophomores. They were nearly unblockable throughout March and April, and that included matchups against returning starters on an offensive line that Meyer calls "the heart and soul" of the team.
Seven sacks in the spring game – four by Washington – served as one giant muscle flex for the dominant defensive ends. And Washington earned bragging rights.
"I didn't give [Spence] too much grief about that one," Washington said. "It was what it was. We both went out there and competed and I just happened to get that extra sack."
Expectations aren't just heightened for team success, the defensive line is also feeling the brunt of the optimistic outlook. Washington and Spence helped stir matters by accumulating those seven sacks. Asked if that's a number that can be expected every game, Spence chuckled and said, "I don't know. Sure, hopefully."
"The game is won up front, whether it's the offensive line or defensive line. I can assure you this – these guys are going to rely on each other and have faith in each other."
The first phone call Meyer made when he became head coach was to Spence. He knew how important it was to get an overpowering defensive end. The five-star from Harrisburg, Pa., fit the bill. 
Spence proved Meyer's instinct was correct during his rookie season. All Spence did during the offseason was add 25 pounds – he'll play at 253 in 2013 – to make himself an even more imposing, swift figure. After several months away from the team, Meyer was pleasantly surprised to see the bulked up Spence at the start of fall camp.
"When you tell your coaches to go out and find players, he's what you go find," Meyer said. "He's a very, very talented guy with incredible self-discipline and self-respect. I love Noah Spence."
There's constant motivation in the form of Washington and Spence trying to one-up the other. If Washington gets a sack, Spence wants to match him on the next play. They make each other better, which boosts a unit that must perform at a high level all season.
Washington, Spence, Michael Bennett and Joel Hale are far from household names. But come October and November the entirety of Ohio State's defensive line could be on the tips of tongues from Columbus to Tuscaloosa.
The SEC's seven consecutive national championships haven't occurred by accident. Controlling both lines of scrimmage is step one and then infusing it with offensive playmakers and depth at all 22 positions.
"The game is won up front, whether it's the offensive line or defensive line," Fickell said. "We've got eight or so guys who can roll in there, and we've got some young guys with incredible talent. We're going to put some heat on those guys, as well. I can assure you this – these guys are going to rely on each other and have faith in each other."
Bennett cited cohesion among the unit as one of its strengths. Until they get on the field in a game in front of 105,000 people, though, it's hard to tell where the progression and unity resides. The coaches are confident enough that they moved Billy Price and J.T. Moore to other positions.
"I'm concerned all the time," Fickell said. "There's a lot of guys that we're concerned about, and a lot of guys we have high expectations for."
The players carry those same expectations about themselves. Spence spent the summer doing a reading project. And he may have wished it were a textbook. Instead, it was something even thicker and more complicated to translate – the playbook. It's allowed Spence to play at a faster pace and utilize his unlimited athleticism. 
"We really like what we've seen so far, and the upside is incredible," Fickell said of the new defensive starters.
"To be honest with you, we were all new last year. We were all new in the spring. We were all new through last fall. At times, that's hard; at times, it's a great challenge. But the reality is we're on the same page with one another when we do it all together. And when it comes down to the season time, I think it's going to come down to a lot smoother transition."
Fans hope the transition relates to wins, as in going from 12 up to 14. To do so will require one of Meyer's coaching principles – blending youth with established talent.