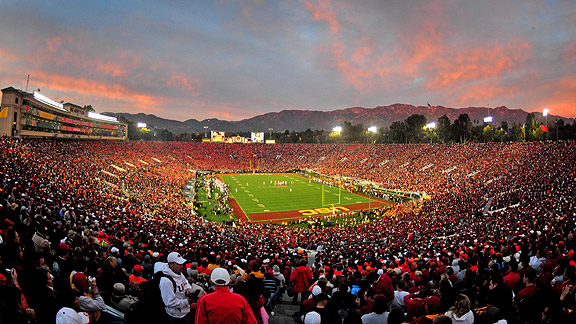 The scene is set.
Pasadena awaits the Rose Bowl every January, and every four years during the BCS era, the Arroyo Seco welcomes the national championship game. The 2013 season is one of those years.
Less than two weeks remain until the start of college football. But already No. 1 Alabama and No. 2 Ohio State seem destined to face off in a dream matchup. Alabama-Ohio State, programs that ooze tradition. Nick Saban vs. Urban Meyer, a battle of the sport's top two coaches. Tuscaloosa and Columbus, college football towns to the core.
All that's left to do is win 13 games – or sneak in the side door at 12-1.
Expectations at Ohio State merge at undefeated and unrealistic. However, in 2013, national title talk in mid-August is justified. The Buckeyes are an amalgamation of hype and substance. Rock star coach, Heisman candidate quarterback and a potent cocktail of returning players and captivating newcomers. 
It's clear after a 24-month span that included scandal, lackluster on-field results, the hiring of a new coach and the rebirth of one of college football's bedrock programs, Ohio State once again has the nation's attention and respect.
But despite owning the longest winning streak in the country and receiving preseason praise, the Buckeyes are content on ignoring all the buildup swirling around them.
"I don't think it matters too much because you can be a preseason All-American and not do anything," said junior defensive lineman Michael Bennett, when asked about the lofty preseason rankings. "You've just got to come out and play."
"We didn't get to do all the things we wanted to do. We're still real hungry." - Noah SPENCE
Preseason polls and watch lists exist partly to generate conversation. It works every year. The pitchforks come out and criticism rains down from Tallahassee to Ames. Inside locker rooms, rankings aren't even a talking point. For most players and coaches, they're irrelevant.
"Everyone else is talking about that. We're not," said sophomore linebacker Josh Perry. "We're just trying to win a Big Ten championship. We've got other goals, we're just trying to take it one game at a time."
Games against Ohio State are never diminished. When Big Ten opponents knock off the Buckeyes, it can make a year or sometimes save a coach's job. But during 2011, there was an emptiness that accompanied a victory over the evil empire of Ohio State.
There were no losses last year. The Buckeyes did regain their status as the hunted, though. And few times in the past has it been as palpable. Every coach and player was asked about the football factory in Columbus at Big Ten media days.
"Everybody in the Big Ten is going to be coming after us, which is what we expect," Perry said. "We've got to expect their best shot. People are going to be turning on their TVs all around America. Whether they like the Buckeyes or not, they're probably going to be watching. There's definitely that target and that spotlight on us. We've got to be ready to go."
Teams thrive on banding together and proving doubters wrong. Whether it's college football or cricket, negative prognostications are used as fuel. One year ago, Ohio State had to answer questions about motivation. Many pundits thought there was nothing to play for. That simply wasn't true, the Buckeyes said. And they proved it wasn't difficult to get excited by rattling off 12 consecutive wins.
Every possible reward is available to Ohio State in 2013 – Big Ten championship, national title, etc. It hasn't tasted defeat since the Gator Bowl on Jan. 2, 2012, but the Buckeyes remain starved for success.
"We didn't get to do all the things we wanted to do," said sophomore defensive end Noah Spence, about the postseason-less 2012 season. "We're still real hungry."
Said Bennett: "The country's gunning for us. We're not just a small team that goes out there and expects to go 5-7 or something like that, especially now after last year. We're expected to be the best. We've always had that expectation. But it's good now to have more people pushing you for it."
So 12 days from the season opener, Ohio State waits anxiously to begin its 124th season. It's been more than a decade now since the program's last national championship. Listening to Meyer on Saturday makes one think another notch will be carved into the Big Ten's futility meter.
"We're not ready to play a game yet," he said. "The good thing is we don't have to be."
Ranked No. 2, the only task for the Buckeyes is to win. On Aug. 31, the first of 13 tests will be administered.