One of Jim Tressel's finest achievements as head coach was how he kept talent in Ohio, thoroughly dominating in-state recruiting.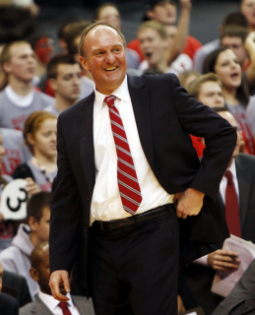 Less heralded – but equally as impressive – is Thad Matta's ability to do the same. Just as it was for Tressel, the slew of talent in Ohio has been a major contributing factor to the Buckeyes' success.
Matta heavily relies on Ohio, but is not solely dependent on it. The last three years has not produced many elite in-state recruits, although it hasn't hurt OSU's winning percentage.
The next three Ohio high school basketball classes are highly touted, however. They feature commits Jae'Sean Tate, Dave Bell, A.J. Harris and Buckeye targets Luke Kennard, Carlton Bragg, V.J. King, among others.
Based on how Matta has locked down the borders, you can reasonably expect the Buckeyes to add to its in-state recruiting success – increasing the impressive percentage of scholarships going out to Ohio high school athletes.
Where The Scholarships Are Going
Since Matta arrived as head coach, here's how his 51 scholarships have been distributed across the United States and Europe (including projected scholarships to committed recruits in 2014 and 2015):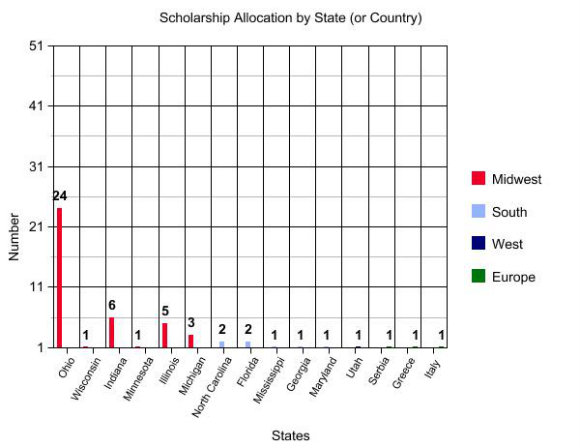 The basketball program's rise coincides with 47.1 percent of scholarships handed out to Ohio talent. Furthermore, Matta has rarely needed to travel outside of the geographic region to fill out his roster. Over 78 percent of scholarships have gone to players from the Midwest.
Matta is certainly capable of recruiting outside of the Midwest, evidenced by landing LaQuinton Ross (Miss.), Shannon Scott (Ga.), Amedeo Della Valle (Italy) and Kam Williams (Md.) in the last three classes.
Buckeyes Born and Bred
Buckeye basketball has heavily relied on Ohio to fill out the roster, but are they getting the best in-state talent available
Well, according to Scout.com's rankings, they are. Since Matta's first season, 52 Ohio recruits have appeared in Scout's national rankings. Of those, 17 became Buckeyes.
That may not seem like a lot, considering how many scholarships went to Ohioans. To provide context, let's take a look at the top ranked recruits who "got away" from Matta:
| Class  | recruit | originally went to | notes |
| --- | --- | --- | --- |
| 2004 | Andrew Brackman | N.C. State | Now a pitcher in the Chicago White Sox minor league system. |
| 2005 | B.J. Raymond | Xavier | Part of 103 wins, the most in Xavier history. Also played in six tournament victories. |
| 2006 | Raymar Morgan | Michigan State | Averaged 11.8 points and 5.7 rebounds per game in his career. |
| 2007 | O.J. Mayo | Southern California | Never really pursued by OSU. One and done (though still impacting USC program). Now with the Milwaukee Bucks. |
| 2008 | Yancy Gates | Cincinnati | Productive player, but well-known for this. |
| 2009 | Garrick Sherman | Michigan State | Transferred to Notre Dame. Most notable performance came in this game. |
| 2010 | Adreian Payne | Michigan State | Averaged 10.5 points and 7.6 rebounds per game last year. Entering his senior season. |
| 2011 | (see below) |   |   |
| 2012 | Kenny Kaminski | Michigan State | Forced to redshirt last season due to injury. |
| 2013 | Mark Donnal | Michigan | Committed to Wolverines in 2011. |
The Outlier: 2011
The only recruiting "miss" to draw the ire of some Buckeye faithful was in 2011. Coincidentally, that was the only year Matta didn't add anyone from Ohio – not a single freshman, transfer nor walk-on.
Tough to be disappointed with what Ohio State came away with, however. With his 2011 recruiting class, Matta brought in LaQuinton Ross, Shannon Scott, Sam Thompson, Amir Williams and Trey McDonald. That was also the first season for Boston College transfer Evan Ravenel.
Also, not terribly difficult to remember whom the Buckeyes didn't recruit. Columbus Northland guard Trey Burke – originally a Penn State commit – ended up at Michigan, of course.
According to Scout, Burke was the only Ohio native to be worthy of a national ranking – a four-star prospect, 20 at point guard. It wasn't good enough to put him over Scott (four-star, six at position) nor would he have unseated Craft for the starting role.
Even in hindsight, Burke as a Buckeye was a poor fit for both parties involved.
McDonald's All American Distributions
Since 2004, Ohio has produced six McDonald's All-Americans. Five of those went to Ohio State.
It's a relatively small sample size, but it obliterates the national retention rate. Most schools can't keep their All-Americans in state (courtesy of Deadspin):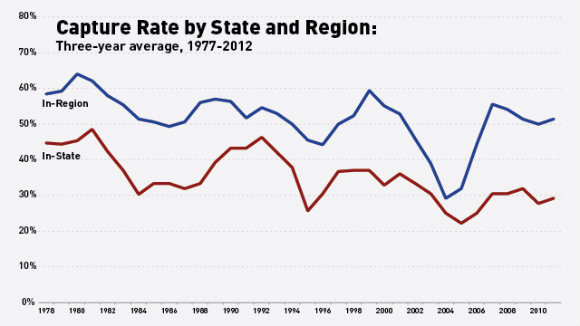 The McDonald's All-American list has been released annually since 1977. In the pre-Thad Matta era, 20 Ohioans were named to the team but only six attended Ohio State.
Incredibly, there was a 10-year gap between the Buckeyes landing an All-American from Ohio. From 1993-2002, there were six All-Americans from the state, but not one wound up in Scarlet and Gray.
That decade covers the tail end of Randy Ayers' coaching career at OSU, and all but one year of Jim O'Brien's tenure. With his last recruiting class, O'Brien stopped the drought by bringing in All-American Ivan Harris, who spent the majority of his career playing under Matta.
Outside of Ohio, Matta has landed McDonald's All-Americans from three different states – Greg Oden, Mike Conley and Deshaun Thomas from Indiana, Amir Williams from Michigan and Shannon Scott from Georgia.