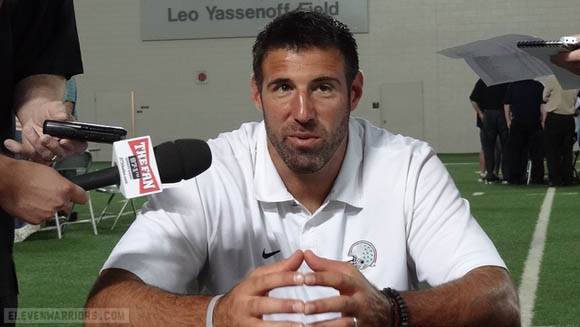 It took Mike Vrabel one day to find new work.
In the summer of 2011, with his NFL career already in its twilight stage, Vrabel's alma mater was mired in a scandal never seen before. When his best friend and former roommate was elevated to head coach, Vrabel's phone rang soon thereafter. Luke Fickell was on the other end.
A little more than a month later, Vrabel's 14-year NFL career came to an end when he retired. His body had delivered and taken punishing blows for too long. It wouldn't be a quiet retirement, though. In fact, Vrabel was back on the job a day later, albeit in a far different capacity.
The decision wasn't all that surprising. Vrabel and Fickell's relationship was well documented and word leaked that Vrabel would like to coach at Ohio State. He had lived in Columbus since he first stepped foot on campus as a freshman in 1993. The university was his comfort zone.
"It was only natural to come back to Columbus," Vrabel said. "I never really left, I just spent half the year somewhere else playing football."
But how would Vrabel react – and adapt – to being the instructor?
Success on the playing field doesn't guarantee a prosperous coaching career, just as being a third-string quarterback doesn't mean one has no future in the coaching profession.
"Mike Vrabel is as well-suited for coaching as any player I have ever coached," said New England Patriots head coach Bill Belichick. "Mike has a tremendous feel for people, players, coaches and what his team needs regardless of the situation. He is outstanding in his knowledge of the game, which contributed to his excellence as a player. While playing, Mike at times acted as another coach on the field. Now, as a coach, I have no doubt Mike will develop tough, intelligent, fundamentally sound winners."
Vrabel was a former All-Pro and three-time Super Bowl champion who had a borderline Hall of Fame career. An All-American defensive end in college and Ohio State's all-time sacks leader, Vrabel moved to linebacker in the NFL. He was also a short-yardage receiving specialist, catching 12 passes in his career – all touchdowns. 
Three years later, Vrabel had proven his coaching tryout had much more substance than many may have believed. The first year had its rocky moments. It's a common occurrence for first-year coaches, especially when a once-proud program flounders to a 6-7 record.
But along came Urban Meyer to save the day. Who would be his Robin, though? Vrabel carried cache in the name recognition category. However, only coaching for one year lessened his impact. After Meyer spoke to Belichick, a close personal friend, he pondered his future at Ohio State. The vision included Vrabel.
"He's attacking coaching the same way he attacked playing as a pro."
"He's attacking coaching the same way he attacked playing as a pro," Meyer said. "You don't survive as long as he did in the National Football League unless you've got an extremely high work ethic and you're very professional about your job. He was a first-year defensive line coach, and you can tell he's a very experienced defensive line coach now."
In the past two years, Vrabel has coached one of the top units on an undefeated team, a group that included John Simon and Johnathan Hankins, and developed into an ace recruiter. It follows a recent trend in the college game. The new model is hire a former successful player, mold them into a coach, but most importantly establish an exceptional recruiter.
Vrabel was part of the then-winningest class in Ohio State history when his college career came to a grand conclusion in the 1997 Rose Bowl. He is Ohio State, the tradition seeps out of him. He was part of an NFL dynasty that the current generation watched with anticipation. The experiences he brings to be an exemplary coach and recruiter are invaluable. How else do you explain names like Noah Spence, Billy Price, Tracy Sprinkle, Joey Bosa and Michael Hill dotting his resume. And that's just a sampling.
The Buckeyes' are replacing all four defensive line starters for the first time in, well, Vrabel was a 10-year-old playing football in his parents' front yard the last time it happened – 1985. But he doesn't consider it a burden. Instead, Vrabel embraced the challenge of casting young players into high-profile positions and in turn making the green line a strength.
"I try to coach on testimonial," Vrabel said. "Every situation they come across I've probably seen as a player in four years at Ohio State and 14 in the NFL. I push them. I try to make them mentally tough, and I try to help them avoid the distractions and the pitfalls.
"I just try to coach them as hard as I possibly can and get them to play with effort and toughness."
The technique must work. A group that includes Adolphus Washington, Noah Spence, Michael Bennett and Joel Hale has shined since spring practice. Meyer, taking a page out of Michael Jordan's playbook, is a big proponent of making practice more difficult that what a player experiences in games. Vrabel motto is "Make the hard look easy," a tagline he lifted from Belichick.
So far, he's done exactly that. 
"I've seen some progress in the technique and things we expect," Meyer said. "It has to happen. We just don't have very many older guys.
"[The defensive line] is where it all starts. You want to have a bad football team? Have a bad D-line. You can be average in some other spots and kind of hide them. But it's over if you have a bad defensive line. You have no chance."
Throughout his career in football, Vrabel has won at every level. Big Ten titles, the Rose Bowl, multiple Super Bowls, even the Pro Bowl. The one thing that's eluded him, though, haunted him even, is the lack of a national championship.
There were two opportunities in college that Michigan spoiled. Now as a coach with a dream job, Vrabel has an opening in those hopes. Ohio State enters the season as the consensus No. 2 team in the nation, on a collision course with top-ranked Alabama.
If the fairy tale comes to fruition, you can count on a sleepless Jan. 5 for Vrabel.
"I can tell you that as a player I never woke up in the middle of the night," he said. "I hit the pillow and the next thing I knew it was morning. As a coach, I rarely sleep through the night. I worry about a lot more things.
'What's so-and-so going to do? Are we installing too much, too little?' It's always something. So I guess I can say I've figured out part of coaching because that seems to be how it goes for everybody in the business."