Ohio State's special teams, nicknamed the Freak Show in Urban Meyer's first season, displayed flashes of brilliance in 2012. But there were a number of miscues that Meyer and newly-appointed special teams czar Kerry Coombs will want to clean up in Year 2.
Coombs will want more big plays out of his "Piranhas" kickoff coverage unit. He'll want his troops to block more field goals and punts. And, he'll demand that his punter changes field position and his kicker puts points on the board.
Herein we'll take a look at Ohio State's special teams as our 2013 season previews continue. We'll break down each of the units and the key players that will try to be difference makers by providing big plays, flipping the field, and gaining the "hidden yardage" that can turn losses into wins.
Long snapper
Every play except kickoffs begins with the ball in one man's hands. On special teams, that's the long snapper. Ohio State used two guys to do that last year, and both return in 2013. Senior George Makridis and sophomore Bryce Haynes will likely split time again.
Makridis is in his fifth year with the Buckeyes. He snapped the ball 87 times last year and has 205 successful snaps in his Buckeye career. Haynes, a redshirt sophomore out of Cumming, Ga., appeared in 10 games a year ago and snapped the ball 47 times.
Haynes, a rare scholarship long snapping specialist, showed a knack for getting downfield post-snap and making plays. He recorded three total tackles, including two solo stops. His coverage skills concerned the Penn State Nittany Lions so much that the Nitts held him, extending what would become Ohio State's first touchdown drive and allowing the Buckeyes to enter halftime tied at 7. You'll recall that Ryan Shazier put the Buckeyes ahead with a pick six early in the third and Ohio State won the game.
Makridis and Haynes will continue to get their snaps. Haynes is pushing for more and more playing time, and with a freshman punter from Australia still learning the American game, his quick delivery may be called upon more and more until Cameron Johnston learns how to get the ball off his foot quickly. Given his downfield tackling ability, I'm inclined to think Haynes is the better option, but Makridis has gone through the wars for five years and he'll certainly have his backers in the locker room.
Field goal unit
Senior kicker Drew Basil has established himself as a reliable foot from inside 50 yards. Basil is 23/27 (85%) within 50 yards in his first three seasons at Ohio State. Hitting 85% is extremely accurate for a college kicker. For point of reference, Mike Nugent connected on 81.8% during his four years in Columbus. That, of course, includes his kicks over 50 yards, but mainly what hurt Nugent's career numbers was his 7/14 performance as a freshman.
Beyond 50, Basil hasn't been very reliable. He is 1/5 from 50 or more yards. Two of his four misses of 50 or more yards came during his freshman year and he is 1/3 since. That 1/5 performance beyond 49 yards is enough to bring Basil's overall percentage down to 75%. That's still pretty good for a college kicker. Ohio State is in good hands (feet?) with Basil if the kick is less than 50 yards. Beyond that, well, Basil has not been Nugent-esque.
On extra points, Basil has hit 92/94 over his career, including 56/57 a year ago.
Punt team
Aussie freshman Cameron Johnston will start the season as the first-team punter. Johnston, a 21-year-old from Geelong, is a former Australian Rules Football player with a rocket-launching leg. He's been passing the tests in camp, but real game experience lies ahead. If he handles the pressure of kicking in front of crowds with a rush in his face, he could be an outstanding weapon for the Buckeyes in 2013.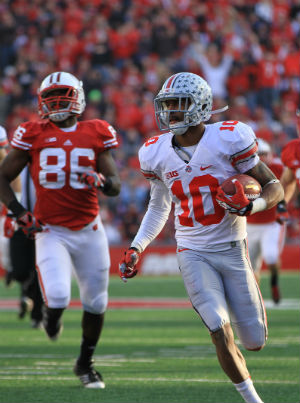 In addition to not getting his kicks blocked, Meyer and Coombs will want to see consistent hang time to go with the distance Johnston brings. Without enough time for his teammates to get down field, a 60-yard punt can do more harm than good. Out-kicking the coverage leads to big returns — something Meyer hates for his team to give up.
Punt returns
Philly Brown, Devin Smith, Bradley Roby, and Chris Fields are all experienced punt returners. Brown, last year's conference leader at 12.3 yards per return, showed his ability to change games last season vs. Nebraska and at Wisconsin. Fields can also take it to the house. As long as the other 10 Buckeyes block like they did in the three plays linked in this paragraph, there should be more big plays coming in 2013, regardless of who is returning the kick.
Brown returned 18 punts a year ago for 221 yards (12.3 avg.) and two scores. Smith saw the second most action, returning four punts for just a 3.8-yard average. Despite his success against Toledo in 2011, Fields returned only two punts in 2012, for 14 total yards. Expect Brown to see the bulk of the punt returns, when healthy, although this seems like a good spot to work in young talent like James Clark or Dontre Wilson.
The Buckeyes finished second in the conference in average punt return yardage in 2012, with 10.4 yards per return. Your conference leader? Northwestern (16.5).
Kickoff returns
Jordan Hall is the incumbent kickoff return man, but this spring the coaching staff has also tried out Brown, Wilson, Clark, Jalin Marshall and Ezekiel Elliott. Hall may not possess the same speed as some of the new wave of Buckeye skill players, but he's been a very successful kickoff return man throughout his OSU career. You may recall his very timely 42-yard return that set up Ohio State's come-from-behind win over Wisconsin in 2011.
Hall is third on Ohio State's all-time kickoff return yardage list, with 1,186 career yards. Maurice Hall (no relation) is first with 1,642 yards. Last season, Hall returned 26 kicks for a 26.3-yard average — the team's best mark per return. Hall also owns the single-season OSU record for kickoff return yards, with 683 in 2011. That was 30 yards better than Ken-Yon Rambo's previous school mark in 1999, in five fewer attempts.
Rod Smith brought back 13 kicks last season, averaging 23.3 yards per return. Devin Smith returned eight kicks for an 18.4-yard average. Bri'onte Dunn, Armani Reeves and Roby combined for six returns, with Reeves putting up the best average of the three (22.5).
Although Hall is the solid veteran, look for some of the young pups to get their chances returning kicks, too, especially in lopsided games. After all, Ohio State finished ninth in the Big Ten in average kickoff return yardage (19.9) in 2012 and no Buckeye housed a kickoff return last year. However, Hall does own an 85-yard kickoff return for a touchdown in the 37-7 win over Michigan in 2010 because the NCAA can't vacate memories.
Kickoff coverage
Coombs will stock his kickoff coverage team with young, fast Buckeyes who are hungry to make plays. These players are often reserve defensive backs, receivers and linebackers — players long on talent but who haven't yet cracked the starting lineup or are having trouble grasping the transition to college ball. The simplicity of assignments on kickoffs will allow them to use their natural ability (see ball, get ball). Coombs has plenty of piranhas to choose from to improve on last year's fourth-place B1G finish in kickoff coverage. Guys like Eli Apple and Gareon Conley would make outstanding kick coverage players. Look for marked improvement from this unit in 2013, because would you want to face Coach Coombs after a blown assignment?