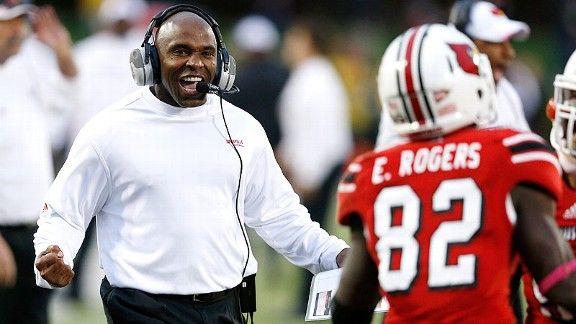 Ohio State and Louisville are close in proximity, but they haven't played since the 1992 season. That game featured a wrestler at quarterback for Louisville. 
With Urban Meyer and Charlie Strong coaching the two schools - and being the best of friends - a showdown could soon be in the offing. Rick Bozich, of WDRB in Louisville, recently spoke to Strong about the possibility. 
"We talk a lot," Strong said. "I have asked him to play me. I don't know if he will. I don't know if he wants to. But I'd love to."
One scenario would pit the Buckeyes and Cardinals together in a neutral site game at Paul Brown Stadium. Whether it's a home-and-home or one-off game at a neutral site, I think both fanbases can agree that they'd be in favor of a marquee matchup.
Strong said he asked Meyer for a game more than a year ago.

Said Strong, "Before we got in the ACC, I was like, 'We need to play a big-time opponent … Urban, why don't you play us?' He said, 'Let's think about that.' "