Don't panic. Keep your trusty towel handy and let the big, friendly letters of this Hitchhiker's Guide to the 2013 Ohio State Season wash the chill waves over you.
The season is upon us and there are things you need to know, even if not all of those things are essential, or even useful. Still, we are the smartest monkeys and as such, we are curious and compelled to find stuff out. Some of the tidbits in this column are things you may know and some of it may surprise you. You'll have to sort it out yourself because it is completely random.
Herein you'll find fun facts, statistics and random quotes about the players and coaches of your Ohio State Buckeyes. Like the better known Hitchhiker's Guide to the Galaxy, this volume will provide information that may save your life. There's an equally good chance that the info will be completely useless to you. Actually, it's probably somewhere in between those two extremes.
Here is your guide. May you find it useful, or at least comforting. Most of these items are even true. Some…not so much. But at least it's not Vogon poetry.
After seven and a half million years of calculations, the super computer Deep Thought tells us the answer to life, the universe, and everything is 42. There is no No. 42 on the 2013 Ohio State Buckeyes. Past wearers of the number include Bobby Carpenter, Paul Warfield, Andrew Sweat and Vince Workman.
The 2013 Ohio State roster features 77 players from the state of Ohio. There are six Buckeyes from Georgia, five from Florida, four each from Texas and Pennsylvania, and three from Illinois. There are 16 of the 50 states represented on the roster, as well as Cameron Johnston from Australia — the only international Buckeye.
Michael Bennett starred in the 1971 film, Shaft.
Ohio State would match the longest winning streak in school history (22) if it starts the season 10-0. The current 12-game winning streak is tied for the seventh best the Buckeyes have ever had.
Adolphus Washington is half grizzly bear and half dragon.
Urban Meyer is a big fan of Jimmy Buffett. His favorite song is reportedly "One Particular Harbor."
Ryan Shazier is a psychology major.
Five members of this year's team are from Glenville High School in Cleveland. Pipeline, y'all.
Braxton Miller is already 10th in school history in total offense, with 5,184 career yards. He needs 3,666 yards to catch Art Schlichter's OSU record. If Ohio State plays in 14 games, Miller will need 262 yards per game to make that mark. He has averaged 275.8 yards per game over his first two seasons.
"That little joker is quick." – Evan Spencer on Dontre Wilson.
With Najee Murray's suspension, Ohio State has at least 49 letter winners returning from last year's team. Murray would make No. 50 if he returns.
Drew Basil is 23/27 (85%) inside of 50 yards in his Ohio State career. He is 1/5 from 50 and beyond — two of his four misses came his freshman year and he is 1/3 since.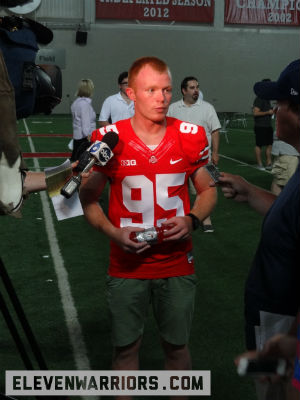 Nick Vannett also played high school basketball. In his final game, his Westerville Central squad lost 65-62 in the district final to Satch Sullinger's Northland Vikings. Vannett hit two key free throws to give his team a 62-61 lead with 15 seconds to play. But Trey Burke scored the final two of his game-high 19 from the stripe to put Northland up for good.
Defensive lineman Donovan Munger will sit out the 2013 season with a blood clot issue.
"An Ohio State lineman is tough, goes all the time, is coachable and is somebody the coaches look to for leadership. The other four guys on the line encompass that; they are dominant." – Sophomore tackle Taylor Decker.
Ivon Blackman speaks French.
Joey Bosa's uncle, Eric Kumerow, was a 1987 co-captain at Ohio State. Kumerow and Bosa's father, John, both played for the Miami Dolphins.
Jacoby Boren is the 15th Boren brother to play for Ohio State. Just kidding. He's the third (Justin, Zach).
"For Braxton Miller, it seems the game has really slowed down for him." – BTN's Howard Griffith.
Noah Spence kills quarterbacks, just to watch them die.
Jordan Hall is third on Ohio State's all-time kickoff return yardage list, with 1,186. Maurice Hall is first with 1,642 yards.
Devin Smith was a state long jump champion in high school.
Carlos Hyde has scored 30 career touchdowns. That ties him with Beanie Wells for eighth on the school's all-time list. Pete Johnson holds the record, with 58, followed by Keith Byars (50), Eddie George (45), Evan Spencer's father Tim (37), Howard Cassady (37), Jim Otis (34) and Pepe Pearson (32).
Not only are both Corey Browns from Pennsylvania, but both are majoring in criminology.
"Buckeye D-line looks good. If coaches can get 341-pound Chris Carter to play hard all the time, look out." – Tom Dienhart via Twitter.
If Philly Brown duplicates last year's 60-catch season, he'd finish his career fifth in on the all-time OSU receptions list, with 142 — two ahead of Santonio Holmes and trailing only Gary Williams (154), Michael Jenkins (165), Cris Carter (168), and David Boston (191).
Ryan Shazier's 115 total tackles last season was the most by a Buckeye since James Laurinaitis finished with 130 in 2008.
"I'm freaking awesome!" – Kerry Coombs