Before we begin, I confess to lacking the technological resources and know-how to produce anything better than cell phone captured YouTube videos.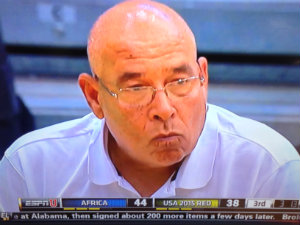 I have a nice T.V., though, and this is the first time I've made use of it in a productive manner (other than for storing episodes of Drunk History on my DVR). 
Anyhow, five recruits with Ohio State offers and commit D'Angelo Russell appeared on ESPNU last week, in the final rounds of the Adidas Nations 2013 tournament. Three played in the first game of the doubleheader, on the USA 2015/16 Red squad – 2015 recruits Stephen Zimmerman, Charles Matthews and Jaylen Brown.
Following their game against Africa, two more U.S. teams squared off in the championship game. USA 2014 Red featured Russell and Myles Turner, and they took on Jahlil Okafor's squad, USA 2014 Blue.
These teams are made up top-tier recruits, thrown together and performing over the course of four days. Most of them aren't accustomed to playing with each other, and it shows. Although, the coaches – former NBA players Ralph Sampson (college legend), Eddie Johnson, Don MacLean and friend of the site Satch Sullinger – did a good job ensuring they played some semblance of team ball.
With that in mind, I'm looking at individual play, rather than how they execute as part of some overall team strategy:
D'Angelo Russell 
The Ohio State commit led yet another one of his teams to a tournament championship round.
First, his E1T1 AAU squad won the Nike Peach Jam. Then, they fell to Tyus Jones' Howard Pulley team at the AAU Super Showcase finals. Monday, Russell and the USA 2014 Red beat USA 2014 Blue in the Adidas Nations title game. So, for what it's worth, his teams have been dominant on the summer basketball circuit.
He's been impressive, in his own right. One of my favorite parts of his game is his ability to eye the defense and use screens to create for others – or, as is the case in this clip, free him up for a jump shot:
As patient as he is at times, he also has a tendency to force shots when he knows he has the "hot hand." I approve of his aggressiveness and desire to attack the defense before it gets set, but this is not a good shot:
On multiple occasions, Russell made the correct read while jumping into passing lanes. He's still working to improve on his man-to-man defensive skills, but his length and IQ make him a good fit for Thad Matta's schemes:
Myles Turner and Jahlil Okafor
Meanwhile, the best matchup of the two ESPNU games was Myles Turner versus Jahlil Okafor.
Turner is blessed with length and explosive athleticism while Okafor is one of the most fundamentally sound big men to come out of high school in quite some time – not to say that Okafor doesn't have great size (he does) or Turner lacks refinement (his defensive instincts are fantastic), but those are the defining characteristics of their games:
Stephen Zimmerman
The game prior to the Turner – Okafor matchup featured elite big men, as well. Chief among them was Ohio State target and 2015 Las Vegas product Stephen Zimmerman.
The 6-foot-11-inch, 225 pound center is highly regarded because of his perimeter skills, making him a highly versatile prospect. Plus, all summer long, he's made a habit out of destroying other players' egos.
He's not just a gifted scorer from most spots on the floor. What makes him – arguably – 2015's top prospect are a set of other unique aspects for someone his size.
His passing ability makes you wonder whether he is the third member of the Gasol brothers. Watch as he fires this off to teammate Chase Jeter (also his running mate at Bishop Gorman High School in Vegas):
His other standout ability is how well and hard he runs the floor. Although he couldn't convert the layup, he gets the opportunity due to beating everyone else to the rim:
Charles Matthews 
Charles Matthews is another Buckeye target blessed with a long wingspan.
It obviously affects his opponents' ability to get shots off, but he also uses his length wisely around the basket. He's able to avoid getting his shot blocked, while lowering his shoulder and squeezing into the lane:
Here's another play where his shot is altered, but his touch and body control at the rim still allow him to convert the lay-up:
Jaylen Brown
The fairly recent Buckeye target didn't have many highlight-reel plays during the third-place game. Jaylen Brown finished with 2 points and 3 rebounds and spent most of his time off the ball.
On the ball, he has solid handles and is known for his ability to set up other teammates. As Ohio State assistant coach Jeff Boals says:
A lost art: the post feed. Not many kids can make a post entry. Fake one to make one. Use your dribble to improve the angle.

— Jeff Boals (@JeffBoals) July 25, 2013
On a couple of occasions, Brown showed he was capable of making that tricky, post-entry feed. Zimmerman didn't great position here, but Brown is patient in delivering the ball: