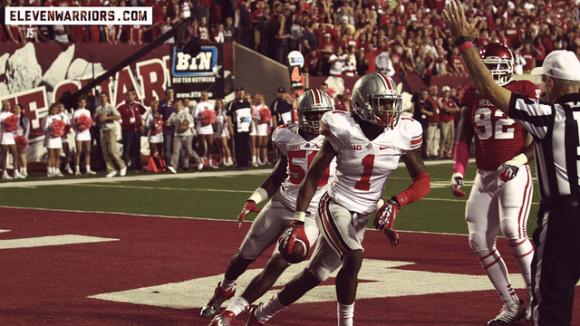 Bradley Roby was named a preseason All-American earlier this week. It's safe to say he's the only backup in the country who received the honor. Roby's July run-in with the law led to his demotion. It certainly wasn't his on-field play.
Roby is a redshirt junior in the midst of his final season at Ohio State. That's how good he's already been in two seasons. Athleticism and skill make him the prototype for the quintessential lockdown cornerback. He finished 2012 with a nation-best 1.73 passes defended per game – 19 total. Roby's 12 pass break-ups tied a program record. That's why NFL scouts will fill the Ohio Stadium press box throughout the season.
The impact doesn't stop on the playing field, though. Roby is an influential locker room presence, providing a major source of leadership and motivation. His vocal nature has given the Buckeyes a new demeanor that screams confidence.
"I'm either going to succeed as a leader or fail as a leader," Roby said this summer.
On a July Saturday night in Bloomington, Ind., Roby took a step in the wrong direction. A misdemeanor battery charge hasn't resulted in lost playing time – yet. But a one- or two-game suspension seems inevitable.
In the weeks after Ohio State's improbable 12-0 season last year, the biggest question mark surrounding the impending season was who would be back. Roby took almost two months of careful deliberation to reach his decision, and it came with a carrot on the end.
"If we get to the national championship, it's going to be because of players like me and older guys leading us to victory," he said. "We have the potential, we have the talent, we have the coaching. It's just about putting it together and getting that leadership. I wanted to challenge myself to do that. It's going to be a learning experience for me."
It's begun in a far different manor than Roby imagined. True freshman Gareon Conley has replaced the Thorpe Award candidate on the first-team defense. Instead of hanging his head, Roby has looked skyward and continued to coach up underclassmen off the field and knock away passes on it.
"I feel like it's a humbling experience for him," said senior safety Christian Bryant. "I feel like it's to show an example just because he was a starter last year that nothing is guaranteed. I feel like he's doing a pretty good job of taking that role, understanding what he needs to do and showing the young guys that he doesn't have a problem with it."
Ohio State's secondary is a cocktail of experience and leadership. Roby, Christian Bryant, C.J. Barnett and Pittsburgh Brown are veterans who've seen it all in recent years. It's an element exhibited in all championship teams. In line with the Buckeyes' "Pay It Forward" motto, the quartet of fourth- and fifth-year players has brought the movement to the football team. Cornerbacks coach Kerry Coombs has admired Roby's willingness to take young players aside and point out the nuances of coverage.
"In the meeting room, he's teaching those young guys," Coombs said. "We've got good leadership from Bradley Roby."
His grasp on the game and ability to communicate has earned him the coach on the field title. Teammates rave about it. Junior Doran Grant said he tries to hang around Roby just because his knowledge of the game is so plentiful. When Eli Apple and Cam Burrows enrolled at Ohio State in January, they quickly realized it was around Roby where they should be a sponge.
It wasn't long ago that Roby was the newcomer. He came to Ohio State after committing to Vanderbilt to play wide receiver. Shying away from the Buckeyes' success at cornerback proved to be an impossible situation.
"We've had the greatest history of cornerback play of any college football team in the country," Roby said. "So to me, if you're a corner, why would you go anywhere else? You're lucky, frankly, if Ohio State offers you a scholarship at corner. That means you're passing an incredible test."
It doesn't end there, though. Roby is a man with a plan. He came to Ohio State with a clear set of goals, many of which remain intact.
"I told a guy a long time ago that I was going to be one of the best corners to ever play here," Roby said, "and I don't feel like I've accomplished that yet."
It might contain a few less chapters, but the final book on Roby's career is nearing completion. Greatness is all but certain.