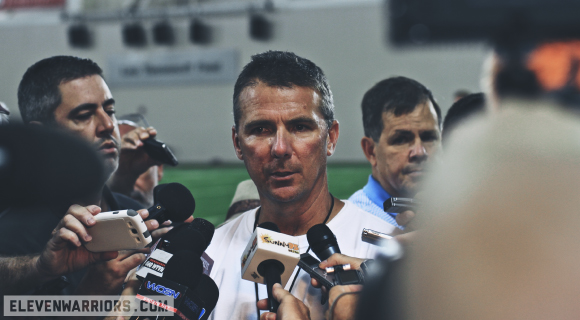 Three days into fall camp, Ohio State head coach Urban Meyer finally spoke to the media. But even he admitted there wasn't much news. In the six minutes that Meyer answered questions, he beamed about Braxton Miller, Cameron Johnston and Dontre Wilson and bemoaned the linebackers and offensive line.
Tuesday was the first day the Buckeyes were in pads. Already, though, Meyer said Miller is a changed player. He raved about the quarterback's leadership and communication with wide receivers, a marked improvement from last season. And that was a year that resulted in Miller winning the Chicago Tribune Silver Football for Big Ten player of the year.
With leadership as a topic of conversation, Meyer also displayed confidence when mentioning the defensive backfield. Christian Bryant, C.J. Barnett and Pittsburgh Brown are all seniors, and Bradley Roby has been in the program for four years.
The offensive line and defensive line are only "OK," according to Meyer. He went on to add the linebackers to that group, saying the O-line and linebackers specifically are not "Ohio Stateish."
Taylor Decker is the biggest story on the offensive line. He and Chase Farris are battling for the right tackle position. It sounds like Decker is surging ahead, though. Ed Warinner said Decker has taken a majority of the first-team reps.
Johnston will be the No. 1 punter. Meyer said the performance he put on Sunday was incredible. He's come back to Earth the past few days, but Meyer still said he's impressed.
Another first-year player grabbing Meyer's attention is Wilson, a speedster of a running back. It's not common for Meyer to heap praise on a freshman, and he evenly put the brakes on Wilson's growing legend in Chicago. That changed Tuesday, when Meyer raved about Wilson. He said he will definitely play and added that he always goes hard.
Roby and Carlos Hyde are both practicing. Roby's status is still undetermined. Meyer said he's gathering facts.
Corey Linsley is not practicing at full speed (foot), but Meyer said he will be fine for the opener.
The second-team offensive line includes Darryl Baldwin, Kyle Dodson, Chase Farris, Jacoby Boren, Pat Elflein and Tommy Brown. Warinner said they are talented guys who've taken strides, but still have room for improvement.