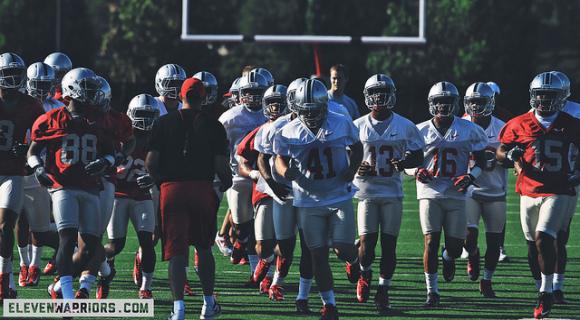 When freshmen arrive on campus, they better be prepared to play from Day 1 and make an impact. Urban Meyer is not in the traditional mold when it comes to first-year players. Many coaches will bide their time with rookies and allow them to become acclimated to college football and college life. Not so with Meyer.
The game has changed tenfold in the past two decades. The high caliber recruits that matriculate to Columbus can leave in three years, prompting coaches to get the most out of them. High school seniors have also started enrolling in college early, boosting their knowledge after going through spring drills. Then there is the size and speed faster.
In 2013, 17- and 18-year-olds have become bigger, faster and stronger. In other words, they are ready for primetime.
A year ago, the freshmen class made their mark on special teams. The "piranhas," as they were affectionately known, evolved into one of the top units on the team. But as soon as they were elevated, it all went kaput. Three of those heralded freshmen – Najee Murray, Devan Bogard and Armani Reeves – suffered injuries, as did senior Zach Domicone.
"When they say 'piranhas,' it's something that we all have to keep us together. It's a really cool nickname that we all just take pride in," Reeves said last season. "We're going to play it like piranhas. We're going to play fast, nasty and just get down the field as fast as we can."
The names may change in 2013, but the attitude and philosophy will not. With Kerry Coombs directing the special teams, the intensity will only go one direction: up. Meyer has long been a special teams aficionado. The quickest way out of the doghouse, or if you just want on the head coach's good side, is to be impactful on special teams. The selflessness displayed is admired. And when athletes load up, game-changing plays can occur.
"We want to change the game through special teams," Meyer said.
Said Reeves: "Coach Meyer pays a lot of attention to special teams. He really prides himself on having the best special teams in the country."
The Buckeyes ended the season giving up almost 21 yards per return, an average that rose considerably the second half of the season once injuries mounted. They allowed one touchdown, to Purdue, and had 19 touchbacks.
Names like Dontre Wilson, Jalin Marshall, Ezekiel Elliott and James Clark have already become the household variety to Buckeye Nation. But coming to a field near you could be the names Eli Apple, Chris Worley, Cam Burrows, Darron Lee, Trey Johnson and Gareon Conley. Ohio State's 2013 recruiting class was filled with athletic types who scream special teamers. 
"We want to change the game through special teams."
Worley, in particular, already features a frame dreamed about by special teams coaches. He's strong, fast and can hit hard and tackle even better. He has the body of a linebacker and speed of a safety. He's almost assured of being a presence on kickoff and punt coverage units throughout the season.
But there are other areas freshmen are expected to contribute, namely offense. Wilson, Marshall, Elliott and Clark have garnered attention since the moment they committed. Now that they are finally on the practice field, even more coverage is devoted to the talented freshmen.
It's no secret that Meyer covets a player similar to Percy Harvin, whose electrifying style of play helped Florida win two national championships. He didn't get it in his first recruiting class or from a current player, though Jordan Hall's return could change that thinking. Regardless, the 2013 recruiting class did produce playmakers.
The most noticeable void on last season's team – albeit undefeated – was the lack of speed and elusiveness on offense. Big plays were few and far between. It was never more apparent than on the stat sheet from the Buckeyes' 17-16 win over Michigan State. Philly Brown had 12 receptions for just 84 yards. His longest catch of the day went 24 yards.
"Break a tackle, Philly," Meyer said facetiously after the game with a hint of seriousness.
He continued on that subject at Big Ten media days.
"I'm hoping this year we have a nice little contingent of playmakers, that our only playmaker isn't No. 5," Meyer said. "I think last year we didn't have very much confidence in the surrounding personnel."
In comes Wilson, a one-time Oregon commit, so he has to be as fast as lightning; Marshall, who couldn't be corralled from behind in high school; Elliott, an All-American talent from Missouri; and Clark, a Florida native who arrives with the requisite Southern speed.
Quantity and quality are both positives for Ohio State. As a collective group, the freshmen skill players can give the offense a jolt of energy and production, instead of one player being depended upon.
The defense has also been injected with a dose of speed and depth. Apple, Worley, Johnson, Vonn Bell, Joey Bosa, Mike Mitchell, Billy Price and Tyquan Lewis could see considerable minutes and growing roles as the season progresses.
The defensive line is in need of more bodies; the linebacker corps is short on production; and the defensive backfield could be stretched thin based on playing nickel and dime coverages. The fifth DB is Everett Withers' idea. Opposing offenses have made it difficult for teams to use their base defense.
"Today's offenses are so much three and four wide receivers, you need more speed and athleticism on the field," he said.
Orhian Johnson gave Ohio State an added dimension with his play at the "Star" position. Now that he's gone, the Buckeyes are left searching.
"It's a big question mark for us," Withers said.
There's probably a freshman who can provide the answer.