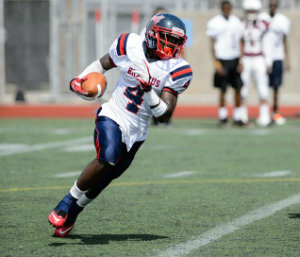 The slow recruiting month of July has come to a close, and the last week hasn't brought in a flurry of commitments. College football season is getting closer and the Buckeyes are back at practice, which should take our mind off of recruiting a little bit. 
Michigan State and Ohio State were the only two schools to land a commitment in the past seven days, with each landing only one new addition. 
As a result of the slow week, we saw no movement in our Big Ten football recruiting rankings. However, the Spartans gained ground on the Nittany Lions, while the Buckeyes extended their lead over Michigan. 
A commitment from Malik Hooker caught many Ohio State fans by surprise, as Hooker flew under the radar this summer. His commitment puts OSU fourth in 247Sports team recruiting rankings, behind Alabama, Florida State and Miami. A commitment from Curtis Samuel could definitely help out the Buckeyes in the national rankings and increase their lead over Michigan in our rankings. 
Now, on to the rankings: 
14. Maryland
Maryland remains at the bottom of the rankings after failing to land a commitment, however, the Terrapins did have a big recruiting week. Four of Maryland's top targets —  five-star corner Jalen Tabor, four-star defensive end Jesse Aniebonam, three-star offensive tackle Brock Ruble and three-star defensive-end Ja'Whaun Bentley — visited College Park this past weekend. The Terrapins have a solid chance at landing all four of these important prospects. Tabor will be the most difficult to land, but he has recently been trending toward Maryland on the crystal ball. 
The Terrapins are also hard after five-star offensive tackle Damian Prince. While his crystal ball favors Florida State, Maryland and Ohio State are right there in the race for Prince. I currently have Prince "crystal balled" to Ohio State. 
While Maryland sits at the bottom of our rankings, they look poised for a big finish. I wouldn't be surprised to see Maryland finish in the top half of the Big Ten when everything is said and done. 
13. Indiana
The future in recruiting isn't as bright for Indiana. The Hoosiers are going to have trouble moving up in our rankings. 
Underrated linebacker Tegray Scales of Cincinnati, Ohio visited Bloomington this past week. Scales, a three-star according to 247Sports, is another Ohio linebacker that I feel is underrated by the services. Indiana will have to battle Oklahoma, West Virginia and Wisconsin for Scales.   
12. Minnesota
Minnesota currently has the smallest class in the Big Ten with only six commitments. The Gophers are expecting to bring in a small 2014 class, which doesn't fare well for their position in the rankings. Jerry Kill must land his top targets with the small class expected. One of their top targets, three-star offensive lineman Frank Ragnow, has been trending away from Minnesota to Arkansas. Losing one of the top in-state kids to an SEC school, while not surprising, is a big blow. We are still months away from Signing Day, so we have plenty of time for things to change. 
11. Purdue
Purdue might have caught another bad break. The Boilermakers were long considered the favorite to land Terry McLaurin before Ohio State stepped in to take him away with an offer. In a similar situation, Purdue recently landed four-star safety Drue Tranquill, but it now appears Notre Dame might steal him away. Notre Dame offered Tranquill days after his commitment to Purdue. 
Losing Tranquill would definitely hurt Darrell Hazell and the Boilermakers, but I guess there is just not much you can do when you are a second-rate football school.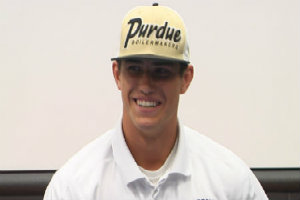 10. Illinois
Five-star corner Adoree' Jackson of California visited Illinois this past week. Why would a five-star prospect want to visit Illinois, especially when he is from Cali? Well, he grew up a Illini fan. Yes, some people actually grow up wanting to play in Champaign. His visit appears to have gone well, but it will be tough for the Illini to compete with USC and Florida for his services. I don't see a recruit wanting to come to Illinois to play for a mediocre football team. 
9. Nebraska
Nebraska has put together a solid recruiting class at this early stage. One of the Cornhuskers top remaining targets, Peyton Newell, is scheduled to announce his choice on August 30th. Nebraska seems to be the clear favorite to land the three-star defensive tackle. 
Nebraska is pursing two familiar names for their 2014 class: receiver Dallis Todd and tackle Brian Wallace. Todd considered Ohio State before committing to Oklahoma, but it appears that he might consider taking an official visit to Nebraska. It could be a courtesy visit, but getting a highly rated prospect on campus is never a bad thing. Wallace recently visited Ohio State and lists the Buckeyes in his final list. Nebraska could be the team to beat for his services.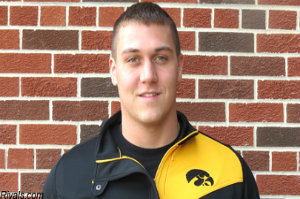 8. Iowa
It appears Iowa could lose their top commitment, offensive tackle Ross Pierschbacher, to Alabama. The Top247 offensive lineman committed to Iowa early, but it now appears that Alabama is the favorite. That would be a huge blow to lose a four-star, in-state offensive lineman. 
It is looking like the Big Ten will lose out to the SEC again. 
7. Wisconsin
A few huge pieces of visit news for the Badgers this past week. Five-star running back Joe Mixon and four-star offensive guard Damien Mama scheduled official visits to Wisconsin for the October 12th Northwestern game. These are two huge visits for any school in the nation, especially Wisconsin. Both are considered long shots, but it's nice to see Gary Andersen getting a few top prospects to check out Madison. You never know what could happen. 
Ohio State target, tight end Mike Gesicki, is scheduled to visit Wisconsin this week. Florida State, Penn State and Wisconsin are considered the Buckeyes main competition for Gesicki. It's still not clear if Ohio State would take his commitment at this time. 
6. Northwestern
It's been a slow last couple of months for Northwestern on the recruiting trail. Two months ago, the Wildcats were up to third in our rankings and now they check in at sixth. 
I'm never too worried about Northwestern's recruiting. Pat Fitzgerald gets the most out of his players. He doesn't need the highly rated recruiting classes to achieve success in Evanston, but it will be fun to watch how they use the offensive weapons that Northwestern has landed in the 2014 class. 
5. Michigan State
Michigan State was one of only two schools to land a commitment this past week when Walnut Ridge (Ohio) defensive end Robert Bowers committed to the Spartans over offers from Kentucky, Cincinnati, Louisville, Minnesota, Pittsburgh, Purdue, West Virginia and Wisconsin. Bowers is a 6-foot-6, 210-pound three-star weak-side defensive end. The Spartans now have four commitments from Ohio in their 2014 class. 
The biggest news for Michigan State was the hiring of Curtis Blackwell as their new recruiting coordinator. Blackwell should help their recruiting efforts almost immediately with his ties to the Detroit area. Every team should have a recruiting coordinator. 
4. Penn State
Penn State could be close to losing one of their 13 commitments this week. Michigan offered three-star linebacker Jared Wangler, who committed to Penn State in May. Wangler is a legacy recruit for Michigan, so a flip to the Wolverines is expected. This is definitely a loss for the Nittany Lions, but they have plenty of time to find three more recruits to fill out their class. 
3. Rutgers
Rutgers continues to sit at third in our rankings, mostly in part to their Big Ten leading 20 commitments. It appears that the Scarlet Knights reached on a few prospects when they could have waited it out a little longer. I'm interested to see how Rutgers will be able to adjust to life in the Big Ten. The Knights should try to recruit the State of Ohio with their addition to the Big Ten. I don't see them being able to recruit with the big boys in Ohio, but they could land a prospect or two from the talent-rich state. 
2. Michigan
Michigan could be close to adding commitment number 16 of their own. The Wolverines recently offered three-star linebacker Jared Wangler, a Penn State commit that also had offers from Cincinnati, LSU, Michigan State, Indiana and much of the MAC conference. Wangler is a Michigan legacy and could commit at any time. 
Michigan's top target Da'Shawn Hand announced he will commit on November 14th at his school. Michigan and Alabama are considered the favorites with Florida lurking in the background. I currently have Hand predicted to Michigan, but Alabama still has time to make a move. Michigan will be fighting Ohio State for the top spot in the rankings the rest of the season. If both schools land the prospects they are currently the favorite for, both teams should have no problem finishing in the top five or six in the national recruiting rankings. 
1. Ohio State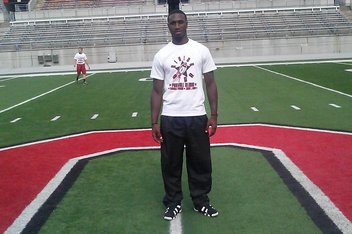 Ohio State was the only other school to land a commitment this week. Many fans were surprised when a gray box announcing Malik Hooker's commitment was posted. Hooker is a four-star athlete that held offers from Arizona, Michigan, Navy, Penn State, Pittsburgh, Temple and West Virginia. This latest commitment pushes the class total to 16.
With the Buckeyes expecting to take between 21-24 commitments, the numbers are beginning to tighten up. Raekwon McMillan, Marshon Lattimore, Curtis Samuel, Erick Smith, Chad Mavety, Damian Prince, Alex Bookser, Mike Gesicki, Noah Brown, Braxton Berrios, and Thomas Holley are some of Ohio State's top remaining targets. Curtis Samuel could be getting close to a decision and Ohio State is the favorite. 
---
Rankings Overview
| No. | School | Commits | Scout ★ AVG | Rivals ★ AVG | 247 ★ AVG | ESPN ★ AVG | Overall ★ Avg |
| --- | --- | --- | --- | --- | --- | --- | --- |
| 1 | Ohio State | 16 | 3.69 | 3.38 | 3.81 | 3.69 | 3.64 |
| 2 | Michigan | 15 | 3.53 | 3.47 | 3.47 | 3.92 | 3.60 |
| 3 | Rutgers | 20 | 2.90 | 2.80 | 3.00 | 3.11 | 2.95 |
| 4 | Penn State | 13 | 3.31 | 3.23 | 3.31 | 3.38 | 3.31 |
| 5 | Michigan State | 14 | 3.21 | 3.07 | 3.43 | 3.31 | 3.26 |
| 6 | Northwestern | 13 | 3.00 | 3.08 | 3.31 | 3.31 | 3.18 |
| 7 | Wisconsin | 11 | 3.27 | 3.09 | 3.09 | 3.27 | 3.18 |
| 8 | Iowa | 12 | 2.83 | 2.91 | 3.00 | 3.25 | 3.00 |
| 9 | Nebraska | 11 | 2.64 | 2.82 | 2.91 | 3.30 | 2.92 |
| 10 | Illinois | 11 | 2.63 | 2.73 | 2.72 | 3.00 | 2.77 |
| 11 | Purdue | 8 | 3.00 | 2.71 | 2.88 | 3.00 | 2.90 |
| 12 | Minnesota | 6 | 3.33 | 3.00 | 3.17 | 2.80 | 3.09 |
| 13 | Indiana | 10 | 2.50 | 2.56 | 2.75 | 3.00 | 2.70 |
| 14 | Maryland | 8 | 2.50 | 2.63 | 2.75 | 3.33 | 2.80 |