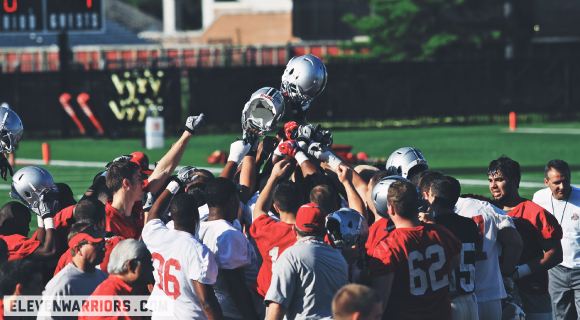 It wasn't even 9 a.m. yet and already Dontre Wilson, Billy Price and a host of other first-year Buckeyes passed the eyeball test. As Ohio State's ballyhooed freshmen class jogged on to the practice fields at the Woody Hayes Athletic Center Sunday, the sun was still rising high above. It was a metaphor for the coming season, bright and with visions of the very top of college football.
The sounds of football were on full display. Not whistles, footballs whizzing through the air or helmets and shoulder pads thudding. The soundtrack of fall at Ohio State is the raised voices of Urban Meyer, Kerry Coombs and Mike Vrabel offering endless motivation. They were heard full blast on Sunday.
The previous day it was another booming voice, that of strength coach Mickey Marotti, who delivered a spirited message. For nearly four months it was Marotti who oversaw the 2013 Buckeyes. Daily workouts resulted in an exhausted but bonded group of teammates. On Saturday, he handed that collection of players who possess so much potential over to Meyer, a head coach who's turned highly touted teams into national champions.
Ohio State, ranked No. 2 in the nation, still has weeks until its season opener versus Buffalo. But the next four weeks, according to Meyer, will make or break the team. It's hard to improve upon a perfect season. The Buckeyes have been afforded the opportunity, though. To do so, they'll need superior play and a little bit of luck, but also answers to several nagging questions.
The biggest on-field concern is the undecided battle at right tackle. One year ago, uncertainty at the same position gave way to a breakout year for converted tight end Reid Fragel. The man he beat out, Taylor Decker, was expected to ascend quite easily to the starting job. Instead, neither he nor Chase Farris separated themselves in the right tackle derby.
"It's real bothersome to me," Meyer said. "It's real bothersome to our coaches, too."
Cohesion along the offensive line was a big factor in its success in 2012. The four returning starters – Jack Mewhort, Corey Linsley, Andrew Norwell and Marcus Hall – played all but 10 snaps last season. Finding a replacement for Fragel early in camp is a priority to help establish continuity with the other line mates and quarterback Braxton Miller.
The offensive line's performance during the spring was underwhelming. Still, they're expected to return to form in the fall and be vital in the big picture success.
"Here's the thing about football, you never start where you left off," said offensive line coach Ed Warinner. "Football is a year-round cycle, and whenever you end the season, you have to go back to ground zero and start there."
Decker, who took a majority of the first-team reps in the spring, is still the odds-on-favorite to start, but his consistency remains a flashing warning sign to coaches. The opposite occurred across the line. One returning starter would have heightened Vrabel's mood. He gets none, though.
The current freshmen were still 10 years away from being born the last time Ohio State had to replace an entire defensive line. It was 1985. Johnathan Hankins and Garrett Goebel may be on NFL rosters, but that doesn't mean they're irreplaceable.
Defensive line has been an area targeted by Ohio State in recruiting. It showed in the spring. Noah Spence and Adolphus Washington quickly made fans forget about losing a handful of starters. Michal Bennett and Joel Hale only improved the outlook along the line.
"Those guys, they don't stop going," said senior safety Christian Bryant. "It's like we have another John Simon just stepping right up."
What both positions – and others on the team – don't provide is depth. Nearly all 22 starters, plus the special teamers, give the Buckeyes confidence as a viable national title contender. But when you look at the two- and three-deep, a bleaker picture emerges. 
Injuries along either line or at linebacker could be devastating. Meyer lamented the lack of depth in the spring, simply saying he lacked all confidence in the No. 2s. An even bigger impediment to the Buckeyes' objectives could be distractions.
The summer was void of any major news until the final week before fall camp. Then the floodgates opened. Suspensions galore reigned down and a promising season already reached the first speed bump. There are examples throughout history of talented teams that vastly underachieved after being overwhelmed with off-the-field disturbances.
Perhaps the biggest is predicted success. Ohio State didn't have to the burden of rankings last year. The AP was the only service that recognized the Buckeyes during a season they spent in purgatory. Now they must face the expectations head-on and the realization that a loss could, and most likely would, end any hope at a national championship.
Individual achievement has taken a backseat to what the team's ultimate goal is, but Miller is still dreaming of the Heisman Trophy. Meyer admitted last week that his dual-threat quarterback mentioned the iconic bronze stiff-arm trophy. When the time is right, Meyer said he'd be receptive of that message.
Until then, it's all about improving his completion percentage and scrambling ability, among other quarterback-centric traits. In Year 1 with Meyer and offensive coordinator Tom Herman, Miller threatened to rewrite the Ohio State record book. Since then, he's had a spring practice and will soon have fall camp and more game time under his belt. He's already becoming more and more acclimated with the system and everything encompassed in college football.
"I feel so much more comfortable now," Miller said.
Big Ten coaches from Iowa City to State College just shuddered.