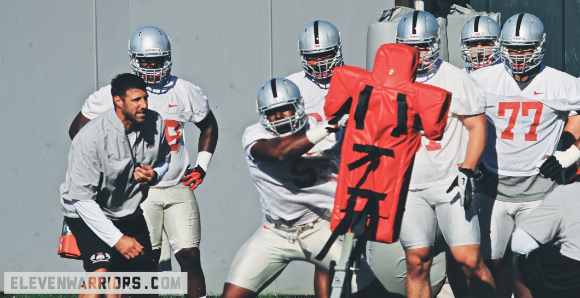 Ohio State football players are back in camp and preparing for world domination. Each one of those players is a plowshare that some position coach is trying to beat into a sharp and angry sword.
Buckeye position coaches have a lot to do with whether or not Urban Meyer has a successful season as head coach, and with the triumphs and failures of Ohio State as a team — over the course of the season, within individual games, and even from play to play.
When certain position groups suffer more attrition than others it puts pressure on the respective coach to bring younger players together quickly so as to avoid creating a weak link in the Buckeye chain.
The 2013 Ohio State team isn't unique in having to emphasize different position groups from year to year.  Last season, for example, the Buckeyes had to revamp the offensive line. Ed Warriner was a boss in turning his five guys — including a converted tight end — into one of the country's best by the end of the year.
Today we'll look at five position coaches who will be under the most pressure to quickly develop cohesion in their group.
Mike Vrabel – Defensive Line
There is no bigger question mark on the 2013 Buckeyes than defensive line. Ohio State's line was an area of strength a year ago and all four starters are gone, a situation that became final when Johnathan Hankins declared for the NFL Draft.
Mike Vrabel has a very talented but young group that he'll need to mold into a solid fighting force quickly if Ohio State is going to avoid the upset bug in a preseason schedule that includes deceptively problematic opponents such as San Diego State and California.
Guys like Noah Spence and Adolphus Washington provided depth to a veteran line a year ago as freshmen. Now they'll be asked to carry the load left behind by guys like Hankins, John Simon and Nathan Williams. Joel Hale, Michael Bennett and Tommy Schutt will also have to step up. Vrabel has to make sure his group is ready or it could be a long season.
Luke Fickell – Linebackers
Like last year, linebacker is an area of concern. Most people are pretty comfortable with Ryan Shazier, but let's not forget that he had issues overrunning plays early in 2012. Although he seemed to turn the corner, Shazier must continue to get better and avoid any relapse into bad habits. That's on Luke Fickell.
With the loss of Zach Boren, the best Buckeye stopgap measure in recent memory, and Etienne Sabino — both to graduation — Fickell will have to develop additional linebackers to play alongside Shazier. The leading candidate is Curtis Grant, about whom we've heard great things. Whether Grant can perform to the necessary level in game conditions remains to be seen.
Josh Perry is an impressive physical specimen, but can he be trusted to provide quality snaps for the defense? Fellow sophomore Cam Williams and freshmen Trey Johnson and Mike Mitchell may also push for playing time. Fickell has to find the right combination for not only the 4-2-5 alignment, but also for times when playing 4-3 is necessary. It'll be a difficult task.
Zach Smith – Wide Receivers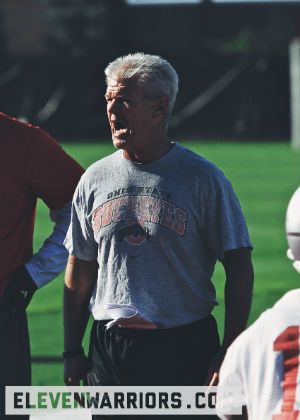 Between 2012 and 2013 only the offensive line showed more improvement than the wide receivers group. However, that doesn't mean they played up to the level that Urban Meyer or Tom Herman wanted. Philly Brown caught a lot of passes and Devin Smith made some big plays, but there were far too many occasions where Buckeye pass catchers failed to get open.
Zach Smith has the luxury of getting his weapons from 2012 back for another year. Brown, Smith and an improving Chris Fields bring a lot of experience to the wide receiver position. Smith will try to develop them into a more reliable set of weapons for Braxton Miller.
Smith also has depth this season with junior Evan Spencer, sophomore Michael Thomas, JuCo transfer Corey Smith and some talented incoming freshmen. With greater competition, Zach Smith can push his starters to become better. For the OSU offense to operate at full strength, this must happen or else the younger guys must seize the starting spots.
Kerry Coombs – Cornerbacks/Special Teams
In between chugging Red Bulls, Kerry Coombs has to replace departing senior starters Travis Howard (cornerback) and Ben Buchanan (punter). In addition to finding a player — most  likely Doran Grant — to take over as magistrate of Howard Island, Coombs will have to plug someone into Bradley Roby's spot for as long as his suspension lasts.
Will it be junior Adam Griffin or talented youngsters like Armani Reeves, Eli Apple and Gareon Conley? It's important for Coombs to find the right combination, because even when Roby returns, there is always the risk of injury.
As the newly appointed czar of special teams, Coombs will also have to replace the punter with the eighth best average in school history. Australian freshman Cameron Johnston and senior placekicker Drew Basil are the favorites to replace Buchanan. Can either make a big boot under pressure? That's what Coombs has to find out. I would imagine there will be yelling involved.
Ed Warriner – Offensive Line
While 4/5 of Ohio State's offensive line remains intact, it's a group that is only as strong as its weakest link. Any offensive lineman missing an assignment or getting beat can blow up an offensive play, often with disastrous results. The pressure will be on Ed Warriner to fill the hole at right tackle vacated by Reid Fragel.
This would seem to be Taylor Decker's job to lose, but he hadn't clearly won the spot out of spring camp. Spring of 2012 also didn't provide a right tackle starter but Warriner quickly turned Fragel Rock into a borderline all-conference player who showed well enough to be selected in the NFL Draft.
---
The other position coaches will have their work to do as well. Herman will need to continue Miller's development and keep his backup quarterbacks prepared. He'll also have to watch for Miller reverting to bad habits in his mechanics. Stan Drayton will have to eliminate Rod Smith's fumbling problems and get his running backs ready to withstand the absence of Carlos Hyde during his suspension. Everett Withers must continue developing C.J. Barnett and Christian Bryant, as well as their backups. Finally, Tim Hinton must ensure Jeff Heuerman and Nick Vannett continue increasing their contributions to the offense and he needs to develop younger players like Marcus Baugh and Blake Thomas.