The Big Ten Network changed the game of college football when it debuted in 2007. A byproduct of Jim Delany's aborted negotiations with ESPN about a more lucrative and expansive television contract for the league, Delany took the bold step to chart new waters for the Big Ten Conference. The network's start was somewhat slow and a bit uncertain, replete with very public leveraging of the network and the conference's fans over cable service providers, but it has become a fact of life in the Midwest and an accepted reality nationwide. Jim Delany's success in promoting the network as a means to promote the league is evident.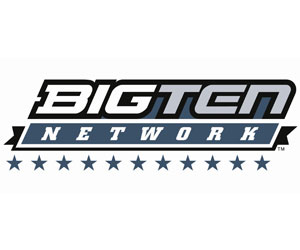 However, the success of BTN also came at the expense of some conference pride. The first game the BTN televised was one ESPN's "ESPN Plus" arrangement would have confined to a local television station provider: the 2007 Appalachian State-Michigan game. Fans remember well that the preseason No. 5 Michigan Wolverines lost that contest in thrilling fashion. Everyone involved wanted to see it, but the conference and the conference's joint network venture with Fox Entertainment Group, were the gatekeepers to footage from that game. BTN was successful in leveraging its conference's own shame toward complete "extend basic" carriage in all Big Ten television markets the following year. A network whose mission is to elevate the profile of its member institutions got to its current position by piggybacking on the nationwide ridicule its most prominent and successful institutional member received for that game.
This seems to underscore the essential tension right now for BTN. The network is tasked with providing comprehensive and fair coverage of the conference, but also in a manner that elevates the prestige of the league as something worth watching. Ohio State does not necessarily need BTN's help. Ohio State's brand is so large and universal that it could start its own network and keep all the revenue from it for itself. Other programs like Michigan, Nebraska, and Penn State could also go this route with some success. The programs that do need BTN's help in promotion are lower tier programs like Illinois and Minnesota. BTN's goal during the football off-season is to promote an interest in Fighting Illini football, or Golden Gopher football, above and beyond and what these programs have done for themselves at the conclusion of their most recent season.
It is my contention that BTN is doing its member institutions, and its fans, a disservice with off-season football programming (i.e. "Big Ten's Greatest Games") that does little to elicit greater interest in the particular program and excitement in the football season to come. My argument is not that BTN has made me less excited for Ohio State football in 2013. I do contend BTN has done little to no good for the "lower tier" programs in the league, like an Illinois. BTN has not helped these other programs above and beyond what these programs should be doing for themselves. In what follows, I offer some some comments and suggestions to improve BTN's off-season football programming. These comments will be from two perspectives: an Ohio State fan's perspective and the perspective of a Champaign, IL resident that was frustrated that BTN was not giving me a reason to think about Fighting Illini football even if Ron Zook and Tim Beckman were not.
Diversify the Catalog
By far, my biggest complaint about BTN's off-season football programming is the lack of diversity in the catalog. If the Big Ten wants to present itself as exciting and ever-changing, the conference's own network is betraying that message by showing the same games repeatedly.
BTN has succeeded in making me sick of seeing the 1997 Rose Bowl, which I did not think was possible when I first acquired a DVD of the game a couple years ago. There was a point a few weeks ago when that game seemed to be on the rotation every other day, along with the 2010 Rose Bowl. I understand the importance of these games for Ohio State football. They were the only Rose Bowl wins for John Cooper and Jim Tressel, who both coached ten years for the Buckeyes. However, both games are far from the only marquee games in which the Buckeyes have played.
Further, they may not even be "great" games, depending on your attitude. The 1997 Rose Bowl was interesting, if, at times, plodding, game that was capped by a final five minutes that made for enthralling television. The 2010 Rose Bowl is a game where Ohio State beat Oregon despite telegraphing every play on offense in a contest that was the opening act for an Alabama national title won on the same turf a week later. Musburger was even talking up the Crimson Tide for being en route to Pasadena during that game. Perhaps, Ohio State fans are spoiled, but seeing both these games, at this point, makes me want to change the channel.
From the Ohio State fan's perspective, there are plenty of other great football games that could be easily substituted for these games. For one, why not consider the 1974 Rose Bowl? Ohio State was walloped by USC, 42-17, in the 1973 Rose Bowl (which the Trojans used to cap a national championship season), but the Buckeyes returned the favor with a 42-21 win that should have concluded its own national championship season. The regular season-ending tie against an undefeated Michigan team bumped Ohio State from No. 1 to No. 4 in a season when Ohio State, Michigan, Notre Dame, and Penn State finished undefeated, but Alabama split a national championship with Notre Dame for losing to Notre Dame in the Sugar Bowl that year. That college football season was a transformative moment in the history of the game. Ohio State was an important part of it.
Did you know Ohio State is, to date, the only Big Ten team to play in the Cotton Bowl? The winner of the 1986 Michigan-Ohio State contest was en route to Pasadena and the loser was going to get the Cotton Bowl bid. The loser happened to be Ohio State in a game in which Jim Harbaugh guaranteed victory for the Wolverines. Michigan lost its Rose Bowl appearance to John Cooper's Arizona State Sun Devils. Ohio State bullied the defending Cotton Bowl champion Texas A&M Aggies, raising hell on Texas A&M's offense. The Buckeyes won 28-12 in a game where A&M's quarterback was intercepted five times, twice for touchdowns.
Both of these games look more appealing than seeing John Cooper trying to decide between Stanley Jackson or Joe Germaine again.
From an Illinois fan's perspective, BTN's catalog of their games focus on just three games that you are guaranteed to see repeatedly. One is the 2007 Illinois-Ohio State game. As much as I hate that game from an Ohio State fan's perspective, I understand its place. It may be worth clarifying that Ohio State still won the Big Ten outright in 2007. Illinois had two more years of Juice Williams, four more years of Ron Zook, and parlayed that game into a Rose Bowl at-large selection in which it was demolished 49-17 by the Trojans, all as a consequence of this game. Who exactly "lost" that encounter is a matter of debate.
The other two games BTN will show reliably are Illinois' two most recent bowl games: the 2010 Texas Bowl and the 2011 Kraft Fight Hunger Bowl. I do not have many comments about the 2010 Texas Bowl, beyond a comment that a December bowl game between a 6-6 team and a 7-5 team in a half-empty, cavernous NFL stadium does not make for great television and should not be considered by BTN as such. I will argue that the 2011 Kraft Fight Hunger Bowl may, on paper, be the dumbest bowl game ever played. Here is a synopsis of this bowl game.
The 2011 Kraft Fight Hunger Bowl featured two interim coaches. Ron Zook and Rick Neuheisel, Illinois' and UCLA's coaches respectively, were fired as a result of a 6-6 regular season.
UCLA actually had to seek a waiver from the NCAA to participate in this bowl game. The Bruins were 6-7 entering this bowl game, which would otherwise disqualify them from post-season competition. UCLA played in the inaugural Pac 12 Championship Game because an NCAA-sanctioned USC team was still ineligible for post-season competition. The Pac-12 was screwy enough to send UCLA to the conference championship game with a .500 record. Neuheisel was already fired before that game after a 50-0 loss to USC. UCLA lost the Pac 12 Championship Game to Oregon, 49-31. Thus, the Bruins sat at 6-7 before the bowl game and finished the season with a 6-8 record.
The Kraft Fight Hunger Bowl represents three pet peeves of mine: nonsensical corporate sponsorships of bowl games, superfluous bowl games, and gimmick games. Why is a foodstuff corporation headquartered in Northfield, Illinois wanting me to fight hunger in San Francisco during a bowl game featuring two non-winning teams? It is not evident to me that either Illinois or UCLA deserved to be playing in the postseason after their respective seasons. Their presence underscores that December bowl games are a result of meek demand for bowl games in December ill-suited for the dearth of worthy teams. Finally, AT&T Park in San Francisco is a baseball stadium not designed for football. Both teams share a sideline, separated by a barrier around the 50-yard line. Perhaps, this much was fitting for Illinois, which played Northwestern the previous year in Wrigley Field. Wrigley Field's dimensions actually forced that game to be "one-way football", with both teams playing to the same endzone.
Illinois won this game 20-14, but is that game worth remembering for anyone? BTN seems to think it is one of the greatest games that Illinois has ever played.
I understand Illinois does not have many bowl wins to its credit. The program has won five bowl games over the past 45 years. At this point, I would be much more interested in seeing the 1990 Citrus Bowl, the 1994 Liberty Bowl, or the 1999 MicronPC.com Bowl. All three bowl games were won easily by the Illini. Without knowing the particulars of their respective seasons that year, I would not have the pre-existing bias knowing that the Illini were objectively terrible those seasons and that BTN is trying to sell me a proverbial bundle of goods in making me watch those games. I get this very real sense when BTN wants me to watch Illinois' two most recent bowl games.
More importantly, these would be new games for BTN viewers to see. I would be more inclined to watch. As a football fan curious about, but not attached to, the Illini, I would be more likely to follow them under these circumstances. Is that not what BTN is supposed to be doing?
Select on Night Games
BTN's off-season college football programming is already not a randomized sample of the greatest games in which its member institutions have played. It is simply a catalog of what is most convenient, and presumably cheap, for BTN to televise ad nauseum.
This seems to lead to a bias toward day games. This is understandable. The Big Ten does not play many night games and, as a league policy, does not play them in November. That much is subject to revision, so should BTN's policy toward what constitutes a "greatest game". Where appropriate, BTN should select on night games, or late afternoon games that become night games.
I do not have many comments about this from an Ohio State fan's perspective. Ohio State is a marquee program that is more likely to command a night game on national television. This makes Ohio State more likely to be shown playing a night game on BTN. The difference here is for programs that do not enjoy the status of Michigan, Nebraska, Ohio State, or Penn State. These teams are less likely to get a spot playing a night game on national television. Their day games are also much more likely to be unwatchable. The football is less likely to be interesting, and the commentary team for the game is much more likely to be ABC/ESPN's "Z team". Fans are also less likely to attend and those that do attend are more likely to sit on their hands. This particular problem is even observed for higher profile programs in the Big Ten.
The motivating example for this comment comes from two Illinois-Michigan games, which are more likely to be shown on BTN than other games featuring both programs. One is the 2008 Illinois-Michigan game, which saw the Illini run over Michigan, 45-20. The other is the 2010 Illinois-Michigan game, which went to three overtimes and concluded with a 67-65 Michigan victory. The commentators for those games were, if I recall correctly, Pam Ward and Ray Bentley in 2008 and Bob Wischusen and Brian Griese in 2010. No one has ever accused those crews of being exciting. Why should BTN subject its viewers to their voices again? Even when they do their jobs, the games they call are just not that interesting.
Further, fans know well that both teams were not very good in either of those years. The 2008 Illinois team failed to reach a bowl game a year after the Rose Bowl season. The 2008 Michigan team was the losingest team in the program's entire history. Both Illinois and Michigan were better in 2010 than they were in 2008, though that was not saying much. Illinois lost to Minnesota and Fresno State that year. Michigan was a dumb football team in 2010 that needed that Illinois win to salvage a 7-win season. It was thrashed by Mississippi State in the Gator Bowl, leading to Rich Rodriguez' dismissal.
Again, these things are all very recent. I remember them. When I see those games on BTN, I am primed to think this way. Is that the message BTN wants to send?
Selecting on night games mollifies several of these problems. For one, the quality of the commentators improves exponentially. We are more likely to get Keith Jackson or Brent Musburger in lieu of Bob Wischusen, Dave Pasch, or Pam Ward. Second, night games are selected a priori with the expectation they will be better football games. Fans behave better as a result. They are more likely to attend and more likely to add to the game's atmosphere. These are all things BTN should be trying to amplify, not suppress.
Let me tie this to a specific game suggestion. Rather than show the 2010 Illinois-Michigan game again, or the 2008 Illinois-Michigan game (or even the 1999 game it showed recently), why not show the 1993 contest between Illinois and Michigan? Here is how it ended.
This looks much more interesting than watching Rich Rodriguez and Ron Zook trying to out-derp each other.
It also sounds more interesting. BTN should want even its casual football fans in its regional footprint to think that Illinois is a program as worthy as Michigan of getting one of its games called by Brent Musburger. We know that is not necessarily true, but BTN's mission is propagandizing to a large extent. I am asking that it do it well.
This leads directly to my next critique and suggestion.
Select on (Major) Non-Conference Opponents
BTN is already doing an adequate job on this regard, but I believe it could do better. BTN is a vehicle for the promotion of the Big Ten and the league's agenda to the exclusion of other alternatives (e.g. ACC, Pac-12, SEC). To that end, BTN should bias itself more toward televising non-conference victories over these other conferences, rather than showing Wisconsin scoring another touchdown against Nebraska. It is deliberate propagandizing, but BTN could still find ways to be subtle.
I already mentioned three bowl game suggestions on behalf of Illinois. Two of those three were against the Virginia Cavaliers, which were led in receiving by Herman Moore in the 1990 Citrus Bowl and led in rushing by Thomas Jones in the 1999 MicronPC.com Bowl. These are names that football fans probably know already, and can see Illinois manhandling them both times.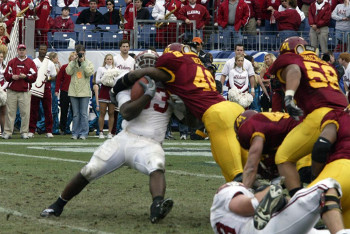 Did you know Minnesota has won five of its last six games against the SEC? You are unlikely to see the first three of those contests I mention, as they date before 1960. Most recently, Glen Mason's Minnesota squads beat Arkansas and Alabama in the 2002 and 2004 Music City Bowls. This was a period when Minnesota was consistently near the top nationally in rushing offense.
Pummeling a team in a non-Rose Bowl bowl game was almost a birthright for Michigan football during the 1980s and 1990s. This includes the 1986 Fiesta Bowl (vs. Nebraska), 1988 Hall of Fame Bowl (vs. Alabama), 1991 Gator Bowl (vs. Mississippi), 1994 Hall of Fame Bowl (vs. North Carolina State), 1999 Citrus Bowl (vs. Arkansas), and 2001 Citrus Bowl (vs. Auburn).
This omits Penn State and Nebraska, which spent much of their organizational existences outside the conference. Quality bowl wins and non-conference wins for both programs are readily available.
The Big Ten suffers from a reputation problem. Much of these problems are self-inflicted wounds that follow from a league that generates money hand over fist, but does not invest its football revenue in attracting elite assistant coaching staffs or building football facilities that can compete with what programs in the SEC can offer. Your football pundit of choice can attribute the difference to "speed" or population shift, but such explanations are loudly wrong. The difference is much more "material" than that.
If making up that difference is the responsibility of the member institutions alone, BTN can at least be sending better cues about the Big Ten's member institutions and how they "belong" in the same company with programs from other conferences, particularly the SEC.
It is also worth reiterating that no "Big Ten's Greatest Game" should ever, under any circumstances, involve a team from the Mid-American Conference. Stop showing the 2007 and 2011 Motor City/Little Caesar's Pizza Bowl.
I should not have to tell BTN this.
Revisit the Nineties
It is difficult to put a spin on the quality of Big Ten football since the classic 2006 contest between Ohio State and Michigan. Michigan followed that with a three-game losing skid that included a second half meltdown in the 2007 Rose Bowl, the infamous loss to Appalachian State, and a beatdown provided by Dennis Dixon's Oregon Ducks in the Big House. Ohio State followed that game with a January 2007 game in Glendale, Arizona that will not be belabored here and another national championship game loss to Louisiana State the year after. Ohio State seems to have carried the banner for a conference hemorrhaging football credibility since 2006.
No program has necessarily capitalized on Ohio State's (or Penn State's) institutional decay during that time or the failed Rich Rodriguez experiment in Ann Arbor. An argument can certainly be made for Wisconsin, but losing three Rose Bowl games consecutively only accentuates the problem. Further, Bert's tenure at Wisconsin also coincided with losses to the worst Michigan team ever in 2008, and a loss to the Ohio State football team with the most losses in a season since 1897. Nebraska has not had the immediate effect that fans of the conference (and Nebraska) hoped it would have.
This all stands in contrast with a league that was as good, and reliably good, as any in the 1990s. The Big Ten and the SEC altered conference supremacy through the 1990s. However, the SEC's preeminence is mostly derivative of Steve Spurrier's Florida Gators, the arrival of Phil Fulmer's Tennessee program, and, to a lesser extent, Gene Stallings' consistently good Alabama program in the early 1990s.
No league was deeper than the Big Ten. Its programs featured offensive innovations at Northwestern and Purdue, rebirths at Northwestern and Wisconsin, talent-laden NFL factories at Ohio State, Michigan, and Penn State, and some marginal (but important) contributions from programs like Iowa and Michigan State. The SEC had three national titles in the decade to the Big Ten's one, though this comes with the asterisk of Penn State getting unfairly hosed in 1994 and ignores Nebraska's dominance in the mid-1990s.
BTN should not be reticent to show more games from the 1990s. The quality of football was much better then than it is now. Further, the 1990s are not so distant from the present so as to look like some wistful longing for a bygone era.
Many of the names from this time should be familiar to football fans, even some of the younger ones. These include Simeon Rice and Kevin Hardy at Illinois, Trent Green and Antwaan Randle-El at Indiana, Tim Dwight, Tom Knight, and Ross Verba at Iowa, Flozell Adams, Muhsin Muhammad and Derrick Mason at Michigan State, Mike Alstott and Drew Brees at Purdue, as well as Chris Chambers and Ron Dayne at Wisconsin. I admittedly drew a total blank on a representative from Minnesota. You can take your pick from programs like Michigan, Nebraska, Ohio State, and Penn State during this time.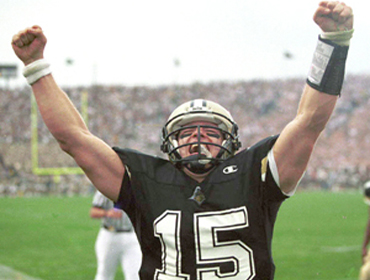 The point is showing more games from the 1990s than from the "BTN era" paints a better portrait of the league. I know the Big Ten has been a mess since 2007. I also happen to know the league was much better top to bottom in the previous decade. Casual fans should receive that cue as well if they watch, for example, Illinois upsetting Ohio State in 1994 in Ohio Stadium, Michigan spoiling Ohio State's perfect season in 1995, Northwestern upsetting Notre Dame in that same year, Drew Brees and Purdue putting Nick Saban's Michigan State team on blast in 1999, Ohio State ransacking Pittsburgh through the 1990s, or against its other non-conference foes (including Washington in Ohio Stadium), Eddie George and Orlando Pace running over Simeon Rice and Kevin Hardy in 1995, or Penn State toying with the No. 14 USC Trojans in 1994.
There are a lot of options here. BTN should explore them in lieu of showing the 2010 Missouri-Nebraska game again and trying to convince me that is one of the Big Ten's greatest games.
---
My contention here is that BTN's off-season football programming can and must do better to elicit interest in other teams in the Big Ten that benefit the most from the existence of the network. Programs like Ohio State do not need BTN and could easily set up their own TV network if that did not stand at odds with the governing principles of the conference. These other programs need BTN to do better at promoting them, even if these programs, like an Illinois, routinely get in their own way with coaching hires like Lou Tepper, Ron Turner, Ron Zook, and Tim Beckman. The off-season football programming is an important vehicle to that end, though, to date, much of what I have seen has been inadequate.